USM-NEXTGLASS SIGN MOU, STRENGTHENS UNIVERSITY-INDUSTRY PARTNERSHIP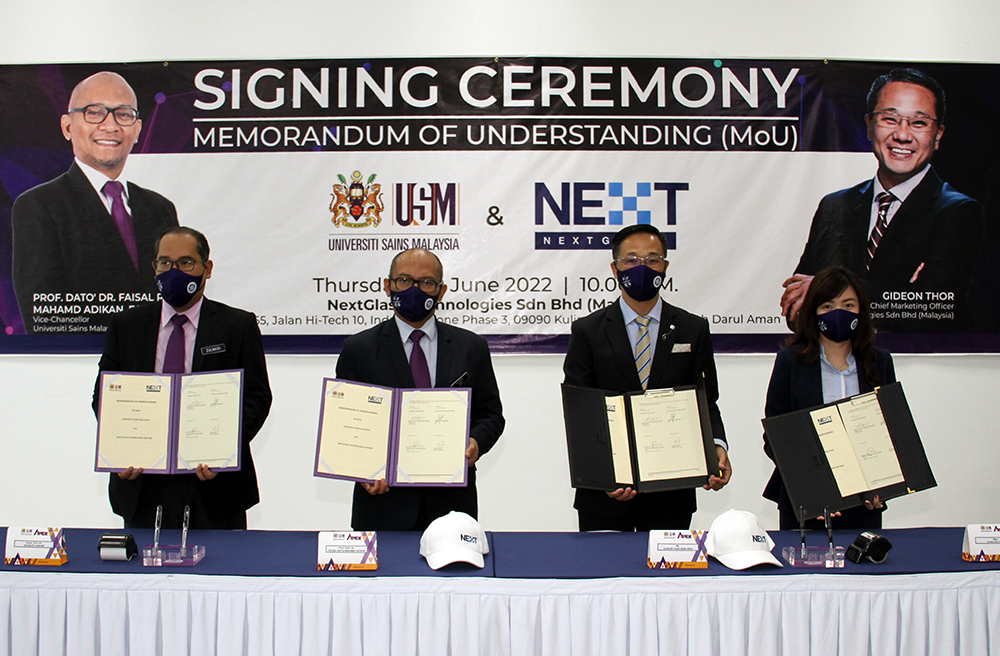 KULIM, KEDAH, 10 June 2022 – Universiti Sains Malaysia (USM) and NextGlass Technologies Sdn Bhd (NGT) recently signed a Memorandum of Understanding (MoU) to gain a better understanding of the capabilities of both parties in advanced technology and also to secure possible university-industry partnership.
According to USM Vice-Chancellor, Professor Dato' Dr. Faisal Rafiq Mahamd Adikan, the signing of this MoU is the first step in establishing a cooperative relationship between the USM School of Distance Education (PPJJ) and NextGlass.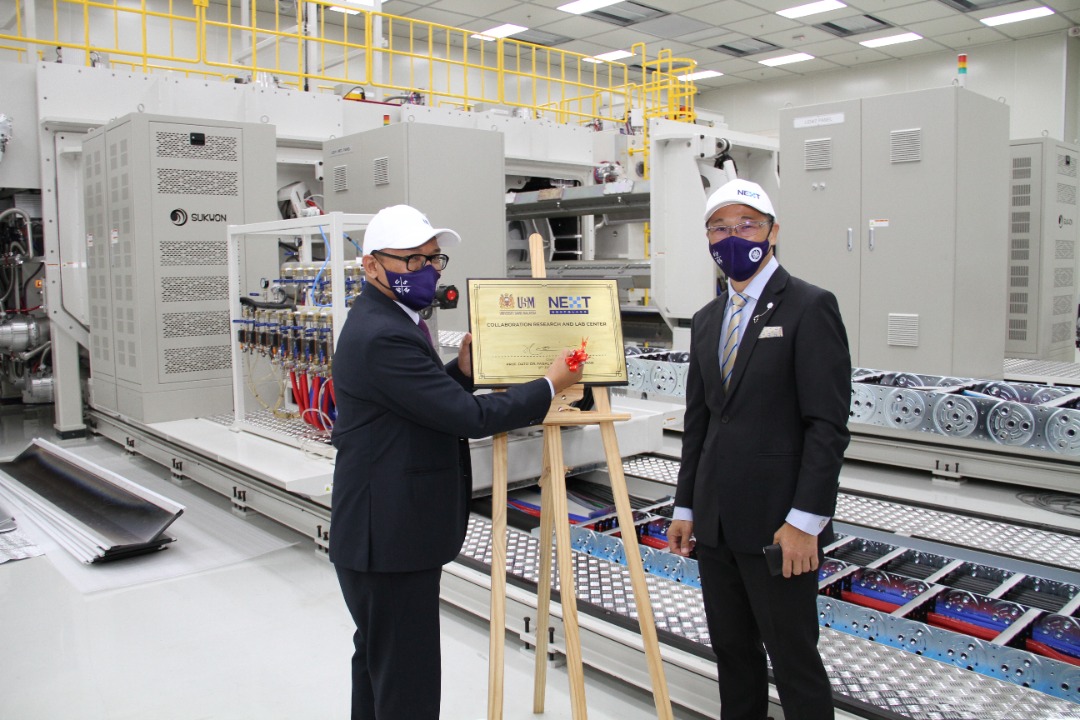 "This collaboration provides an opportunity for both parties to cooperate and promote, develop and establish research, education and training programmes through the exchange of students and/or staff, joint academic programmes, and joint research and development programmes.
It will also allow both parties to conduct joint workshops and training programmes, exchange of publications, and any other academic linkages and cooperation that will be mutually identified and agreed by both parties from time to time," he said.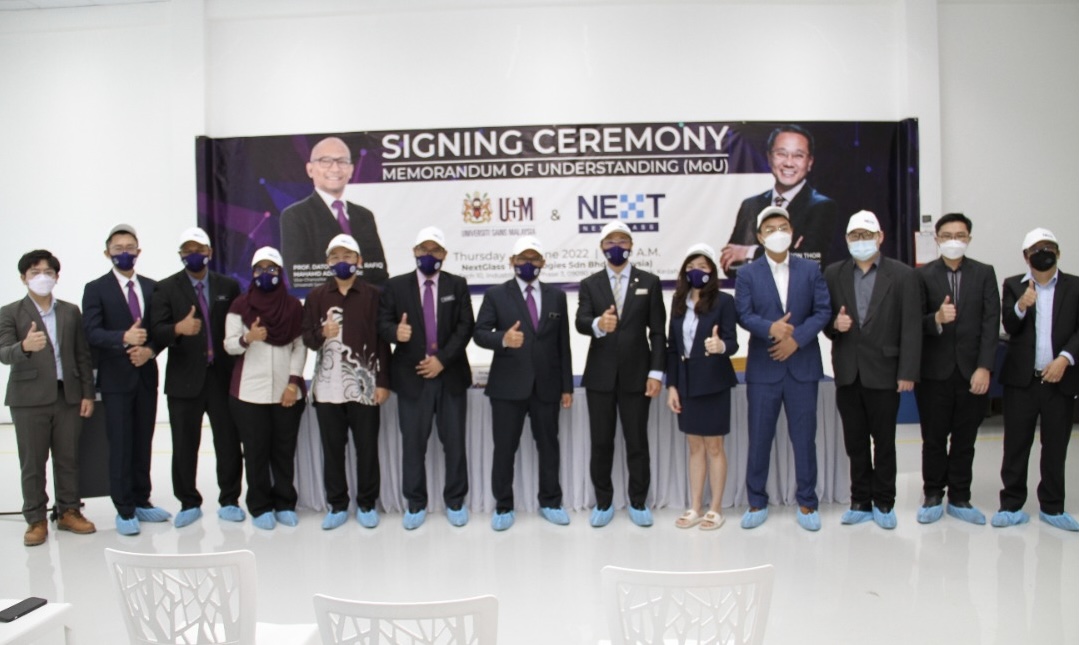 "Furthermore, this collaboration is a good platform for the university to improve the research culture/research acculturation and establish academia-industry linkages through good networking with the industry in general.
"We also look forward to the establishment of the USM-NextGlass Research Centre and hope that this research centre will be a one-stop centre for research and development activities, that will not only benefit our lecturers and NextGlass Technologies, but our students as well, where they can be more involved and gain more knowledge and experience on smart glass technology and related know-how from NextGlass," he added.
Meanwhile, the Managing Director, NextGlass Technologies Corporation, Mr. Gideon Thor said, their first priority is for the collaborative efforts to achieve the highly ambitious and mutually beneficial objectives for the students and also NGT.
"We want the future generation to be involved and evolved in the manufacturing sector that is set on cutting-edge technology in building smart glass and in R&D, and we call this as mutualism, because both the future generation and NGT will receive the benefits.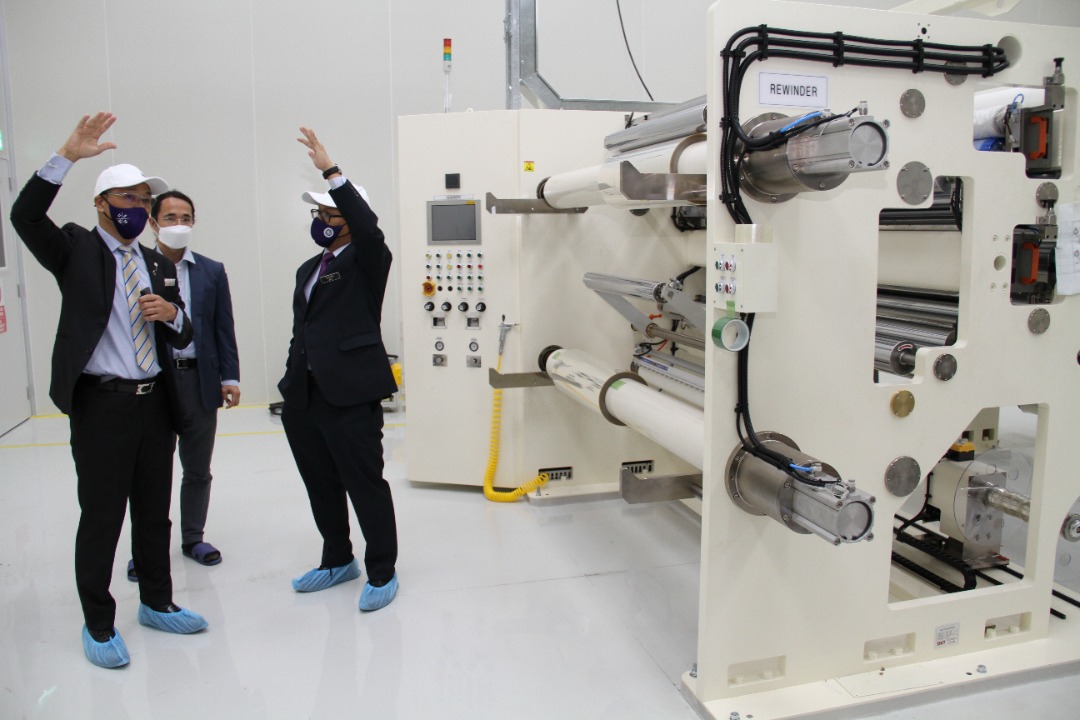 "Hence, this MoU signing ceremony will be focused on the importance of innovative initiatives in encouraging strategic university-industry partnership and facilitating the transfer of skills and researches," he added.
Furthermore, Gideon emphasised that the collaborative partnership initiated will be mutually beneficial and more effectively to promote the advancement of the professional and technical experiences and to uplift the knowledge and expertise further, in order to keep pace with modern times and the rapidly changing environments.
"Moreover, as a leading high-tech smart glass technology, NGT is strongly determined to produce highly qualified products all over Asia as well as worldwide, and the established academic collaborations are jointly united to achieve these highly inspiring objectives and accomplishments, he said.
NGT is not involved in the glass manufacturing industry per say, but rather they manufactured smart films which will be inserted into the glass, giving it 'magical' properties.
The NGT production method is built on the foundations of innovation and technology. They started as a R&D company in Korea since 2015 and has since managed to reduce cost and improve the quality of the smart film and conductive film, by achieving breakthroughs in the production process and in acquiring alternative raw materials.
Their product range covers PDLC smart film, EC film, Barrier Film, Self-Cleaning Glass, and Photocatalyst plate. Use of such products are applicable on green buildings, automobiles, electronic gadgets, solar energy panels and in the advertisement industry.
NGT's main products are PDLC and EC, which are widely used and accepted by the whole world as building materials.
Also present were the Dean, USM School of Distance Education, Assoc. Prof. Dr. Zulnaidi Yaacob; Operations Manager, NextGlass Technologies Corporation, Ch'ng Ker Sing; Director, USM Strategic Corporate Development Office, Muhammad Sabri Said; Deputy Dean (Research, Innovation & Industry-Community Engagement), School of Distance Education, ChM. Dr. Sumiyyah Sabar; and delegations from both parties.
The relationship between both parties began in March 2022, where ChM Dr. Sumiyyah Sabar and a few lecturers from the School paid a formal visit to NextGlass Technologies with the aim of gaining a better understanding of NextGlass advanced technology capabilities and seeking possible university-industry partnerships.
Following that, the USM School of Distance Education invited Mr. John Kim (Chief Technology Officer), Mr. Gideon Thor (Managing Director) and delegates from NextGlass Technologies to the School on 26 April 2022 for further discussion to sign an MoU.
Text: Hafiz Meah Ghouse Meah/Photo: Mohd Fairus Md Isa