USM AMONG THE PIONEERS FOR MQA SAMC PROGRAMME
USM PENANG, 2 May 2022 – Universiti Sains Malaysia (USM) signed a Memorandum of Understanding (MoU) with the Malaysian Qualifications Agency (MQA) as one of the eight institutions of higher education that will pioneer the Stand-Alone Micro-Credentials (SAMC) programme.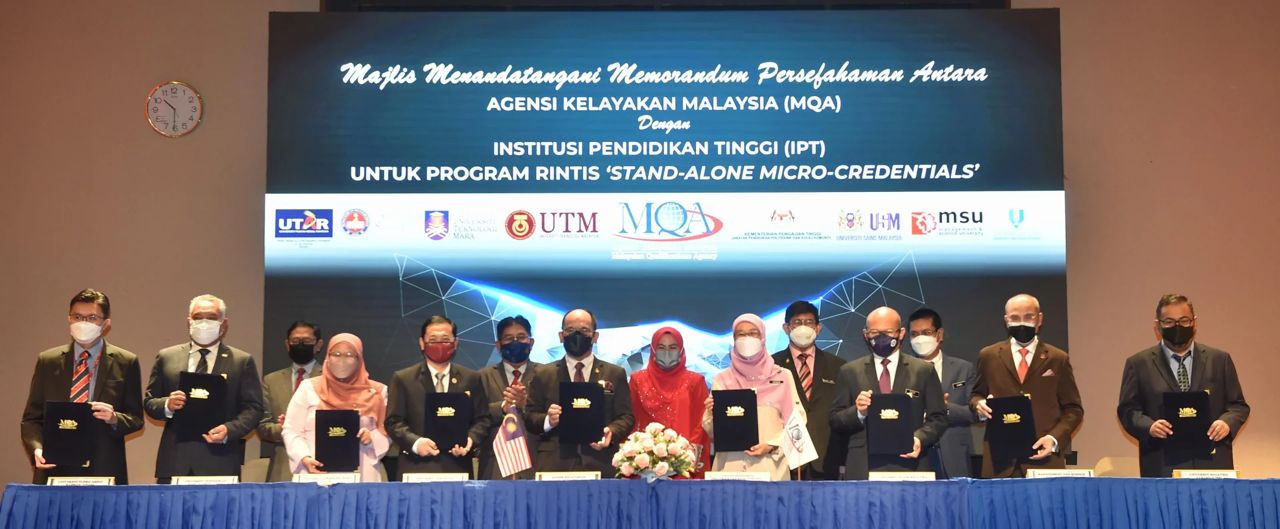 Photo credit: Ministry of Higher Education [https://www.mohe.gov.my/hebahan/sorotan-aktiviti/majlis-mou-program-rintis-stand-alone-micro-credentials-samc]
The MoU signing ceremony was held at the Ministry of Higher Education (MOHE) premises in Putrajaya on 12 April 2022, that was graced by the presence of the Minister of Higher Education, Datuk Seri Dr. Noraini Ahmad.
Noraini said, "The move was to strengthen the lifelong learning agenda and to develop good-practice guidelines."
"The SAMC will act as a support for the Micro-Credential Based Learning (M. CREDIBLE) initiative by MOHE and micro-credential courses that are offered by local higher education institutions, especially in the aspect of enhancing the quality and recognition," she said.
She added, "We are currently working on a new phase of flexible learning where micro-credential courses can be recognised for credit transfer. As a result, this will allow individuals who accummulate a sufficient amount of micro-credential courses to graduate with the terms and conditions set by the respective higher education institutions.
"I also see great potential in developing micro-credential based courses beyond the benefits of 'upskilling' and 'reskilling' ecosystems.
"In this regard, higher education institutions can benefit from collaboration with the industries, to produce educational products that help increase the marketability of graduates, support edu-tourism and offer online learning opportunities for students abroad," she said.
During the MoU signing, USM was represented by its Vice-Chancellor, Professor Dato' Dr. Faisal Rafiq Mahamd Adikan while MQA was represented by its Chief Executive Officer, Dato' Professor Dr. Mohammad Shatar Sabran.
The MoU was also signed by seven other public and private higher education institutions – Universiti Teknologi Malaysia (UTM), Universiti Teknologi Mara (UiTM), Universiti Malaysia Pahang (UMP), Universiti Pendidikan Sultan Idris (UPSI), Universiti Tunku Abdul Rahman (UTAR), Management and Science University (MSU) and institutions under the supervision of the Department of Polytechnic Education and Community Colleges.
These public and private higher education institutions were selected based on the number of micro-credential courses they have developed.
In USM, the Centre for Development of Academic Excellence (CDAE), led by its Director, Professor Dr. Abd Karim Alias, has been spearheading the promotion and implementation of micro-credentials-based learning as the way forward in the inculturation of lifelong learning in the country.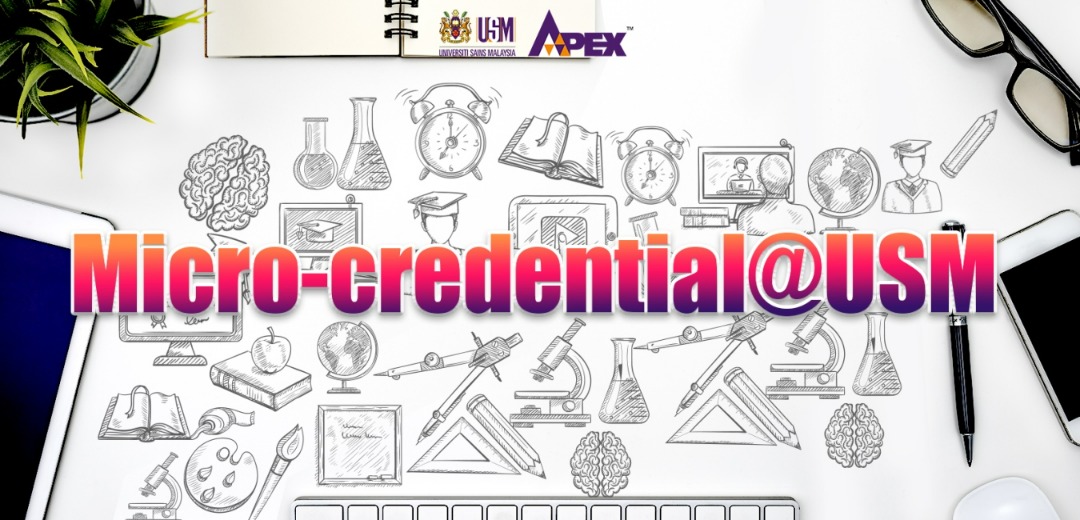 Photo credit: CDAE USM
CDAE has teamed up with OpenLearning Global (M) Sdn. Bhd. to create a micro-credential competency-based learning platform – the first of its kind in Malaysia – that enables any individual to earn recognition for skills and competencies they have learned throughout their careers and their life.
USM's Micro-credential Online Learning Portal will support individual lifelong learner, educators and workforce in any organisation or industry in acquiring desired competencies aligned to their own needs and priorities, hence making learning and training very flexible, manageable, convenient and most importantly, very affordable.
According to Abd Karim, USM now has close to 400+ micro-credential modules.
"Micro-credential supports Shift 3 (Nation of Lifelong Learners) and Shift 9 (Globalised Online Learning) of the Malaysia Education Blueprint 2015-2025 (Higher Education) as well as SDG 4 (Quality education - Ensure inclusive and equitable quality education and promote lifelong learning opportunities for all) of the United Nations Sustainable Development Goals," he added.
Text: Tan Ewe Hoe/Photo: MoHE website & CDAE website