USM, OPPSTAR TO STRENGTHEN PARTNERSHIP IN IC DESIGN PROGRAMME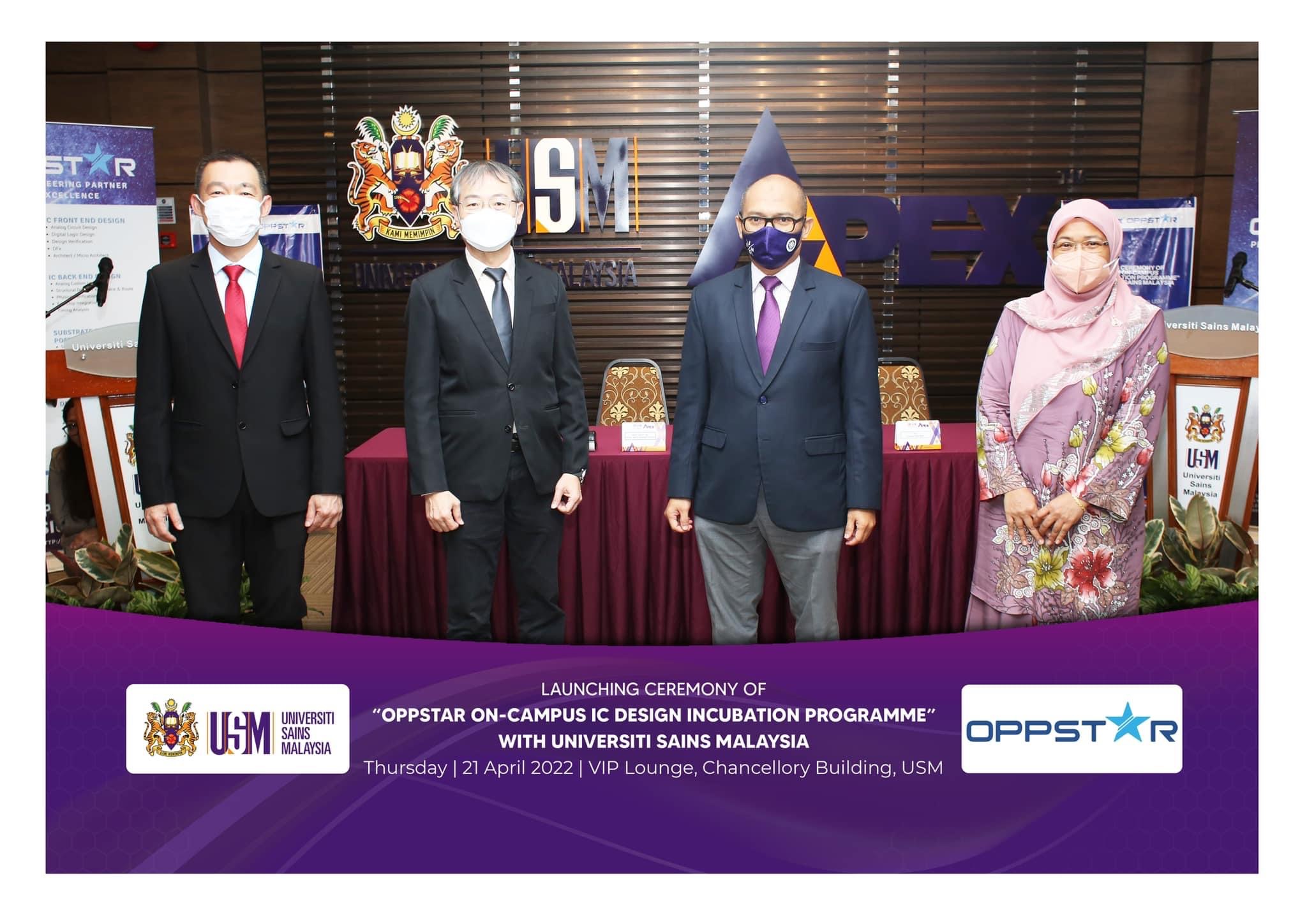 USM PENANG, 26 April 2022 – Universiti Sains Malaysia (USM) and Oppstar Technology Sdn. Bhd. are strengthening their partnership through the signing of a Memorandum of Agreement (MoA) during the "Oppstar On-Campus IC Design Incubation Programme" launching ceremony at the USM VIP Lounge here on 21 April 2022.
This strategic partnership will see the establishment of a designated lab specially for the said purpose, located in the School of Electrical and Electronic Engineering at the USM Engineering Campus in Nibong Tebal.
The setup is similar to 3u1i, where selected students under this programme will complete their Final Year Projects under the supervision of the school academics, while staff from Oppstar will act as a mentor and assigning the students with a real-world design problem, as well as training and equipping them with the most up-to-date IC (integrated circuit) designer skills.
The collaboration will further boost the university-industry cooperation in scientific and technological innovation, as well as the development of graduates for industrial training/internship in preparing them to enter the real workforce (industry).
Signing on behalf of USM was the Vice-Chancellor, Professor Dato' Dr. Faisal Rafiq Mahamd Adikan and on behalf of Oppstar was its Co-Founder and Chief Executive Officer (CEO), Ng Meng Thai and witnessed by USM Deputy Vice-Chancellor (International and Academic), Professor Dato' Gs. Dr. Narimah Samat and Oppstar Co-Founder and Chief Technology Officer (CTO), Cheah Hun Wah.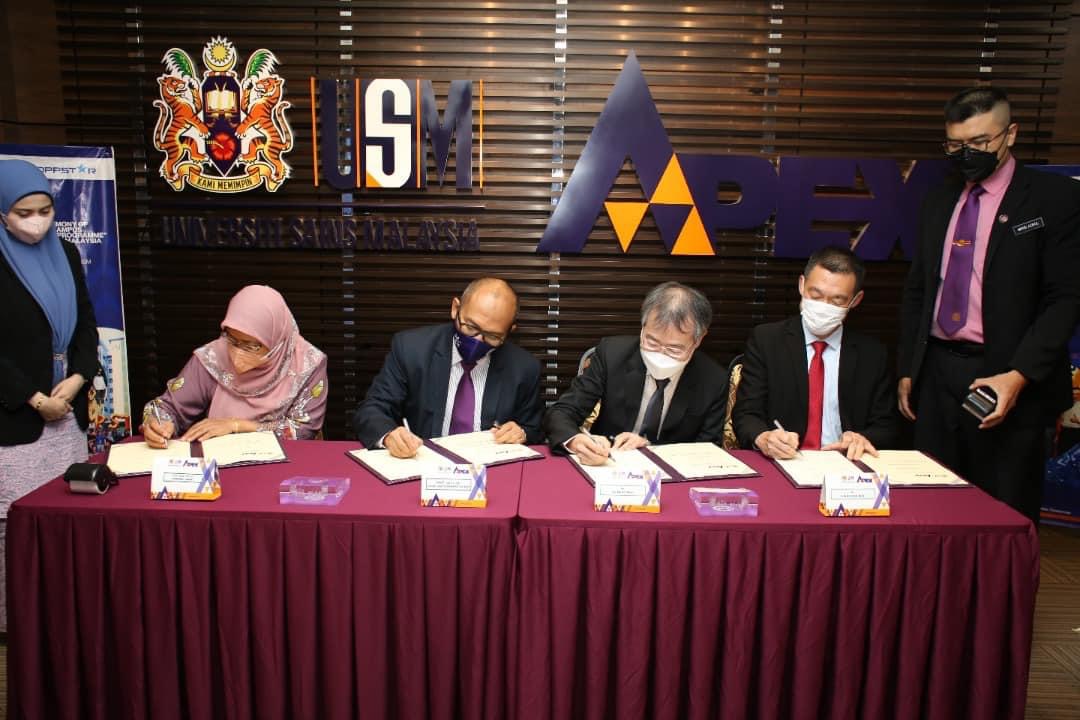 According to Faisal Rafiq, it is an honour for the University to work with Oppstar, especially during the current pandemic and economic situation affecting the country, and it is hoped that this initiative will increase USM graduate employability (GE).
"I wish to congratulate Oppstar Technology, USM Collaborative Microelectronic Design Excellence Center (CEDEC) and the School of Electrical and Electronic Engineering for the establishment of this programme," he said.
Meanwhile, Meng Thai, a USM alumni member who graduated in Electronic and Electrical Engineering (1989) said that, by looking at this programme, it is the best time to train engineers in IC design as this is a profession that requires a lot of skill set.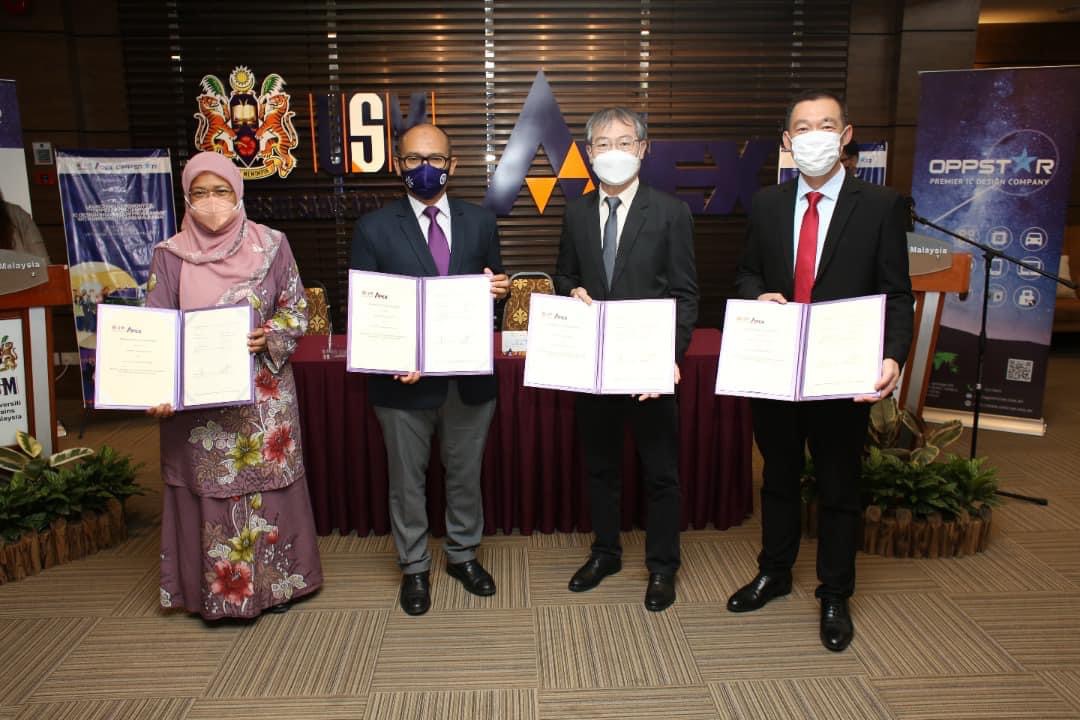 "By understanding the challenges that the university is facing, we would also like to work with other universities as well to create a win-win situation between the university and the industry that would benefit everyone involved," he said.
He hoped that this collaboration will bring up the employability rate among graduated students and for students to be ready to serve the industry once they graduated.
Also present were the Dean, School of Electrical and Electronic Engineering, Professor Ir. Ts. Dr. Shahrel Azmin Sundi @ Suandi; Director of CEDEC, Associate Professor Dr. Asrulnizam Abd Manaf; Director, Industry Network, USM Division of Industry and Community Network (BJIM), Dr. Shaizatulaqma Kamalul Ariffin; deputy deans of the School of Electrical and Electronic Engineering and principal officers of CEDEC, BJIM and Oppstar.
Oppstar is a premier company that specialises in providing integrated circuit (IC) design services, was co-founded by two local IT experts - Ng Meng Thai and Cheah Hun Wah – and started operations in 2014.
Oppstar Technology was the USM's first industry partner to set up their office in 2020 at the Innovative Incubator University (i2U) building at Sains@USM, Bukti Jambul.
Text: Nur Farrah Ezlin Mohd Suhaimi & Tan Ewe Hoe/Photo: Mohd Fairus Md Isa