LET'S DO MORE TO SAVE OUR FELLOW 'MATES'
USM PENANG, 1 January 2022 – Have you ever wondered, if you lost your way in the jungle, can you survive? For sure, fewer will say yes than no.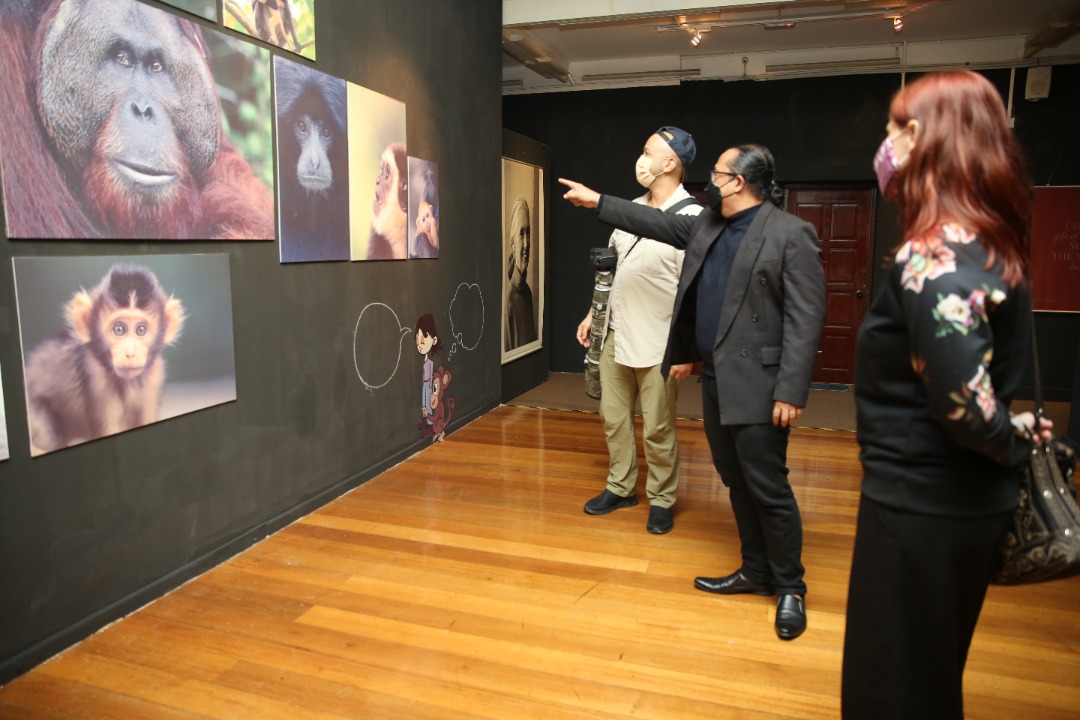 Basically, the jungle is not our turf compared to other creatures which have made the jungle their home.
And among them, the monkeys are the ones that have been able to adapt to the environment, and capable of living off the land.
As said by Senior Lecturer and Head of Primate Research and Conservation Lab, Dr. Nadine Rupert from the USM School of Biological Sciences, currently there are no guarantees, and we could not predict what will happen to the primates in the future, since they are all threatened with extinction and there are different levels of threat that they presently face.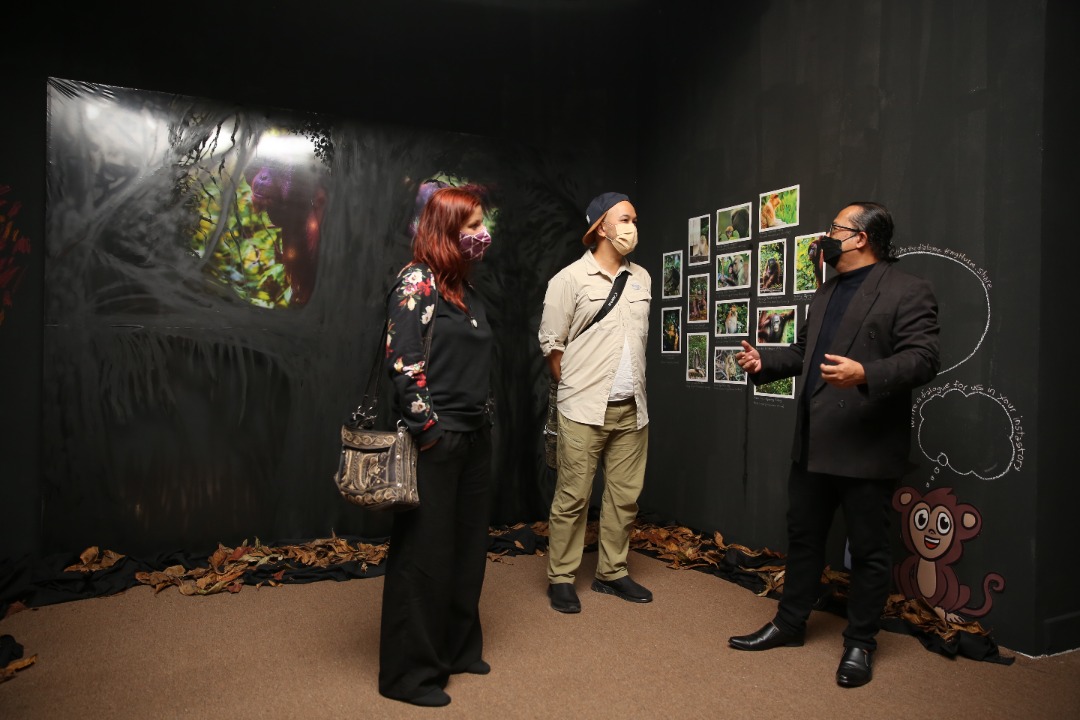 Nadine also said that the primates may have a brighter future if everyone can work together, for example in creating awareness by talking to the children or telling them stories about how primates live, through research projects, or posting photos on social media like Facebook or Instagram and just talking little bit about it to educate the people.
"If everybody can come together, through initiatives from the governments and non-governmental organisations (NGOs), academicians, universities, researchers, locally in Malaysia as well as internationally, we can highlight this issue together. Surely, there is always hope that we can basically try to create a future for all the Malaysian wildlife, even the tigers," she added.
When asked about her interest in doing research on primates, Nadine Rupert said that it is because since she had studied Biology in Tropical Ecology and Behavioural subjects, she started to study the tree shrews and rats as it was part of her PhD project.
She needed to figure out which one of the small mammals that eat the seeds of rattan and also to find out which of these species have to eat the case of rice and distribute their seeds.
"While I was studying the small mammals for like a year or two, and during the time where we put our camera traps in front of the rattan fruits, we only saw the birds and all the monkeys, which were the macaques in my camera traps.
"So since then, I told my supervisor that I have some data on small mammals, but I needed to know more about the macaques, and started searching through Google for any publication on macaques in Malaysia, and that was how we started the project," she said.
As for professional photographer, Peter Ong, who is also part of 'Project Monyet', he said that all the photos that he took was all meaningful because every encounter is very special.
"I can remember each and every encounter, because what I see is intelligent and it is really amazing. It feels special when you look at something, it looks back at you and you know that it's the thinking being that is really special. I love watching their thought process, which it is truly incredible," said Peter.
What inspires him to take photos of primates is seeing the primates' similarities to humans, which is over 90 percent similar to human DNA. It feels special and he wants his pictures to educate as many Malaysians as possible, to be curious about what's in their backyard, our natural resources, and the creatures we share our land with, and he hoped people would appreciate that.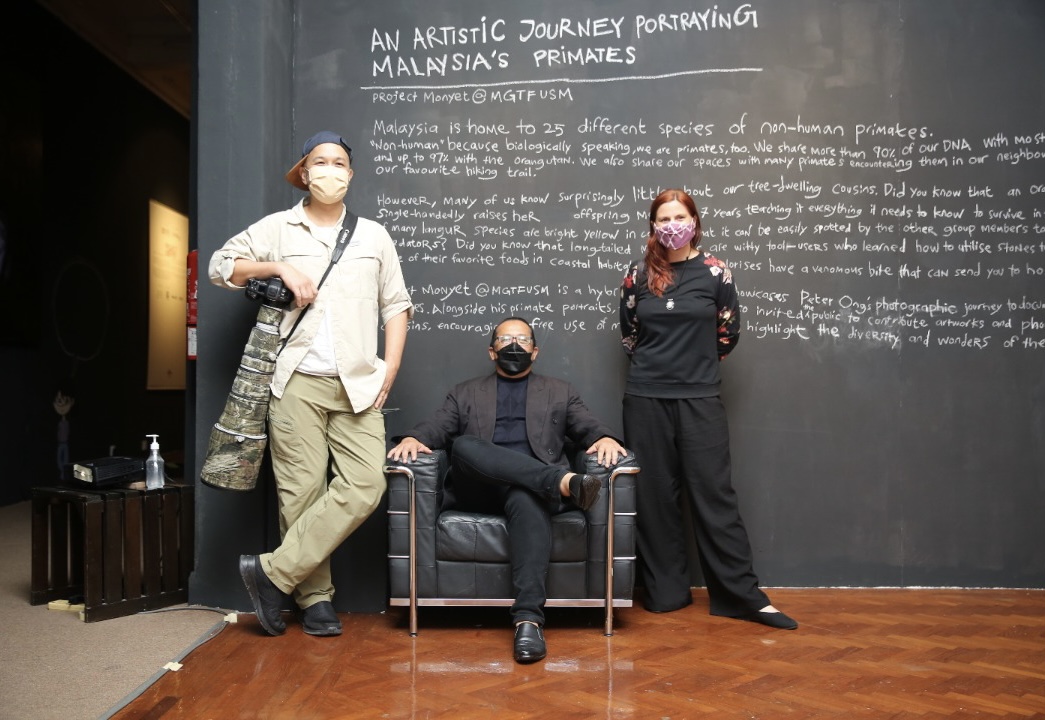 "We assume that, we humans are the most intelligent but slowly, we will discover that we are not necessarily the most intelligent, as you can see how much damage we have caused to our environment, we are ruining the only home they have, as we are blind by the technology," he added.
"When we are looking at primates, we can now see them at our surrounding.We don't need to travel to Africa or South America to save the rainforest and the primates that live there and in fact, we must overcome the sense of indifference that is gripping urbanites.
"Every decision we make affects the environment in some way, and therefore, it's good to reduce, reuse and recycle with more awareness," he concluded.
Project Monyet is a hybrid exhibition that was originally held from 25 October to 24 December 2021 but due to overwhelming response, it was extended to 15 January 2022 at USM's Muzium & Galeri Tuanku Fauziah (MGTF), showcasing Peter Ong's photographic journey to document Malaysia's fascinating primates.
According to MGTF Director, Assoc. Prof. Hasnul Jamal Saidon, alongside Peter Ong's primate potraits, this exhibition has also invited the public to contribute artworks and photographs about our arboreal cousins, encouraging a free use of media and style to highlight the diversity and wonders of these animals we call (pri-)MATES, and the response was beyond what we expected from all walks of life.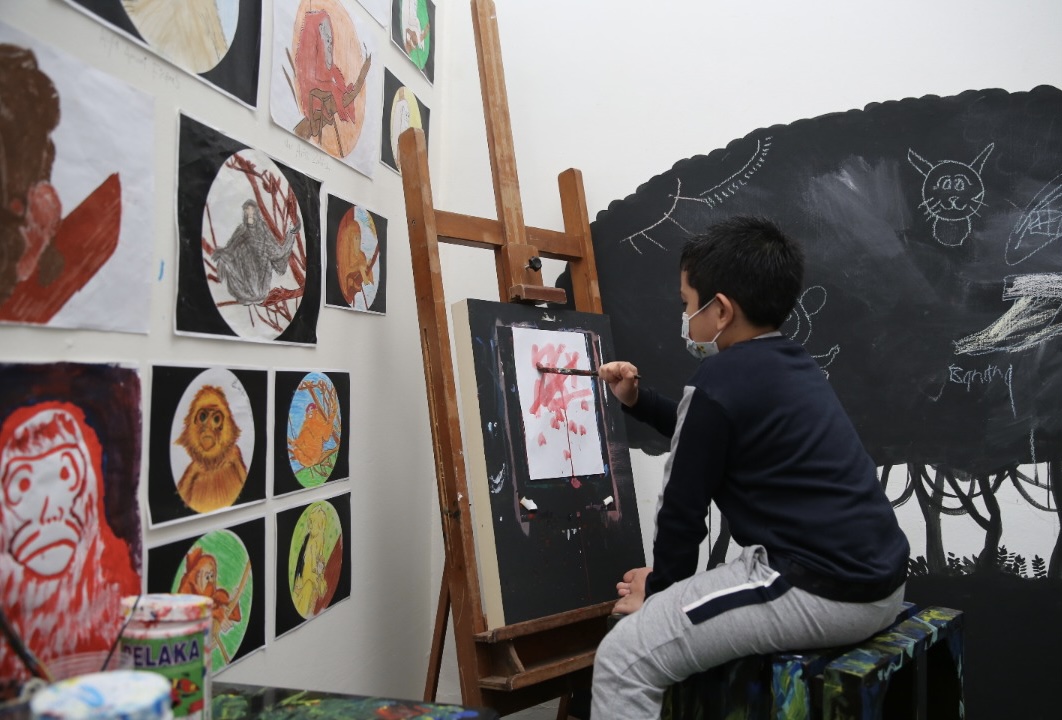 Such similar exhibitions focusing on primates are also being held in other parts of the world, one aptly named 'Monkeys!' which was had been held at the National Museums in Edinburgh, Scotland in the United Kingdom and at Queensland Museum in Brisbane, Australia.
Text: Nur Farrah Ezlin Mohd Suhaimi & Mazlan Hanafi Basharudin/Photo: Mahirah Mahyidin