SOARING HIGHER WITH A SUSTAINABLE IDEA
Citra, the Bio Leather, designed by USM student Menlin Ng, makes it to the James Dyson Award International Top 20 shortlist.
USM PENANG, 5 November 2021 – Menlin Ng Aniathul Fitria Ismail Ng Abdullah, from Universiti Sains Malaysia (USM) School of the Arts and inventor of Citra, the bio leather, who was chosen this year for the James Dyson Award (JDA) Malaysia National Runner-up, is now shortlisted into the International Top 20!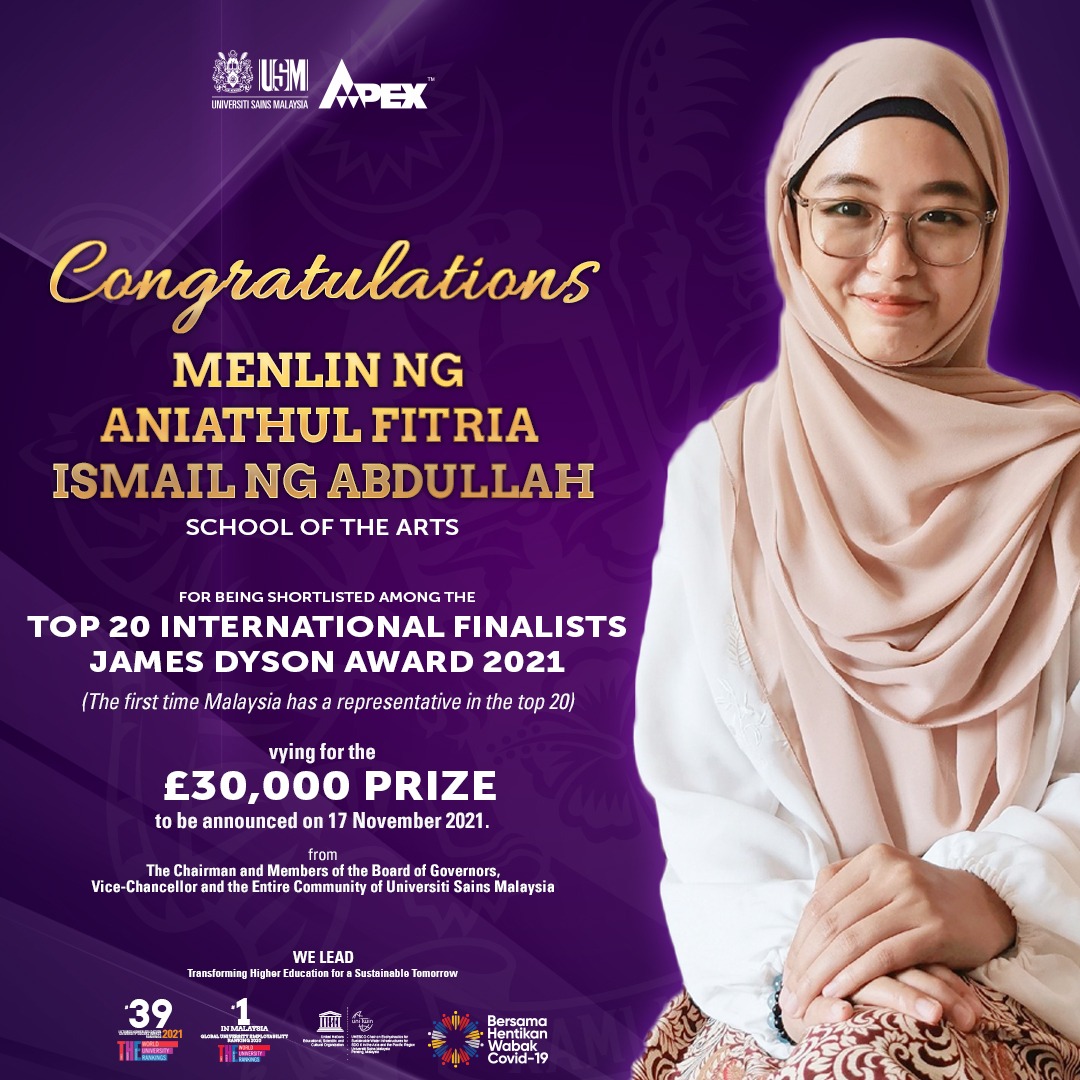 Her entry marks the first time a Malaysian has been selected as a Top 20 finalist going into the international stage. A huge congratulations to her on this incredible milestone!
This year, a global panel of 15 Dyson Engineers has reviewed all 83 national finalists and selected their Top 20 shortlisted candidates, all vying for the £30,000 grand prize.
The shortlist then makes it to Sir James Dyson, who will personally crown his international winner and runners-up on 17 November 2021.
Since winning the National Runner-up title, Menlin has gone on to gain the interests of countless Malaysian media outlets and her achievement has been circulating in print, digital and on social medias.
Upon realising that about 18 billion pounds of plastic waste finds its way into the world's oceans every year while, useful biomaterials in the form of fruits and vegetables produced globally are being wasted each year, Menlin was inspired to create Citra as a sustainable alternative to plastic packaging by repurposing discarded citrus peels collected from restaurants and transforming it into a leather-like material using organic binders.
Menlin hopes to further her research on new vegan material to be promoted in Malaysia and enhance the quality of bio leathers for a more sustainable future for all.
She is thankful for all the support given by the Dean of School of The Arts, Dr. Mumtaz Begum Aboo Backer and Dr. Siti Suhaily Surip as well as the opportunity of a lifetime provided by The James Dyson Foundation.
We wish Menlin all the best, and we hope that Menlin's achievement will inspire many more Malaysians to embrace the culture of innovation.
Excerpts from The James Dyson Foundation press release/Infographic: Ebrahim Abdul Manan