USM ENGINEERING STUDENTS DO UNIVERSITY AND COUNTRY PROUD, TO PARTICIPATE IN SPACEPORT AMERICA CUP 2022
First and only Malaysian team to take part in the competition, and has been shortlisted for the final round involving 150 teams globally, in New Mexico, 21–25 June 2022.
NIBONG TEBAL, PENANG, 28 October 2021 – A team from the Universiti Sains Malaysia (USM) Engineering Campus will be representing the university to take part in the Spaceport America Cup 2022, which is the world's largest Intercollegiate Rocket Engineering Conference (IREC) for the first time, organised by Experimental Sounding Rocket Association.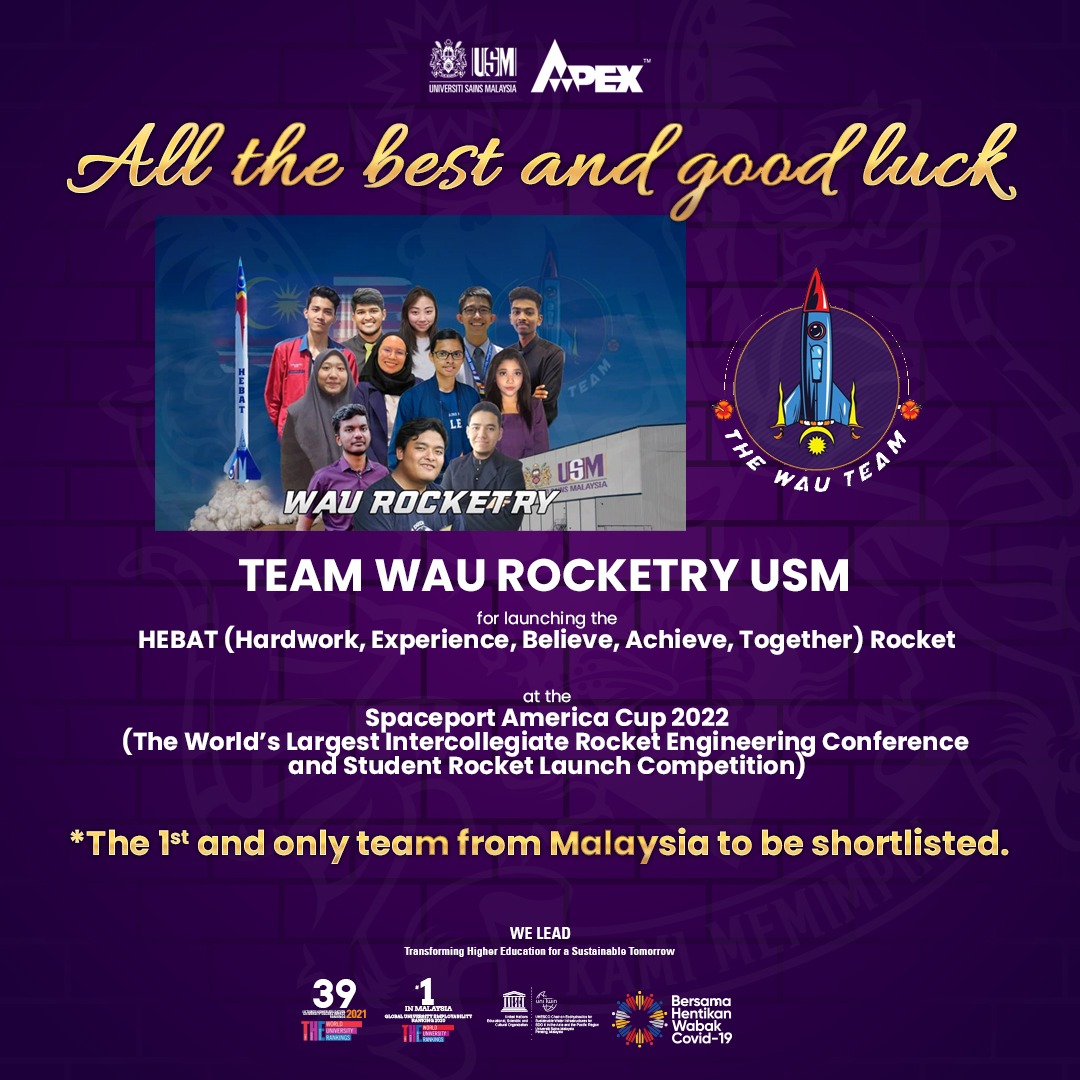 The USM team comprising of twelve students, led by Vanmitha Athimoolam, with their advisors Dr. Norilmi Amilia Ismail and Dr. Chang Wei Shyang from the School of Aerospace Engineering, and mentored by Julian Chee Yie Jian and Ahmad Tamimi Ahmad Termizi, will participate in the competition in New Mexico, from 21–25 June 2022.
With the help from the advisors and mentors, the team was selected as one of the 150 out of 190 teams that took part, and the Engineering students who were involved in the competition are:
Team Leader: Vanmitha Athimoolam (3rd year undergraduate student of Aerospace Engineering)
Team Members:
Undergraduate students from the School of Aerospace Engineering
Nuha binti Ahmad Rizal (final year)

Muhammad Fitri bin Zailan (final year)

Nurin Salihah binti Mas Johan (final year)

Jeeness A/L Arumugom (3rd year)

Nurin Izzati binti Umar (3rd year)

Hariz Izzudin bin A Rahim (3rd year)

Muhammad Amirul Alif bin Zakria (3rd year)

Rishee A/L Kumar (2nd year)
Undergraduate students from the School of Chemical Engineering
Christy Wee Xin Yee (1st year)

Kavilan A/L Ramoo (3rd year)
Undergraduate student from the School of Mechanical Engineering
Yap Wei Juin (3rd year)
With their project entitled 'Malaysian Rocketry Generation', the team's objective is to create a benchmark and inspire more Malaysian university students to take part in future Spaceport America Cup competition, which will contribute to the nation's rocketry development.
The team named their rocket, HEBAT Rocket, which stands for H-Hardwork, E-Experience, B-Believe, A-Achieve, T-Together. (It has a different meaning from the HEBAT elements designed by USM HDC, BHEPA)
The team's advisors, via an email interview, said that they are proud of the team's progress whereby they started with limited knowledge in rocket design and manufacturing, and later managed to catch up and learn the rocket design with the help of their appointed mentor who is experienced in Rocket Launches.
According to Norilmi, the team is motivated to join the competition because of the passion they have towards building Malaysia's rocketry industry, and Spaceport America Cup 2022 is a golden opportunity for the team to apply all the fundamentals they have learned and the chance they get to build the first student team high-powered rocket.
"The team worked remotely on finalising their subsystem designs by using engineering software and running multiple simulations in the qualification stage. They have started to work in detail as their first progress report is due on 10th December and they are currently preparing a prototype of the HEBAT Rocket to run a few tests on it," she said.
Meanwhile, Chang highlighted the skills required for the team to join the competition.
"Firstly, is design and creativity which they need to design a low cost and functional rocket and payload to fulfill the mission criteria.
"Secondly is leadership, a leader who can lead a team with proper guidance to make the mission successful.
"Third is the skills of being able to learn fast and adapt to changes made during the 8-month journey," he said.
"Participants also need to be able to think rationally and to be problem-solvers. They must be able to come up with a rational solution to solve the problem faced by the team," he added.
The competition is offering a number of prizes and awards, and Chang hopes to win at least one of the prizes.
As team leader, Vanmitha said that the team members were recruited by their passion and knowledge that they have for rocketry, although they do not have any experience in launching a high-powered rocket.
"The team was split into subsystem teams (Structure, Propulsion, Recovery, Payload, and Safety), and the tasks were assigned according to their interest.
"By joining the competition, we apply the knowledge we have in rocketry, and we want to set a benchmark for Malaysian students to go after their passion and dream," she said.
"Since we are the first Malaysian team to take part in Spaceport Cup 2022, we named our team 'Wau Rocketry', as we know Wau is Malaysia's national kite, and the shape of its wing is like an Arabic letter which is pronounced as 'wow'. We believe that the word 'Wau' will be the Malaysian way of reacting once they know about us," she added.
If we recall, Vanmitha made the university proud when she was selected as a finalist representing Malaysia in the Career Astronaut Competition 2020, organised by AdvancingX.
The entire team is grateful to the top management and in particular to the Engineering Campus Director, Professor Dr. Nor Azazi Zakaria dan the School of Aerospace Engineering Dean, Associate Professor Dr. Farzad Ismail for their support, guidance, encouragement and shared passion in seeing them achieving their goals in this competition.
Wishing Wau Rocketry the best in the upcoming Spaceport America Cup 2022!
----------------
About Spaceport America Cup, IREC
Spaceport America Cup, IREC is the world's largest rocket competition at the college and university level with the aim of designing, building, and flying research rockets.
It is a great way to motivate and encourage students to pursue science, technology, engineering, and mathematics (STEM) based careers through designing, building, and flying research rockets.
The smoke-and-fire, noise, high speeds, and sleek aerodynamics of rocketry draw student interest in STEM like few other fields can.
They even have "Rocket Fever!" and the competition is to motivate students to extend themselves beyond the classroom to design and build these high-flying machines themselves.
Students also learn to work as a team, solving real-world problems under the same pressures of cost, schedule, and technical risk they'll experience in their future careers.
Text: Nur Farrah Ezlin Mohd Suhaimi/Editing: Mazlan Hanafi Basharuddin & Tan Ewe Hoe/Artwork: Ebrahim Abdul Manan/Photo: Courtesy of Vanmitha Athimoolam