USM LASER PROGRAMME: HOW TO EFFECTIVELY COMPLETE A KNOWLEDGE TRANSFER PLAN
USM PENANG, 23 September 2021 -- Universiti Sains Malaysia (USM) has once again been entrusted by the Academy of Higher Education Leadership (AKEPT) to hold a sharing session as part of the 'Leadership in Academic-Society Experiential Relationship (LASER) 2021' Programme.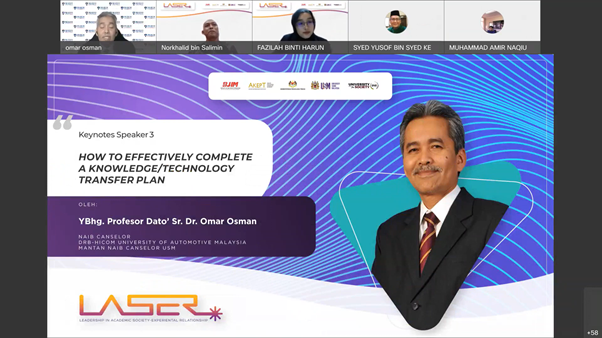 One of the keynote speakers for the LASER programme was Professor Dato' Sr. Dr. Omar Osman who is the Vice-Chancellor of DRB-HICOM University of Automotive Malaysia. Omar was formerly the USM Vice-Chancellor, from 2011 to 2016.
Omar delivered a keynote speech entitled 'How To Effectively Complete A Knowledge Transfer Plan' which was held virtually via Webex.
"Discussion around 'Knowledge Transfer' (KT) often focuses on the formation of spin-out business, or the licensing of intellectual property (IP), based on the outputs of university science and technology-related researches," he said.
According to Omar, KT actually encompasses a much broader range of activities and is not limited to the science and technology disciplines.
"KT also means the sharing or disseminating of knowledge and providing inputs to problem-solving.
"In organisational theory, KT is the practical problem of transferring knowledge from one part of the organisation to another and is a term used to encompass a very broad range of activities to support mutually beneficial collaborations between universities, businesses and the public sector.
"In addition, KT is a 'contact sport'; it works best when people meet to exchange ideas, sometimes serendipitously, and spot new opportunities," he added.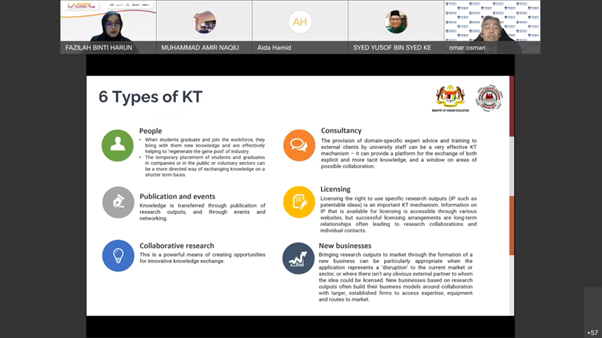 According to Omar, there are 6 types of KT, namely People, Publication and Events, Collaborative Research, Consultancy, Licensing and New Businesses.
"The first type of KT is People, which means that when students graduate and join the workforce, they bring with them new knowledge and are effectively helping to 'regenerate the gene pool' of industry.
"Publication and Events is knowledge that is transferred through the publication of research outputs, and through events and networking while Collaborative Research has a powerful means of creating opportunities for innovative knowledge exchange.
"Consultancy will demand a provision of domain-specific expert advice and training to external clients by university staff which can be a very effective KT mechanism and Licensing is the right to use specific research outputs (IP such as patentable ideas) as an important KT mechanism. Information on IP that is available for licensing is accessible through various websites, but successful licensing arrangements are long-term relationships often leading to research collaborations and individuals contacts.
"Lastly and most important is on New Businesses, which brings research outputs to markets through the formation which can be particularly appropriate when the application represents a 'disruption' to the current market or sector, or where there isn't any obvious external partner to whom the idea could be licensed," he further stressed.
LASER 2021 was streamed live on the Youtube platform 'BJIM USM' and featured two other previous USM leadership figures (former USM Vice-Chancellors) in the likes of Professor Emeritus Tan Sri Dato' Dzulkifli Abdul Razakand Professor Datuk Dr. Asma Ismail.
Text & Photo: Mohamad Hafiz Asyraf Mohd Arop