USM TO COLLABORATE ON DIGITAL MARKETING PROGRAMME WITH KAKITANGAN.COM AND OPENLEARNING.COM
USM PENANG, 29 September 2021 – Universiti Sains Malaysia (USM) via the Centre for Innovation and Consultation (CIC) has entered into a collaboration with strategic partners, Kakitangan.com and OpenLearning.com, in obtaining support services that can be offered for the accessibility of USM start-up companies.
This partnership would see the three concerned parties embarking on and implementing theGraduate Recruitment Programme (Digital Marketing), a pilot project that serves as one of the USM Start-Up Residency initiatives, which aims to expand on the USM graduate employability effort.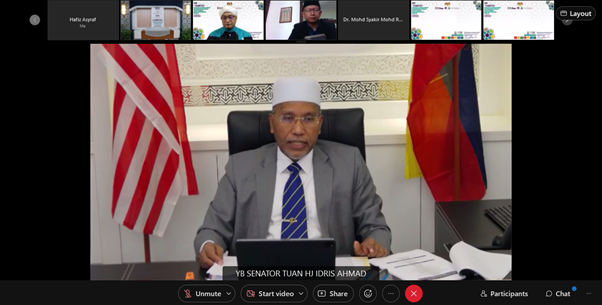 The programme was successfully launched virtually on 25 August 2021 via Webex, by the USM Vice-Chancellor, Professor Dato' Dr. Faisal Rafiq Mahamd Adikan.
Both the CEOs and Founders of Kakitangan.com, Effon Khoo and OpenLearning.com, Adam Brimo were invited to explain further on what this programme was all about, in a session moderated by Bella David, an alumnus of USM.
Effon Khoo said, "I would like to take this opportunity to thank all team members of CIC USM and OpenLearning.com for all the hard work and dedication that went into making this possible. I strongly believe that this programme will be helping graduates to secure a job and avoid the problem of being unemployed, especially among the graduates from USM."
He added that Kakitangan.com wants to prepare market-ready graduates in close collaboration with the University, thus securing USM's graduate employability.
"We will help USM in its intention to provide quality graduates to be employed that will fulfil the nation's needs. The programme will not stop here, we will provide more opportunities for USM if there is favourable response from the graduates," he said.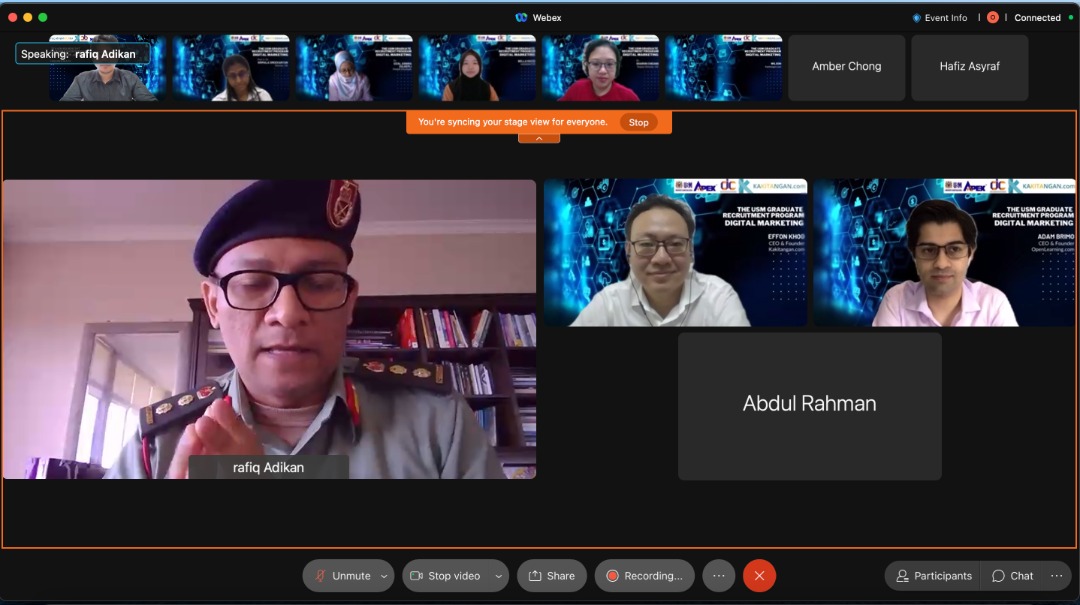 Faisal Rafiq, in his officiating speech, said he hoped that the start-up ecosystem can improve the branding and visibility of CIC and USM to the world, as more potential strategic partners can be brought to the University and to attract more talents to USM.
"Through this programme, we want to prepare market-ready graduates in close collaboration with the industry, and we hope more of such programmes that foster employability through mentoring and practical real-world experience, can be developed in the future," he said.
"In USM, we have this mantra, to produce HEBAT graduates and we believe that by enrolling in this programme, our graduates could equip themselves with all the attributes of HEBAT (Holistic, Entrepreneurial, Balanced, Articulate and Thinking).
"By learning about digital marketing and content creation, our students could use their entrepreneurial instincts as well as their thinking and articulation skills to solve the problems faced by the industry," Faisal Rafiq added.
Also present were the Deputy Vice-Chancellor of Research and Innovation, Professor Dato' Ir. Dr. Abdul Rahman Mohamed; Director of CIC, Professor Ir. Dr. Srimala Sreekantan; Dean, School of Management, Professor Dr. Noor Hazlina Ahmad; and Dean, School of Communication, Dr. Nurzali Ismail.
Text: Mohamad Hafiz Asyraf Mohd Arop & Nur Farrah Ezlin Mohd Suhaimi/ Editing: Mazlan Hanafi Basharudin/Photo: Mohamad Hafiz Asyraf Mohd Arop & Nur Sadrina Abdul Rahim