USM, DITROLIC ENERGY SIGN PPA; USM TURNS TO SOLAR-POWERED ELECTRICITY FOR CAMPUS USE
USM PENANG, 28 September 2021 -- Universiti Sains Malaysia (USM) entered into a 20-year solar Power Purchase Agreement (PPA) with Ditrolic EnergySolutions Sdn. Bhd., a Malaysian clean energy solutions company for corporate and institutional customers in Southeast Asia, to set up a 10.6MWp on-site rooftop solar system in the varsity.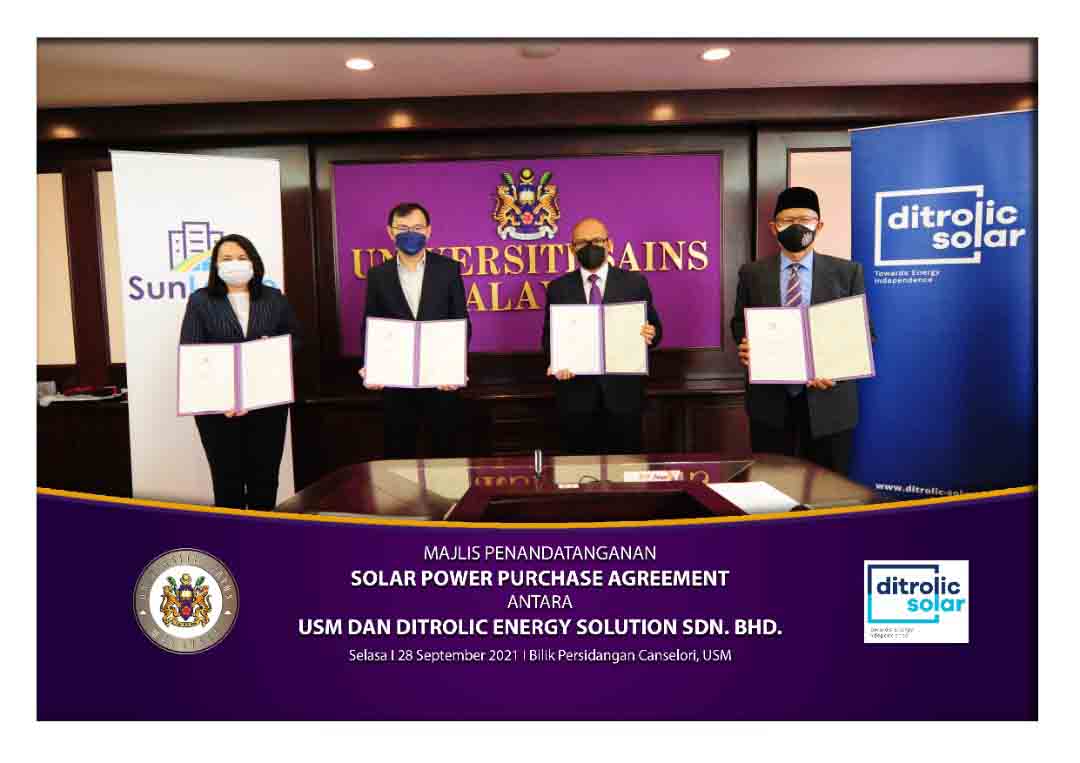 This cooperation in the installation of the solar photovoltaic (PV) system through a Request for Proposal (RFP)offer is believed to be the first of its kind and the single largest public university PPA dealin Malaysia.
By end of the year, with the completion of 22,374 pieces of solar modules installation across 90 buildings, solar carports and ground mounted system around its main campus,USM expects most of the energy supplied to its campuses to be clean and renewable.
The solar system will be able to generate power for 63.73% of its peak power demand. Over its lifetime, approximately 278,683MWh of clean energy will be generated, enabling USM to eliminate 217,705 tonnes of CO2 emissions in total.
Expressing his delight to be collaborating with Ditrolic Energy in this maiden project, USM Vice-Chancellor, Professor Dato' Dr. Faisal Rafiq Mahamd Adikan said, "With the installation of the solar modules in the main campus, USM will be among the first public university in the country to have up to 75% of its maximum demand and about 40% of the total usage for electricity to be generated by solar energy. This will in turn help the university to potentially save up to 30% on its utility bills."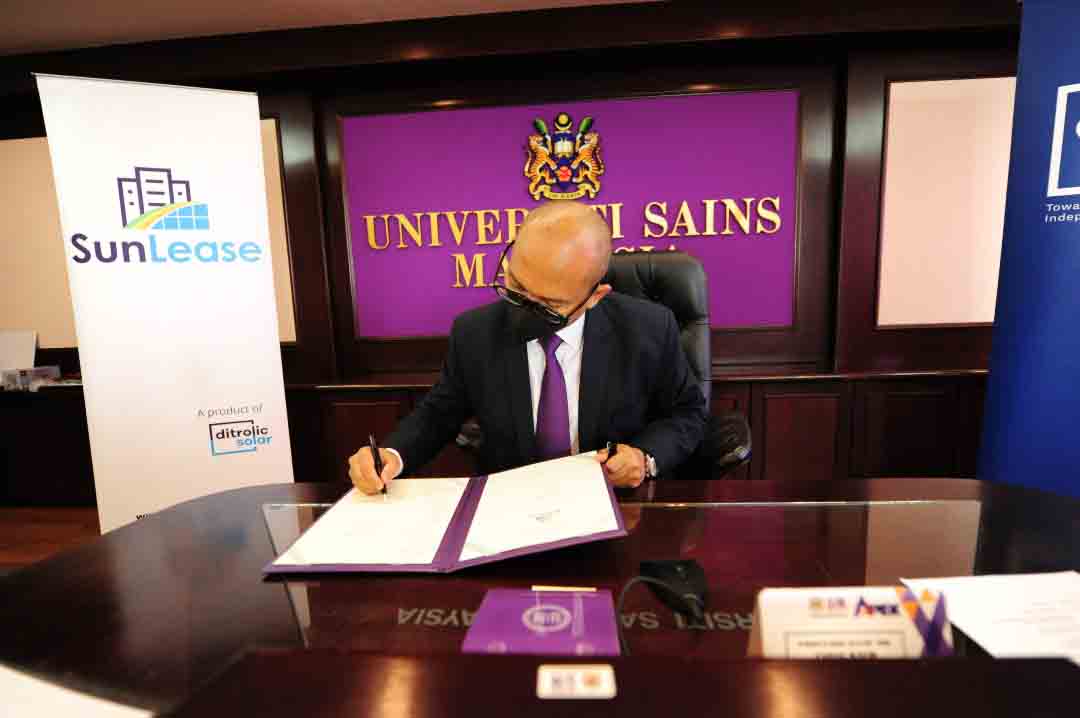 "USM aims to lead into the future, and using clean and renewable solar energy will be among its prioritised initiative. This will ensure that USM can continue to be proactive in the fight against climate change, reducing its CO2 emissions, and at the same time reducing its energy cost.
"This will also demonstrate the university's serious efforts in pursuit of greener and cleaner energy source for the entire varsity and in doing so, contributes towards creating a sustainable future," he said.
Faisal Rafiq added that USM is also optimistic to carry out similar arrangement to install solar systems at its Engineering Campus in Nibong Tebal with other companies around June or July next year.
Group CEO of Ditrolic Energy,Tham Chee Aun expressed his appreciation to be able to partner with USM, one of the oldest public university in Malaysia, in their journey to achieving net zero carbon emission.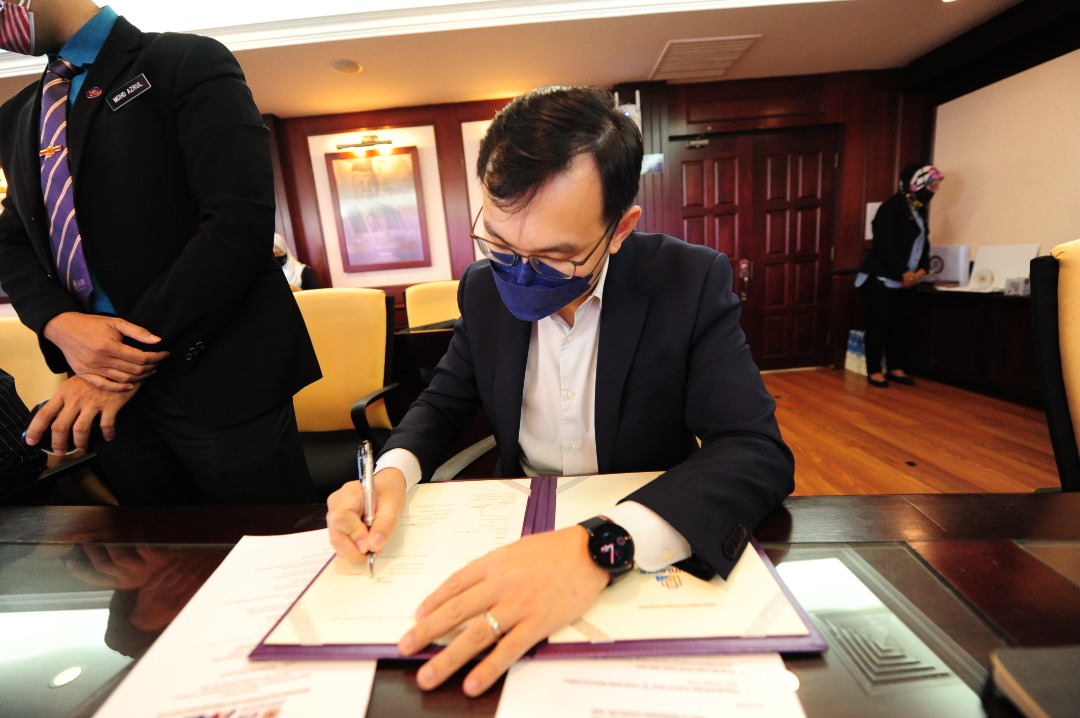 "We are honored to become the clean energy partner for USM. This initiative will showcase to the nation as well as the students on how a leading public university can lead by example in the fight against climate change while hedging their energy cost at the same time.
"We believe the educational sector is a resilient and fundamental part of the society which should plan for the future and inspire the future generation.
"Hence, we are ever ready to provide our strongest support to this sector to deploy further investment under our SunLease programme. Currently, Ditrolic Energy is one of the largest clean energy provider to the educational sector with more than 15.7MW of projects under construction," he said.
Faisal Rafiq and Profesor Dr. Md Roslan Hashim (Deputy Vice-Chancellor of Sustainability and Institutional Development) signed on behalf of USM, while Tham and Raziah Hamdan (Business Development Manager) signed on behalf of Ditrolic Energy.
Also present were USM Bursar, Kamarul Ariffin Ngah; USM Strategic Corporate Development Director, Muhamad Sabri Said; USM Asset Development and Management Department Director, Ir. Mohd Nizam Mohd Razak; and Ditrolic Energy Senior Business Development Engineer, Nasrul Izwan Abdul Halim.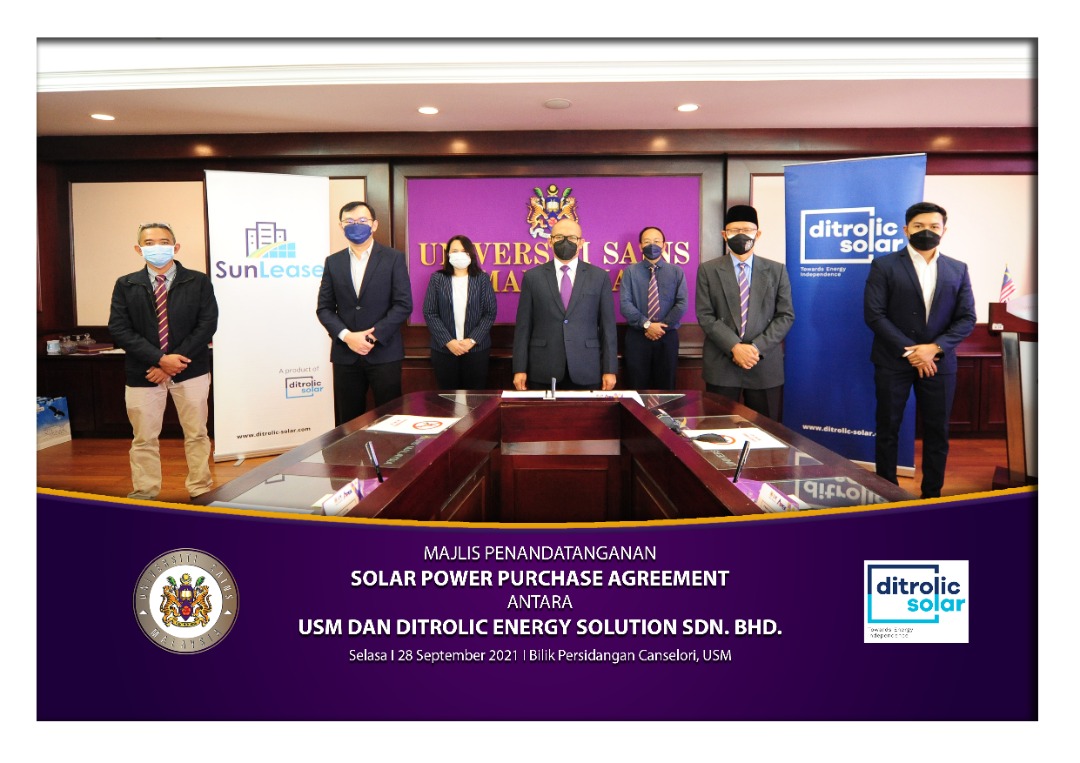 Ditrolic Solar Group is the leading solar photovoltaic company in Malaysia. It is an integrated downstream solar company where it is involved in project development, design & construction, and Independent Power Production (IPP).
It serves customer in three business segments; small power solution, commercial power solution and power plant solution.
Regionally it has undertaken various projects in Singapore, Indonesia, Philippines and Bangladesh, and has developed, design and build 280MW of project to date.
Source: USM & Ditrolic Energy joint press release/Editing:Tan Ewe Hoe