'LEADERS ARE PEOPLE WHO DO THE RIGHT THINGS'
USM PENANG, 22 September 2021 -- Education, learning and leadership play important roles in transforming individuals into what they are today and in strengthening the cooperation among nations.
One of the invited speakers who gave a keynote speech at the virtual LASER programme was Professor Emeritus Tan Sri Dato' Dzulkifli Abdul Razak, who now serves as the 6th Rector of the International Islamic University Malaysia (IIUM) since 1 August 2018.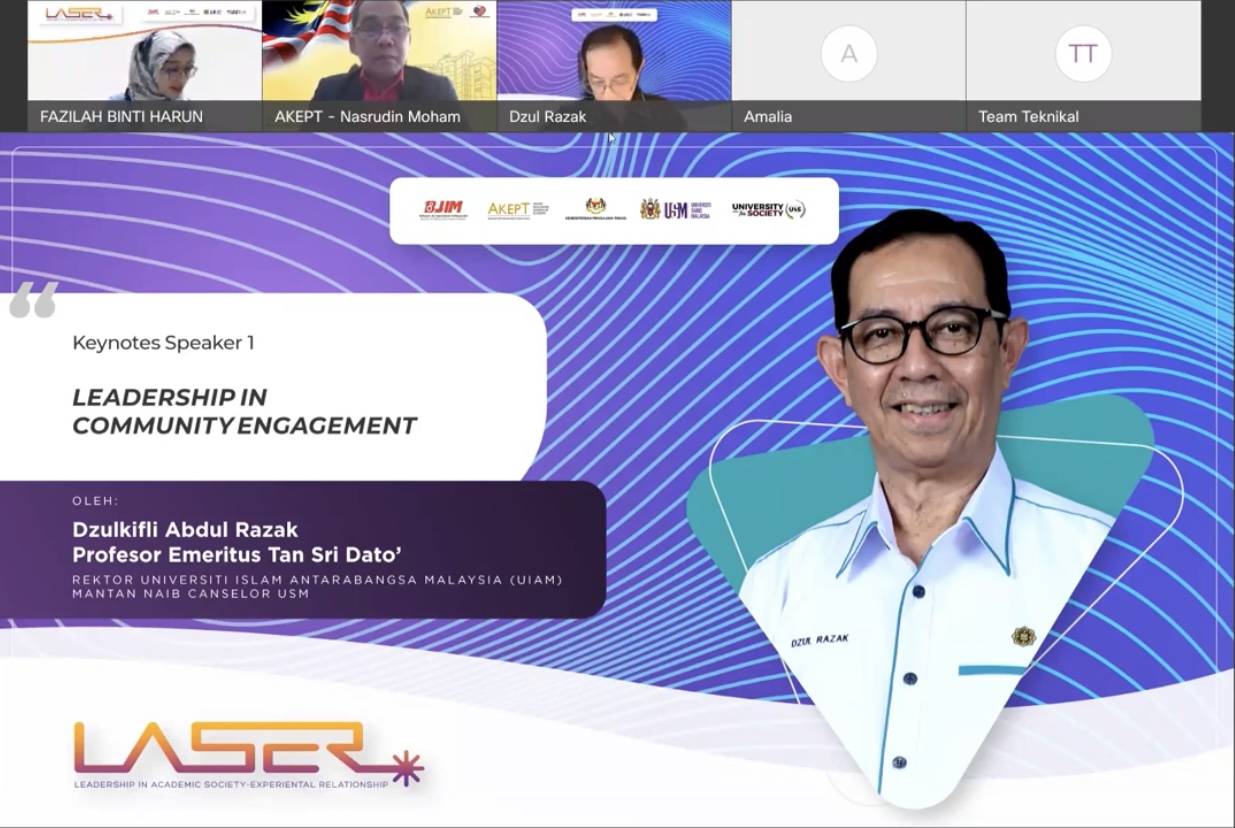 Dzulkifli started his career as an academician at USM, later becoming its Vice-Chancellor from 2000 to 2011.
"Strong leadership is needed to ensure the country's progress, while community engagement plays an important role in developing future leaders," he said.
Dzulkifli, who delivered a keynote speech entitled 'Leadership in Community Engagement' said, the LASER programme has the potential to continue steering and guiding the younger generation into "doing the right things" within a workable framework that are able to give a big impact to society and the nation.
"I strongly advise all of you to learn the four pillars and the fundamental principles for reshaping education as leaders. Firstly is about 'learning to know' that is to provide the cognitive tools required to better comprehend the world and its complexities, and to provide an appropriate and adequate foundation for future learning.
"Secondly is 'learning to do', they must provide the skills that would enable individuals to effectively participate in the global economy and society.
"Leaders also need to be involved in 'learning to be' by providing self-analytical and social skills to individuals to enable them to develop to their fullest potential psycho-socially, affectively as well as physically, to be an all-round 'complete person'," he said.
"The final stage to maintain in the community will be where leaders must be involved in 'learning to live together'to provide individuals the exposure to values which are implicit within human rights, democratic principles, intercultural understanding and respect and peace at all levels of society and human relationships, to enable individuals and societies to live in peace and harmony." he added.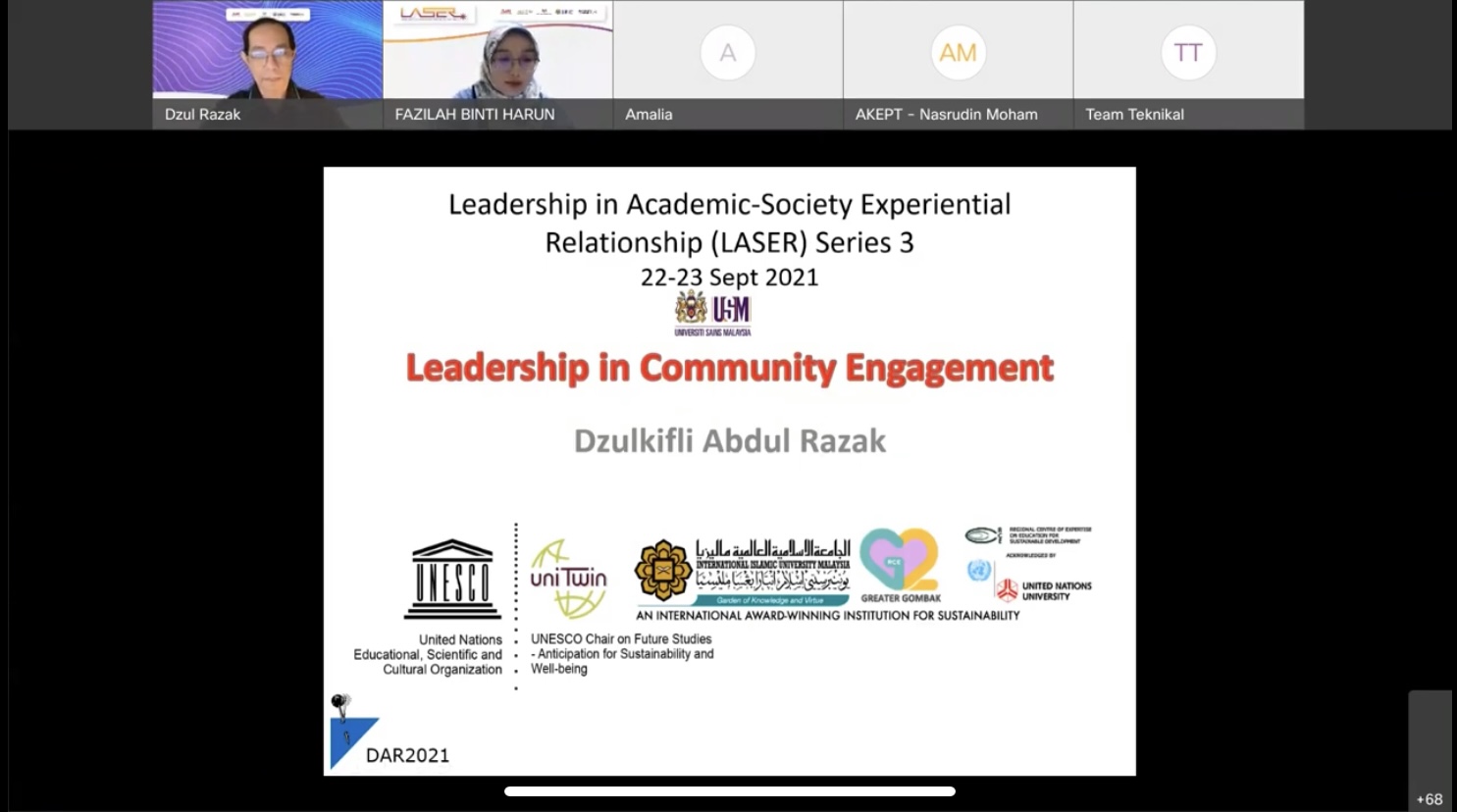 According to Dzulkifli, community engagement can also take many forms, and partners can include organised groups, agencies, institutions, or individuals. Collaborators may be engaged in health promotion, research, or policy-making.
"Community engagement can be complex and labour-intensive and require dedicated resources such as time, funding, and people with the necessary skills." said Dzulkifli.
LASER 2021 was formerly known as the Higher Education Leadership Academy Competency Enhancement Programme (AKEPT): University-Community Best Practice Partnership (ACEP) and this year LASER was placed as AKEPT's 'signature programme' that was rebranded with a focus on the country's higher education institutions and community development.
LASER 2021 was joined by the line-up of past USM leadership figures, namely three former USM Vice-Chancellors, Professor Emeritus Tan Sri Dato' Dzulkifli Abdul Razak, Professor Dato' Sr. Dr. Omar Osman and Professor Datuk Dr. Asma Ismail, whom each delivered individual keynote address based on their experiences relating to the university-community engagement efforts to be shared at the programme.
Text & Photo: Mohamad Hafiz Asyraf Mohd Arop/Editing: Mazlan Hanafi Basharudin