USM AND BATANGAS STATE UNIVERSITY INK MOU ON STAFF AND STUDENT EXCHANGE
USM PENANG, 17 September 2021 -- In a historic first, Universiti Sains Malaysia (USM) and Batangas State University (BatStateU), Philippines have signed a Memorandum of Understanding (MoU) to facilitate student mobility and staff exchange programmes.

The MoU was signed by both universities through a virtual ceremony conducted using the Webex video conferencing application, in part due to restrictions on international travel brought about by the COVID-19 pandemic.
The MoU would allow both institutions to encourage academic exchange among faculty members and student exchange via mobility programmes; implement beneficial activities and conduct collaborative projects such as research exchange on mutually identified subject matters.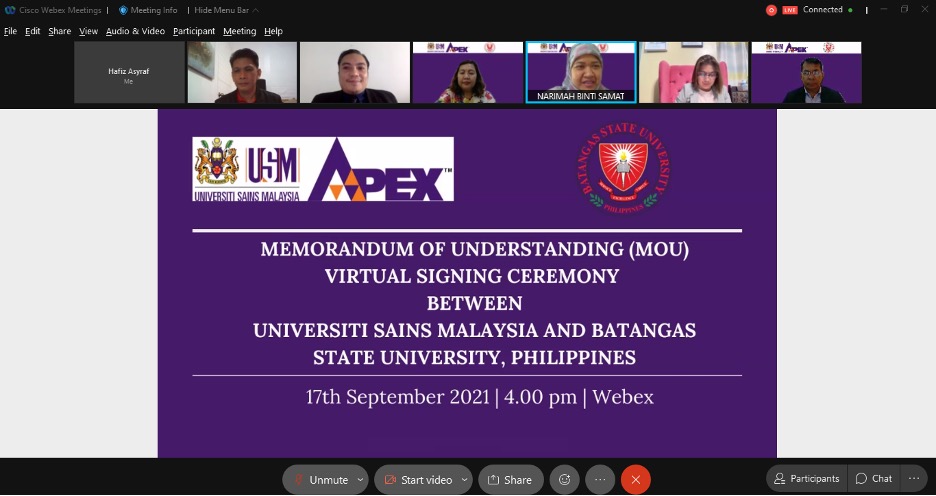 USM Deputy Vice-Chancellor (Academic and International), Professor Dato' Dr. Narimah Samat signed the MoU on behalf of the university, while BatStateU was represented by its President, Dr. Tirso A. Ronquillo.
Present to witness the virtual signing ceremony were USM International Mobility and Collaboration Centre (IMCC) Acting Director, Aizat Hisham Ahmad; senior officersof the USM Academic Management Division along with various heads of departments of BatStateU.
"We, at USM, as one of Malaysia's top-ranking research universities and the first science university in the country, has always believed in effective collaborations with other academic institutions. I am sure this partnership will significantly benefit both parties through the exchange of students, staff and scholarly research materials," said Narimah.
"Among the fields of study that USM champions are the Pure Sciences, Applied Sciences, Pharmaceutical Studies, Architecture, Business Management, Social Sciences, Humanities, Languages and Translation, Arts, and Education. USM also offers studies in Engineering and Medical Sciences at its branch and offshore campuses.
"On behalf of USM, I would like to thank the delegation from Batangas State University, Philippines for having us as a partner in pursuing excellence with the signing of today's MoU," she added.
Meanwhile, according to Tirso A. Ronquillo, the signing of this MoU opens a new chapter for both institutions to collaborate in areas which have been mutually identified, and he looks forward to a fruitful relationship with a prestigious university like USM in the years ahead.
"Hence, we would like to welcome USM staff and students to BatStatesU when the pandemic situation so permits. I hope through this MoU, we can both increase the expertise of our academic staff and enhance the experience of our students," he added.
BatStateU is the first state university in the Philippines with engineering and information technology programmes accredited by the US-based Accreditation Board for Engineering and Technology or ABET – Engineering Accreditation Commission and Computing Accreditation Commission.
With 15 development centres, it is recognised by the Regional Development Council of Region IV-A as the Regional Centre for Technology Business Incubation and Development, and as the Regional Centre for Science, Technology, Engineering, and Environment Research.
Text & Photo: Mohamad Hafiz Asyraf Mohd Arop/Editing: Mazlan Hanafi Basharudin