USM ACADEMIC APPOINTED AS THE DIRECTOR FOR MALAYSIA GENOME INSTITUTE
USM PENANG, 11 September 2021 -- A lecturer from the Universiti Sains Malaysia (USM) School of Biological Sciences, Associate Professor Dr. Mohd Ghows Mohd Azzam has been appointed as the Director for the Malaysia Genome Institute (MGI).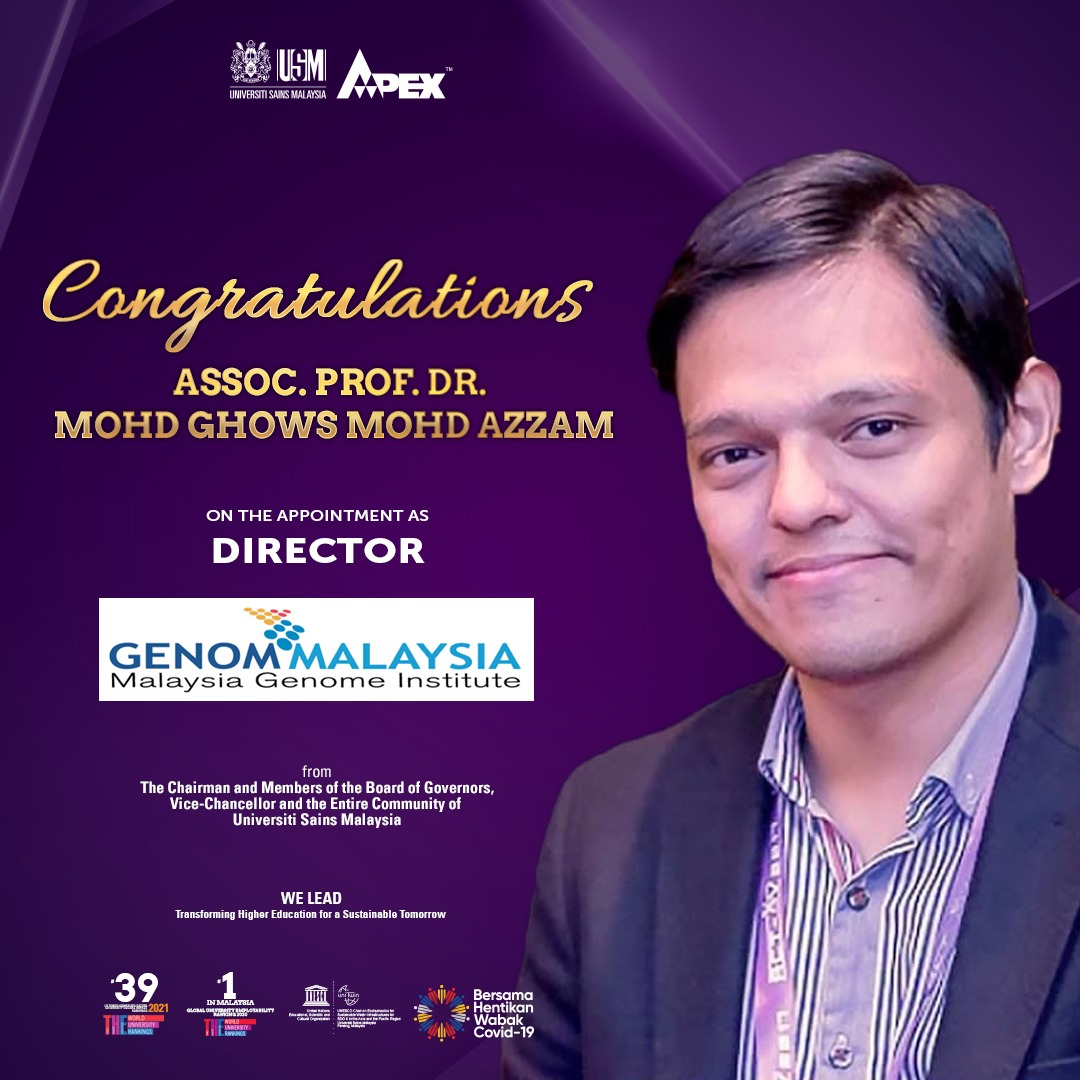 Ghows attained his Bachelor of Science from USM and went for further studies for his Master of Science at the University of Sussex in the United Kingdom, and finally completed his PhD. from the University of Oxford, United Kingdom.
His expertise is on cellular biology, developmental genetics, functional genomics, gene expression analyses, and gene isolation.
Prior to this appointment, he was the Science Advisor to the Minister of Science, Technology and Innovation MOSTI.
His memberships in the following fields are also proof of his leadership capabilities: Young Scientist Network – Academy of Sciences Malaysia (Secretary-General 2017-2019); International Society of Infectious Diseases; Genetic Society of Malaysia (Persatuan Genetik Malaysia), Life-time member; Academic and Administrative Staff Association; Fellow at the Advanced Medical and Dental Institute (IPPT), USM; and Fellow at the Vector Control Research Unit, USM.
The Malaysia Genome Institute (GENOME MALAYSIA) is a network-based non-profit research organisation engaging in discovery and research on tropical bioresources through projects related to genome sequencing, comparative genomics and structural biology.
Genome Malaysia's research programme embraces the equilibrium of technology and market-driven innovation adopted in the National Innovation Model.
National Institutes of Biotechnology Malaysia (NIBM) is a consortium of three national biotechnology institutes – Malaysian Institute of Pharmaceuticals & Nutraceuticals (IPHARM), Agro-Biotechnology Institute Malaysia (ABI), and Malaysia Genome Institute (MGI)– established on 27 January 2012 as a Company Limited by Guarantee (CLG), an autonomous not-for-profit entity to administer IPHARM, ABI and MGI.
Text: Hafiz Meah Ghouse Meah/Poster Artwork: Ebrahim Abdul Manan