"I'LL SERVE WITH USM ONCE I'M DONE WITH MY STUDIES IN INDIA," SAID AISHAH
PENANG, 3 September 2021 – A second-year student undergoing the USM-KLE International Medical Programme (IMP) in India, Nur Aishah Budiman, 21, would like to serve with Universiti Sains Malaysia (USM) once she is done with her studies.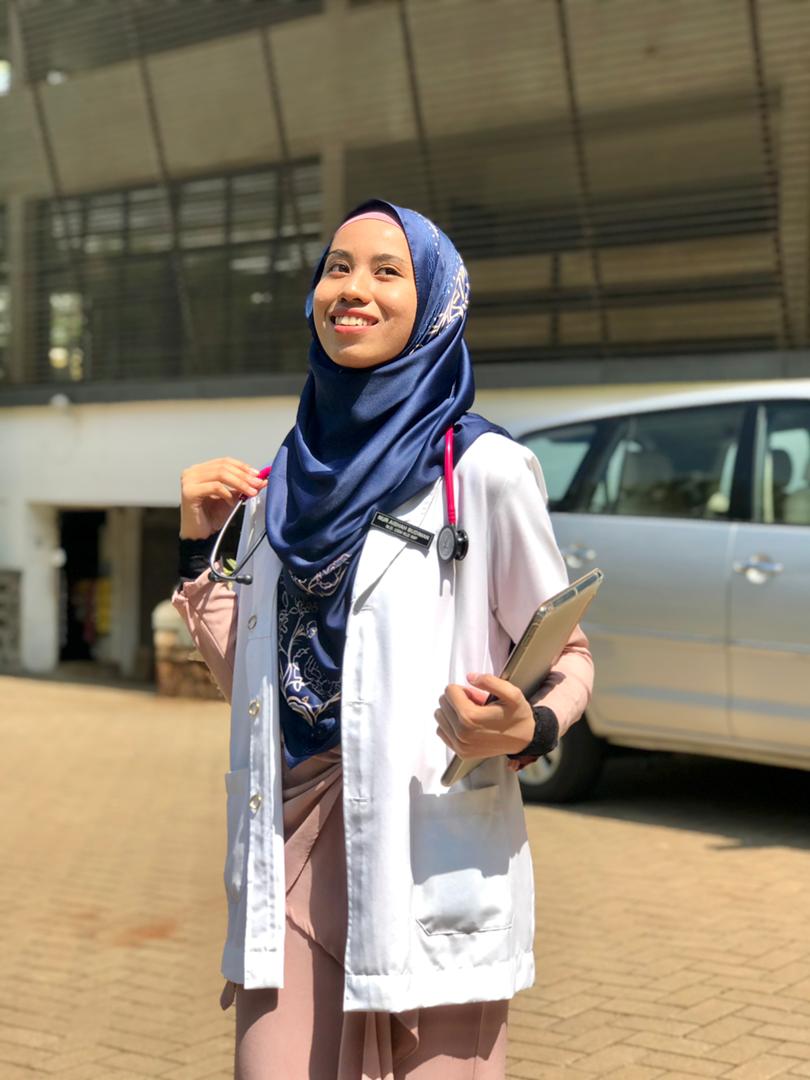 Though at present she is in India, Aishah has USM in her heart, as can be seen when viewing her viral YouTube content, which constantly talks about USM.
The YouTube Channel with the name 'Aishah Budiman' now has 30,000 subscribers and most of her videos revolved around her life as a USM student at the USM-KLE campus located in Karnataka, India, altogether inspiring those who would like to pursue their studies there.
Nur Aishah said that, she chose to pursue her studies in India through the USM-KLE programme as India is a popular country in the field of medicine.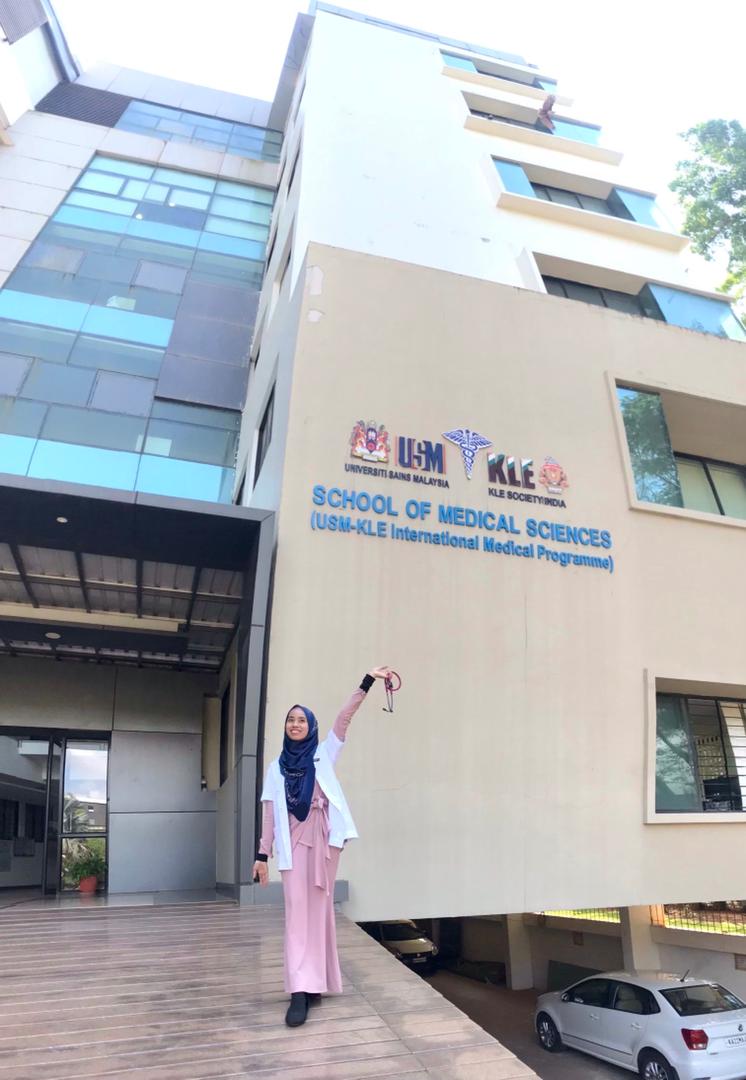 She continued further by saying that, she totally appreciated the opportunity given to her by USM to study in India, and that is why she would like to serve at Hospital USM Kubang Kerian, Kelantan upon finishing her studies and graduating later on.
"Surely I would like (to return and serve at USM); while undergoing the USM Pre-University programme, I had the opportunity to visit the USM Kubang Kerian campus.Just by looking at the surroundings of the USM Kubang Kerian hospital and campus, I have already set my heart there," she said.
When asked about her success in her studies, Nur Aishah who hails from Teluk Intan, Perak said, her ambition to become a doctor has driven her to work hard and to succeed in her studies in the medical field.
She further said that, encouragement from friends and her seniors made her even more determined, to the extent of trying to secure a sponsorship to study in India as she did not want to burden her parents.
On study techniques while being in India during the COVID-19 pandemic, Nur Aishah said, they studied online as how students from other parts of the world did too due to the very high number of COVID-19 cases in the country.
"If we can remember, the second wave of COVID-19 in India showed extremely high numbers, even up to 400,000 cases a day. Nevertheless what I can say was that, the 'total lockdown' that was implemented was very effective, even reducing the number of cases to 40,000, and with very strict enforcement.
"During that time, we studied online until the cases were reduced, following then we were allowed to go to our classes in stages," she said.
The fourth child of six, Nur Aishahalso shared how she missed her family in Malaysia and her favourite dishes.
"I really miss all my family members, and surely the Malaysian food, which to me is second to none compared to dishes from other countries.
"I really miss 'lemang' and 'rendang', and I'm saying this because during the previous 'Hari Raya Aidiladha', I even shed some tears as I missed 'lemang' dan 'rendang' so much," she said.
Talking about the recent 'Merdeka' celebration on 31 August, Nur Aishah said, the Malaysian students there have felt the 'vibes' of the celebration even from early August.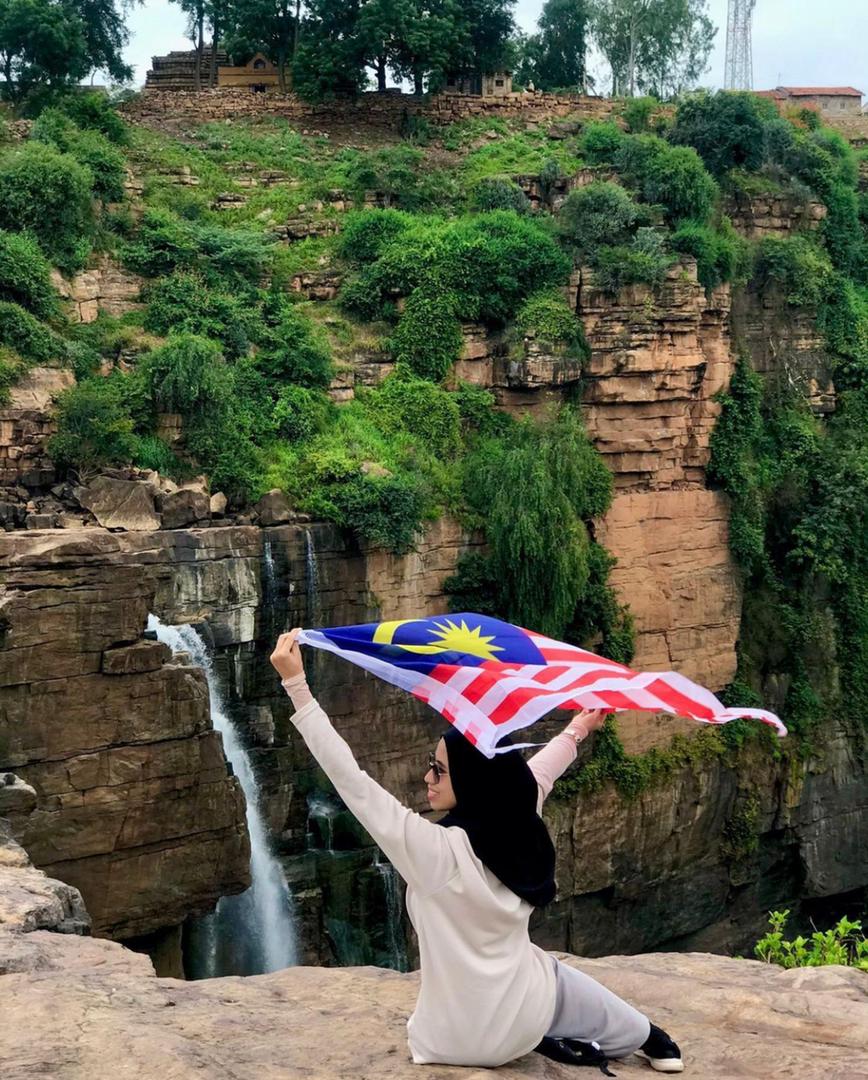 "There were a few students of USM-KLE who had put up the Malaysian flag outside their rooms; though far away from Malaysia, it is always close to our hearts.
"On 31 August, the USM-KLE students celebrated 'Merdeka' day together by having a variety of exciting activities to further enliven the 'Merdeka' month.
"Among them were food booths that were set up and sold dishes prepared by the USM-KLE students according to the different states in Malaysia, enjoying traditional games and a few other activities," she said, ending the interview.
Translation: Mazlan Hanafi Basharudin/Photo: Nur Aishah Budiman