USM BAGS 1 GOLD, 1 SPECIAL AWARD AT ICAN 2021
TORONTO, 4 September 2021 -- Universiti Sains Malaysia (USM) students continue to shine in international invention and innovation competitions they took part in.
The latest outstanding achievement was through Wong Xin Ying, a 4th year undergraduate majoring in software engineering from the School of Computer Sciences, who bagged a Gold medal and a Special Award at the recently concluded 6th International Invention Innovation Competition in Canada (iCAN) 2021.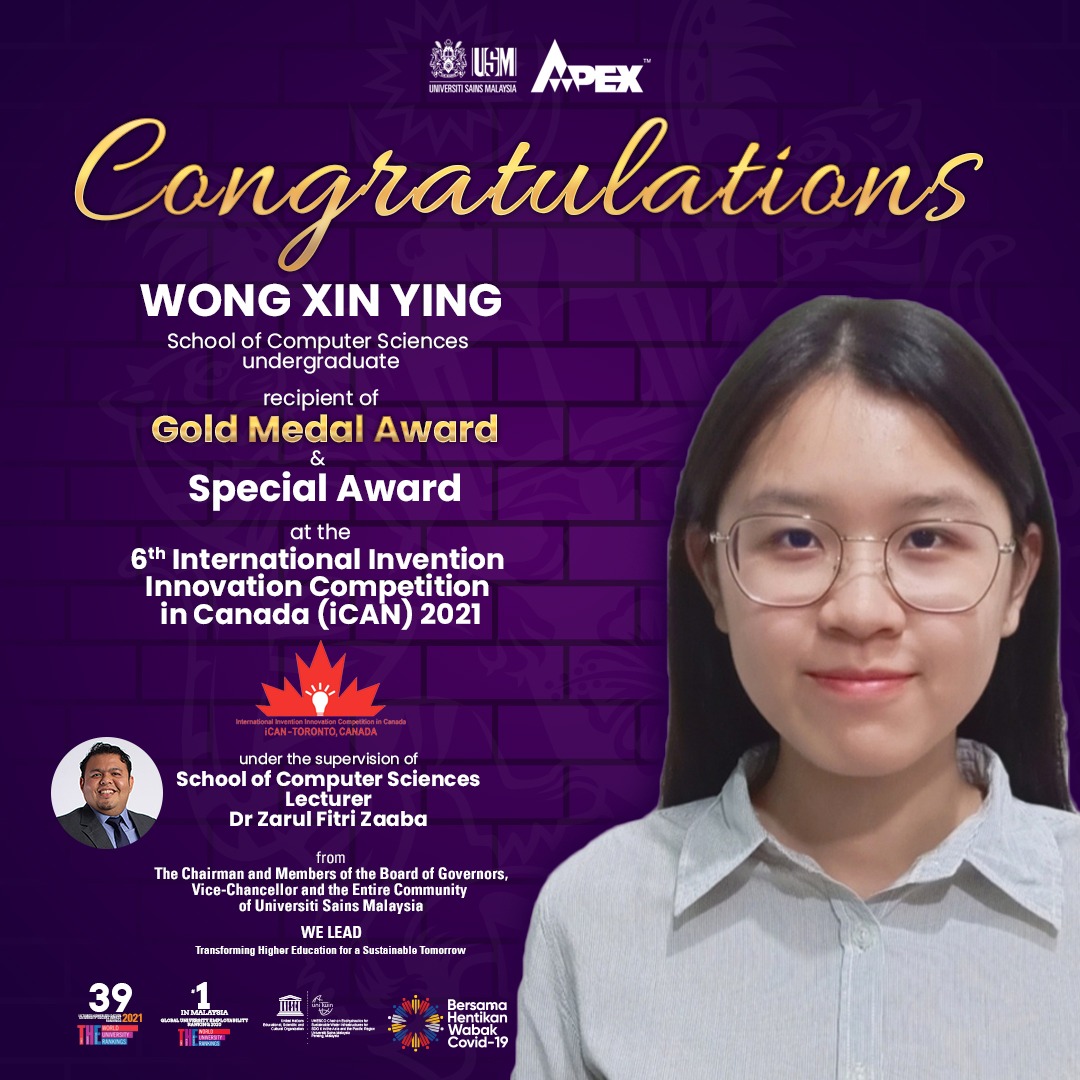 She received the Gold Medal and the Special Award by the World Invention Intellectual Property Associations (WIIPA) for her final-year project entitled MyHalal (MH) at the competition that witnessed the participation of 70 countries around the globe.
Xin Ying, who will be graduating soon, was ecstatic about her feat, said: "I felt extremely honoured and grateful to have won the awards. This is an achievement that I will never forget because all the hard work has finally paid off."
"I hope that MyHalal (MH) project can serve as a helpful digital Halal verifying application for mobile phone users, as well as JAKIM in verifying Halal status of food products, food additives and food premises," she said of her invention, which also allows users to report misconduct when they come across any Halal related issues in their everyday life.
Meanwhile, her lecturer and supervisor, Dr. Zarul Fitri Zaaba pointed out that this milestone is an example that nothing is impossible, and with full commitment given, we in USM can obtain such a result and elevate the university's name on the global stage.
Further details on the Special Award can be obtained through https://www.tisias.org/uploads/6/9/5/1/69513309/ican2021_-_the_finals_award_winners_-_list.pdf
The International Invention Innovation Competition in Canada, iCAN is the premier event from Canada for inventors worldwide, and in its 6th edition this year, iCAN 2021 was held online due to the COVID-19 pandemic.
iCAN has shown continuous growth and improvement since its first edition in 2016 through 2017~2019, and up until last year's 5th Anniversary in 2020, which marked the event's highest record in terms of the number of total participants and collaborating organisations.
The past 5 editions of iCAN from 2016~2020 featured participants from 81 different countries around the world, which redefined the event to be a true global stage for worldwide inventors in Toronto, Canada.
The main purpose of iCAN is to create a special platform to unite creative and innovative initiatives for Canadian inventors and the rest of the world by providing everyone with the golden opportunity to expand their international network, business activities, promote their inventions, new products and research projects, while achieving a new milestone of success in winning iCAN Awards from Canada.
iCAN 2021 features favourable online programmes such as invention competition, educational keynote speakers' presentations, the Finals Movie and the Finals Award Winners announcement.
The organiser of iCAN, Toronto International Society of Innovation & Advanced Skills (TISIAS) was established in 2013 to build a global hub in Toronto, Canada to provide a variety of services and opportunities for both local and overseas inventors, innovators, students and researchers to promote their inventions and products in the world market.
TISIAS is globally active as the delegation of Canada, participating in numerous international invention exhibitions, competitions and conferences organised by its partners around the world.
TISIAS majorly promotes its Canadian and American members' inventions and products to world exhibitions and conferences as well as some other international members' creative ideas.
Text: Hafiz Meah Ghouse Meah & Tan Ewe Hoe