ZURINA HASSAN HONOURED WITH PRESTIGIOUS GEORG FORSTER RESEARCH AWARD 2021
USM PENANG, 28 August 2021 -- Dr. Zurina Hassan, an Associate Professor of Neuroscience at the Centre for Drug Research (CDR) at Universiti Sains Malaysia (USM) has been awarded the prestigious Georg Forster Research Award 2021.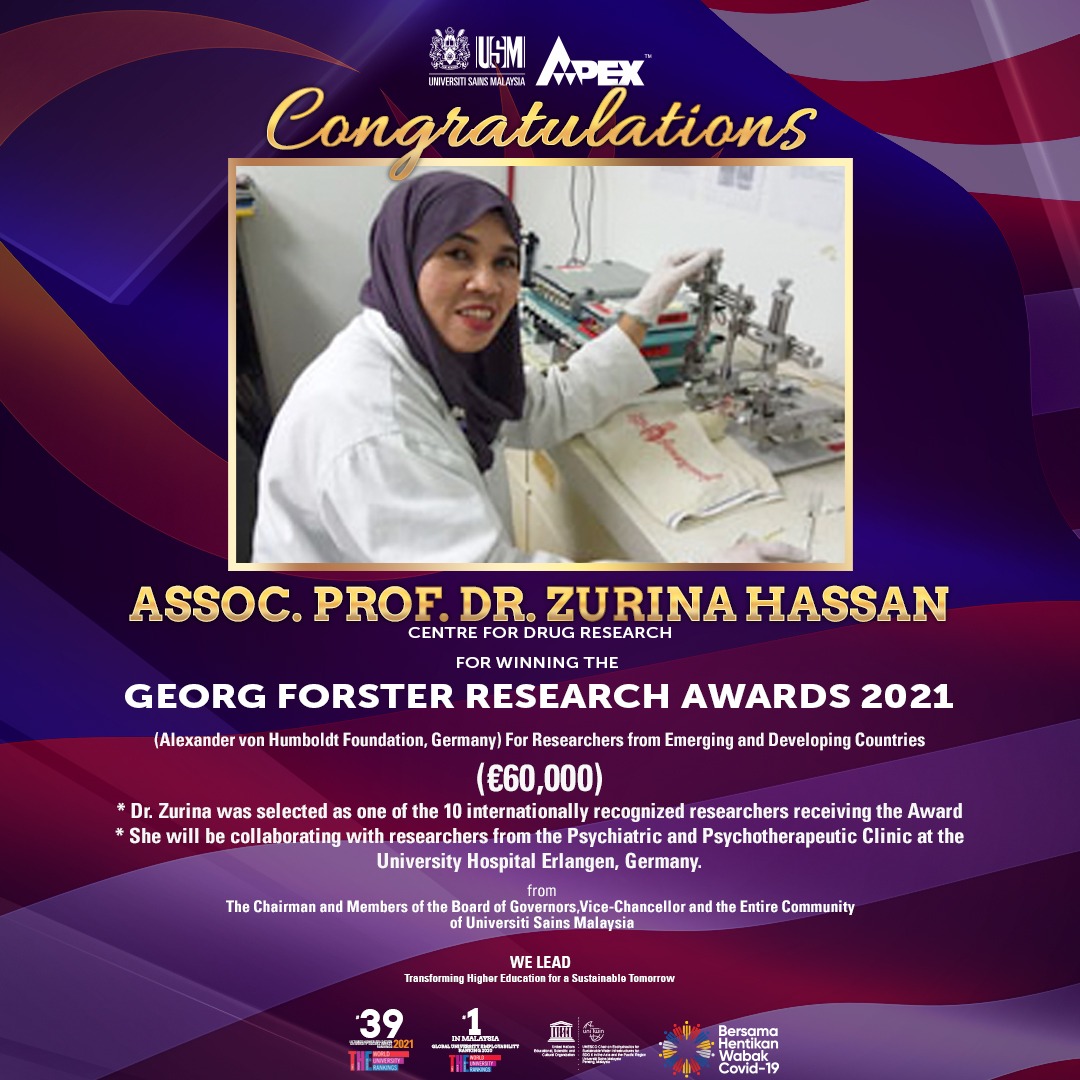 Zurina was among ten researchers from emerging and developing countries who has been honoured with the award for her outstanding work on neurological and psychiatric disorders, such as addiction and Alzheimer's disease, as part of the search for new treatments on these disorders.
As a Georg Forster Research Award winner, she will receive a prize money of €60,000 that will be used to fund her research work, in which she will collaborate with researchers from the Psychiatric and Psychotherapeutic Clinic at the University Hospital Erlangen in Germany.
Reflecting on her award, she said: "Receiving this award is such an honour, and I am immensely thankful to be presented with this opportunity to cooperate with my specialist colleagues at Erlangen, of which I very much look forward to."
Zurina graduated from the University of Manchester, UK with B.Sc. (Hons) in Biomedical Sciences (1999) and completed her M.Sc. (Pharmacy) (2005) and Ph.D. in Physiology at the School of Pharmaceutical Sciences, USM in 2012.
In 2008, CDR received an excellence cluster mandate as a Higher Institution Centre of Excellence (HICOE) by the Malaysian Ministry of Higher Education, to focus on drug addiction after it has been recognised as one of the previously unmet health research issues of the country. And with this mandate, she set up the first addiction neuroscience lab in Malaysia.
Her study was mainly on animal models of drug addiction related to predominantly abused drugs in the Asian region. She became a pioneer of addiction neuroscience research in Malaysia and developed the lab to become a leading institution in Southeast Asia and having a broad network of international collaborators.
Zurina has also published many articles with international collaborators on her extensive research work on Kratom (ketum), a plant-derived drug preparation widely used in Southeast Asia, and her name is now widely known for her Kratom research.
The Georg Forster Research Award, under the Alexander von Humboldt Foundation, goes to ten internationally recognised researchers in their respective fields from emerging and developing countries, that would allow them to continue to work on developing research-based solutions to address the specific challenges facing their countries.
The award winners were nominated by specialist colleagues from Germany and invited to establish or expand collaborations with them in Germany for a duration of about six to twelve months.
Each researcher will receive €60,000, and an additional funding of up to €25,000 can be granted for scientific conference participation, materials and equipment purchase pertaining to the research project.
Congratulations to Assoc. Prof. Dr. Zurina Hassan!
Text: Tan Ewe Hoe/Poster: Ebrahim Abdul Manan