IDMAC 2021 AIMS TO 'DISSECT' MOSQUE MANAGEMENT PRACTICES IN COVID-19 NEW NORMAL
USM PENANG, 2 September 2021 - Universiti Sains Malaysia (USM) is delighted to announce that the USM Centre for Islamic Development Management Studies (ISDEV), will be organising the 15th ISDEV International Islamic Development Management Conference (IDMAC 2021) online.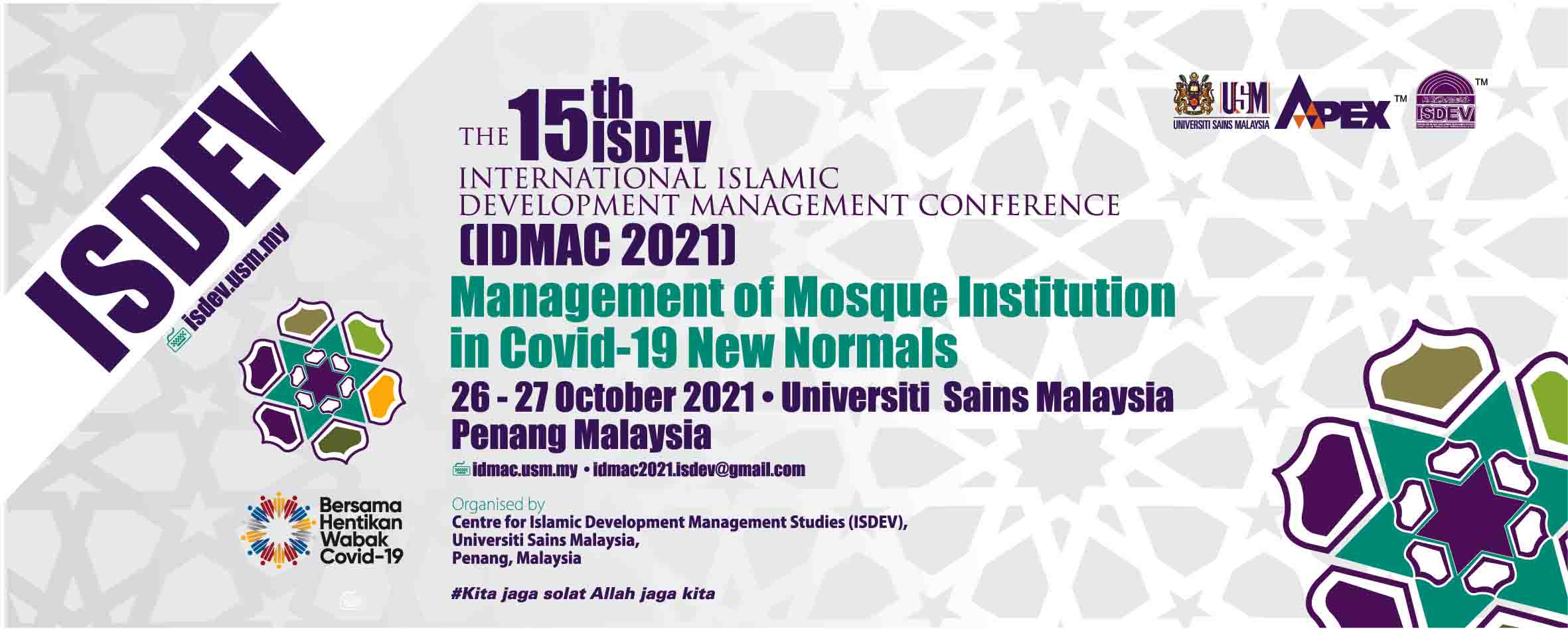 The virtual conference, held via Webex, will take place on 26-27 October 2021 with the theme of 'Management of Mosque Institution in COVID-19 New Normal'.
ISDEV Director, Assoc. Prof. Dr. Shahir Akram Hassan, who is also the Chairman of IDMAC 2021 said, this conference aims to bring together various researchers, academicians, scholars and practitionerswho are interested in this intellectual discourse. All are cordially invited to join this conference.
"Last day to submit abstracts is on 3 October 2021, while the deadline for full paper submission is 17 October 2021. Please forward this message to your colleagues, staff, students or anyone whom you may think relevant to this conference," he said.
Furthermore, Shahir said that the proposed areas, but not limited to, must be related to the management of mosque institutions in COVID-19 new normals and they are as follows:
Key Areas: Management, Development, Political, Economy, Assets, Services, and Islamic Research Methodology.
Secondary Areas:Administration, Leadership, Image, Hisbah, Human, Quality, Conflict Resolutions, Environment, Communication & Public Relations, Enlivening (Pengimarahan Masjid) and Infrastructure.
Other Areas: Legislation, Entrepreneurship, Municipal, Work Ethics, Psychology, Da'wah and Leadership, Beliefs and Thought, Sustainability, Poverty, Women and Family Development, and Astronomy.
For further information, feel free to contact the secretariat at +604-653 3422/2656 or visit the website: www.idmac.usm.my or email: This email address is being protected from spambots. You need JavaScript enabled to view it.
The Centre for Islamic Development Management Studies, or ISDEV was founded in 1995 at the School of Social Sciences, USM, Penang, Malaysia.
Initially known as the International Project for Islamic Political Economy (IPIPE), the name then evolved into Islamic Development Management Project (IDMP) in 1997, and finally, to its present name, Centre for Islamic Development Management Studies (ISDEV) in September 2005.
As a research and educational centre, ISDEV gathers its academic members from various disciplines and schools within the University. It aims at pioneering a move to bring the field of Islamic Development Management beyond the confines of development and management boundaries.
It adopts a trans-disciplinary approach to development and management, integrating social, economic and political tools of analysis to understand development management in an integrative and holistic manner based on Islamic doctrines.
ISDEV proposes to scrutinise and construct a conceptual and practical framework for managing development from an Islamic perspective. Development is seen as embracing all aspects of life, from spiritual to material and physical, from the individual level to that of society, from the state context to that of the global framework. It intends to cover a comprehensive horizon of human life, thus formulating and pioneering a new integrated discipline, called Islamic Development Management.
It goes beyond the conventional management that limits itself to organisational, human resource and business management. Instead, Islamic Development Management covers all human activities, either for themselves, their family and their career of which social organisations at the village, district, state, national and international levels are also included.
Text: Hafiz Meah Ghouse Meah