TURNING CITRUS PEEL WASTE INTO BIO-LEATHER AS PACKAGING MATERIAL
CITRA THE BIO-LEATHER, the brainchild of a USM PRODUCT DESIGN STUDENT wins RUNNER-UP PRIZE in the JAMES DYSON AWARD 2021
USM PENANG, 27 August 2021 -- Universiti Sains Malaysia (USM) is honoured today when, Menlin Ng Aniathul Fitria Ismail Ng Abdullah from the Product Design Department, School of The Arts, was chosen as the recipient of the James Dyson Award 2021 - National Runner-Up.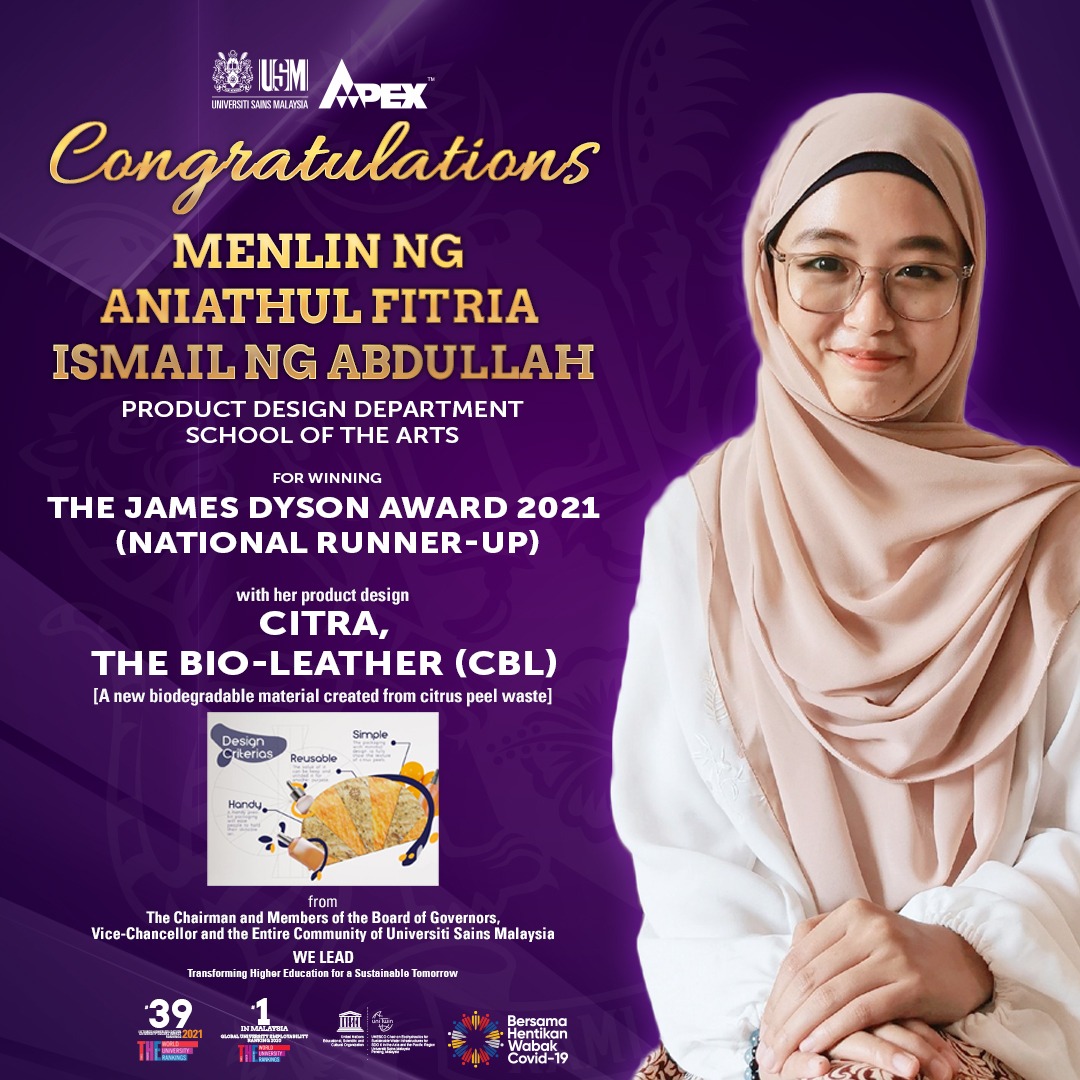 Menlin's innovative product, known as Citra The Bio-Leather (CBL) has brought pride, joy and excitement to the university and its communities with the success.
CBL is a new biodegradable material created from citrus peel waste and is designed to be used as a packaging material for beauty products.
When asked what inspired her to come up with this product, Menlin, 24, who hails from Sabah said, "Malaysians use up a huge amount of calamansi limes and after the juice has been extracted from these limes, they're usually discarded."
"So I collected these discarded citrus peels from restaurants and turned them into a bio-leather by using organic binders and beeswax to strengthen its durability to create a resilient, sustainable and durable material for use in a variety of product packaging especially beauty and personal care products.
"Furthermore, most beauty and personal care products in the market are packaged in plastic packaging that do not look aesthetically pleasing and sustainable, and plastic as we know is non-biodegradable and detrimental to the environment.
"Hence CBL was created to solve the fruit waste problem from food production as well as a unique alternative to the plastic packaging for beauty products," she added.
As for future plans, Menlin hopes that she can work on this new vegan material to be promoted in Malaysia, and spend more time finding suitable ingredients to enhance the quality of this material as she intends to commercialise it.
Originally conceived in 2007, the James Dyson Award is an annual international design competition held in 28 countries that sees engineering or design students from these countries leveraging their talents to create solutions to solve the most pressing problems facing the planet today both major and mundane in nature, from global warming and pollution all the way to more efficient ways of managing waste or even simply living better.
It is open to current and recent design engineering students and is run by the James Dyson Foundation, James Dyson's charitable trust, as part of its mission to get young people excited about design engineering.
Every participating country will have two national runners up and a national winner. These national winners will advance to the international stage of the competition where Sir James Dyson himself will preside, judge and announce the winner which will take place this coming October 2021.
This year's edition has attracted an impressive array of innovative entries with a stunning 121 entries from 25 universities for Malaysia alone.
Text: Hafiz Meah Ghouse Meah & Tan Ewe Hoe/Poster artwork: Ebrahim Abdul Manan