USM ENGINEERING SCHOOLS SHINE AT IMDC 2021
USM PENANG, 4 August 2021 – Universiti Sains Malaysia (USM) proved their mettle at the Innovate Malaysia Design Competition 2021 (IMDC 2021)by winning an Award and the top three spots, in addition to two Consolation prizes.
The best achievement by USM was in winning the Award for Crest Design Challenge Category, under the Design Challenge Awards for the Project titled 'Plant Health Monitoring and Indoor Positioning for Micro Air Vehicles Using Deep Convolutional Neural Network and Ultra-Wideband'. The team members are Tan Shu Chuan, Ching Poh Ling with their advisor, Dr. Ho Hann Woei under the School of Aerospace Engineering.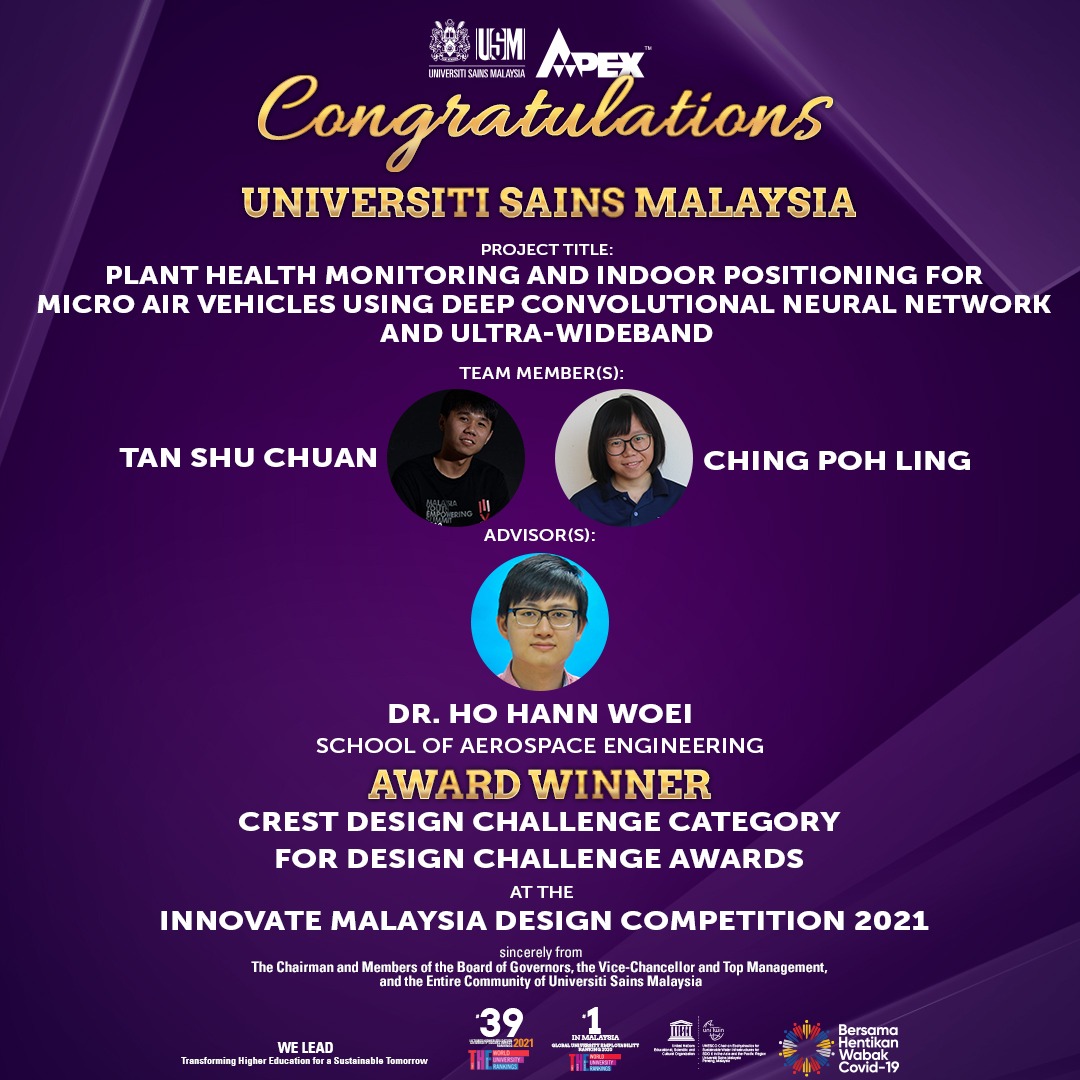 Meanwhile, the 2nd Prize that was also won by USM was under the Intel Track Category for Technology Tracks, for the project titled 'Implementation of Car Plate Detection on Soc Platform'. The team members are Yap June Young, Teng Siew Min, Pang Yu Xuen with their advisor, Associate Professor Dr. Zaini Abdul Halim from the School of Electrical and Electronic Engineering.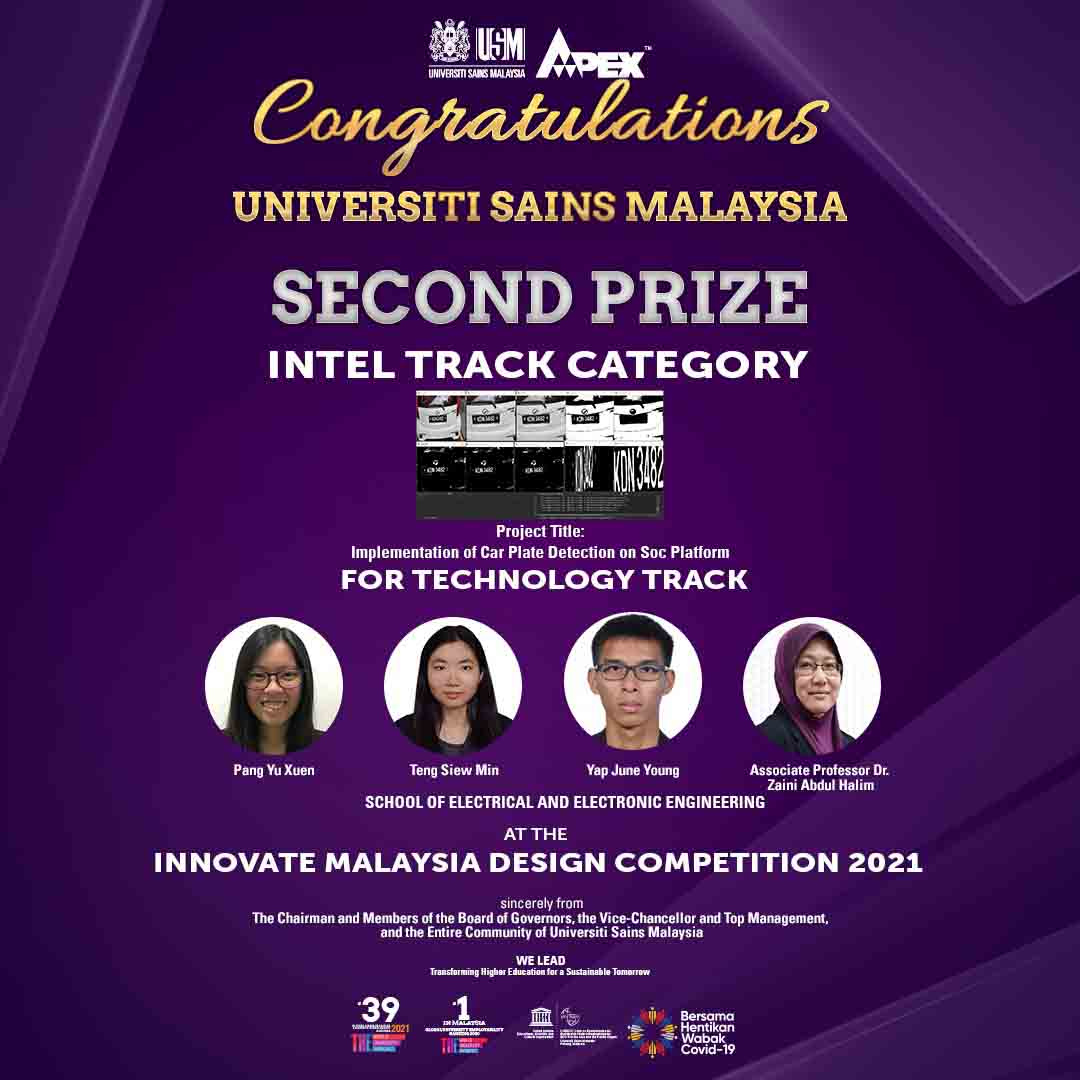 USM was also chosen as winners for a few Consolation Prizes as listed below:
1) Technology Track (a & b)
a) Microsoft Track
Project title: 'Smart System for Temperature Checking, Hand Sanitizer and Data Profiling Record'

Team member(s): Lee Chu Yu

Advisor(s): Associate Professor Ir. Dr. Rosmiwati Mohd Mokhtar

(School of Electrical and Electronic Engineering)
b) SilTerra/CEDEC/Intel Track
Project title: 'Implementation of Individual and Combined In-Loop Filters for HEVC and AVC Video Coding Standards on ASIC Platform'

Team member(s): Aw Yong Pik Yee

Advisor(s): Dr. Mohd Ilyas Sobirin Mohd Sazali

(School of Electrical and Electronic Engineering)
2) Design Challenge Awards
DHL Express Design Challenge
Project title: 'DHL Chatbot in Microsoft Azure [USM]'

Team member(s): Lee Shea Wen, Ong Zi Hui and Ng Wen Sien

Advisor(s): Dr. Yu Kok Hwa and Dr. Teoh Yew Heng

(

School of Mechanical Engineering)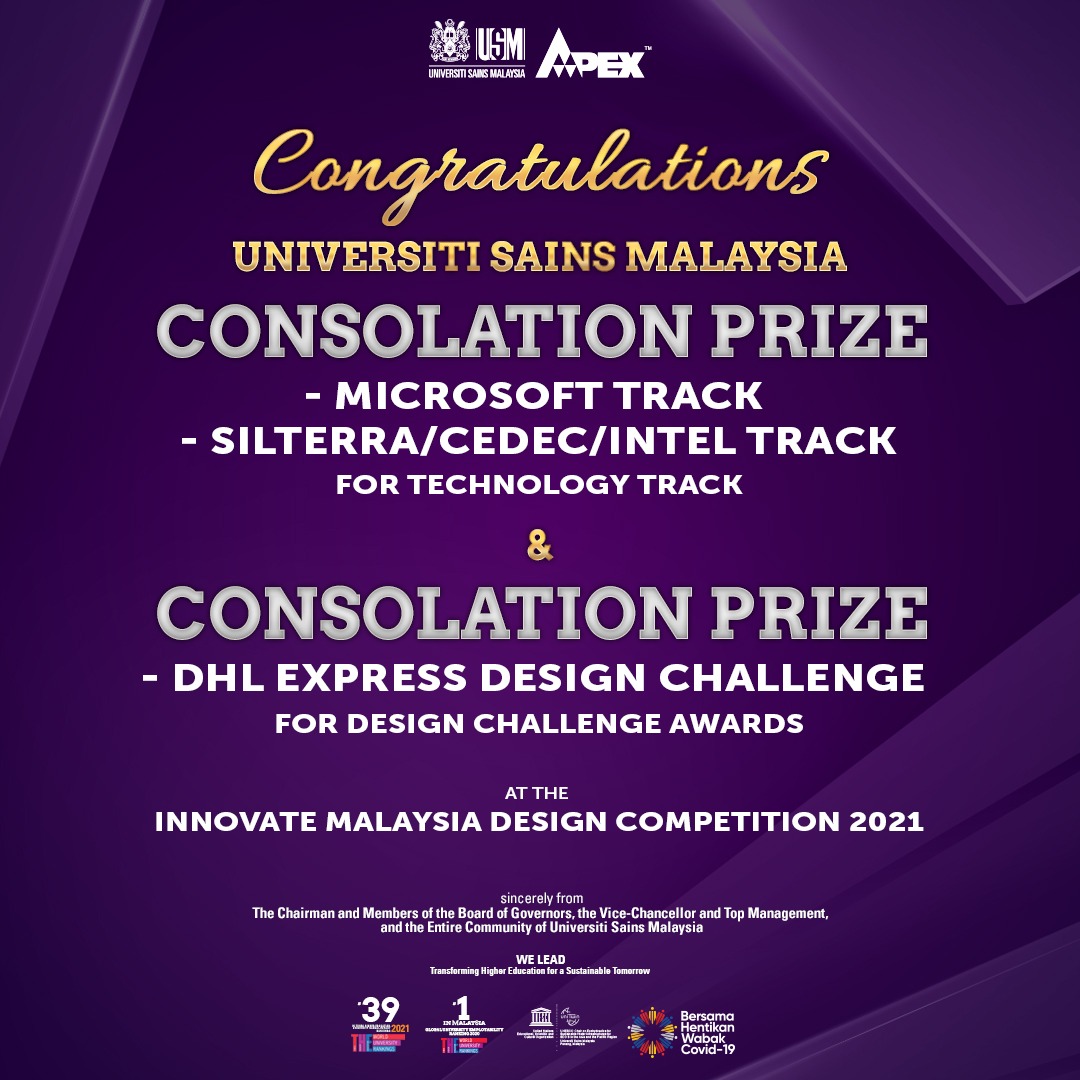 The Innovate Malaysia Design Competition is the largest design competition in Malaysia, which is open to all third-year or final-year undergraduates in engineering, computer science, IT, and science/mathematics.
The goal of the competition is to promote innovative culture in engineering design work, tacklereal-world problems with practical engineering solutions, and churn out the brightest talents for product development, further research, and commercialisation.
Technology companies, including AWS, Intel, Keysight, Microsoft, and SilTerra, work together to co-organise the competition. They welcome the most ambitious, creative, and smartest students to participate and showcase their talents for this competition.
This competition is still ongoing and the Grand Finale is on 9 August 2021.
Text: Hafiz Meah Ghouse Meah/Artwork: Ebrahim Abdul Manan