PATIENTS' COMPANIONS ARE REQUIRED TO BE SCREENED FOR COVID-19 - HOSPITAL USM
KUBANG KERIAN, KELANTAN, 24 July 2021 - Family members, relatives or companions accompanying patients at the Hospital Universiti Sains Malaysia (USM) are required to be screened for COVID-19 as a dire move to prevent community-based infections due to the surge of new cases in Kelantan in recent weeks.
Hospital USM Director, Professor Dato' Dr. Ahmad Sukari Halim said, the requirement was necessary and it was based on assessment of the current situation of COVID-19 infection in the state especially in Kota Bharu, including the threat of the Delta variant which is spreading at an alarming rate.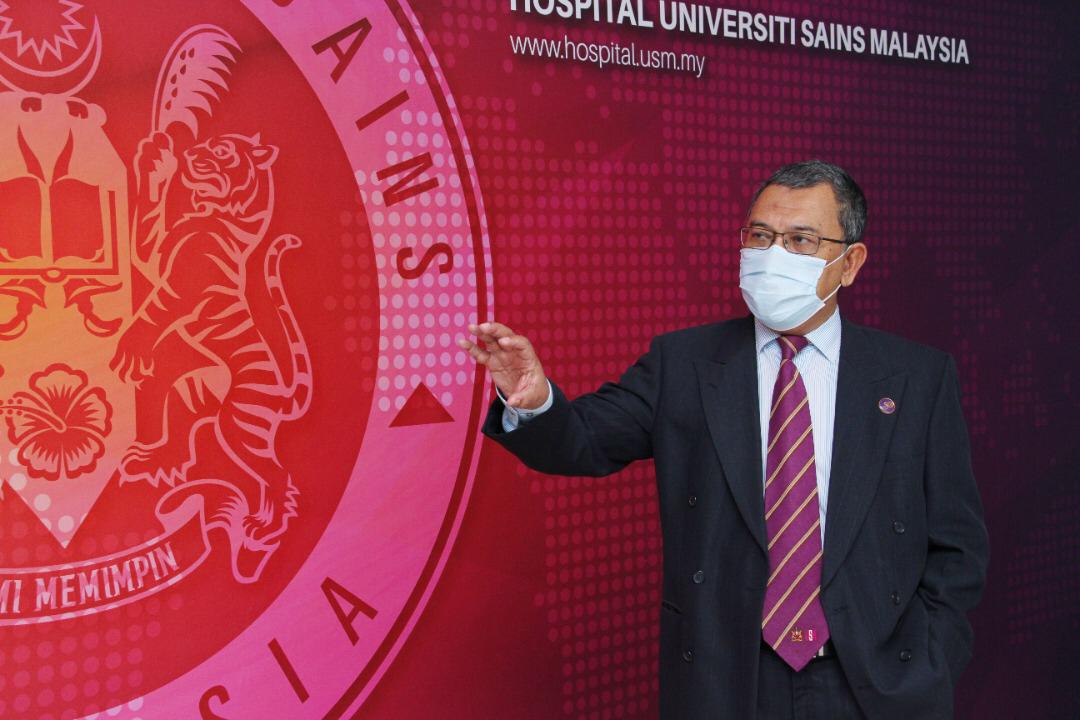 "This is also in view of the latest positive case involving a patient's companion at Hospital USM, which led to the management taking the step to tighten the permission policy for companions effective 20 July 2021.
"Companions will only be allowed for bedbound cases based on certain criteria decided either by the staff at the Emergency Department or in the wards," he said.
He added, companions are not allowed to accompany patients in the Maternity Ward, Intensive Care Unit (ICU), Severe Acute Respiratory Infection (SARI) Ward and COVID-19 Ward.
According to Sukari, only one companion is allowed for one patient at a time and only those who have passed the risk assessment and their RTK-Ag or RT-PCR COVID-19 test results are negative (within 72 hours) would be allowed to accompany the patient (including the replacement companion, if there is one) to enter any of the hospital treatment facility.
"The companion must remain in the Hospital USM area at all times and if they went out of the hospital area, they will only be given permission to re-enter after repeating the RTK-Ag or RT-PCR test with a negative result.
"For critically ill cases or death in the ward, only two (2) next-of-kins are allowed to enter at one time and their RTK-Ag or RT-PCR test results have yielded negative," he said, adding that they can be there for a maximum period of 15 minutes only.
Sukari also reminded everyone that the success in controlling the COVID-19 infection requires the cooperation of all parties.
"Honesty is important here in doing the declaration screening and if one is at risk or is experiencing any symptoms related to COVID-19, do not come to Hospital USM as a patient companion.
"Hospital USM has implemented a 'No Visitor' policy since the Movement Control Order (MCO) 1.0 in March 2020 until now," said Sukari.
Translation: Tan Ewe Hoe