USM & INDIA INSTITUTIONS TO CONDUCT VIRTUAL ROADSHOW PROMOTING JOINT FELLOWSHIP PROGRAMMES
USM PENANG, 23 July 2021 - Universiti Sains Malaysia (USM) through the partnership with the Federation of Indian Chambers of Commerce and Industry (FICCI) and the Department of Science & Technology (DST), Government of India will be organising a Virtual Roadshow of two Fellowship programmes, namely the ASEAN-India Research Training Fellowship (AIRTF) and ASEAN-India Innovation Platform (AIIP).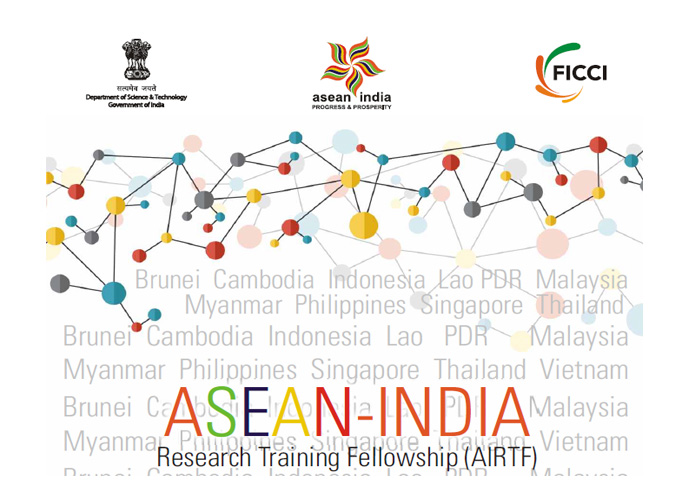 The virtual roadshow, to be held on 3 August 2021, 5:00pm - 6:00pm (Malaysia time), is part of a series of roadshows across ASEAN countries that promote the fellowships with a special roadshow partner, and USM is proud to be chosen as a partner this time.
The 2019 AIRTF winner, from the USM School of Biological Sciences, Assoc. Prof. Ts. Dr. Wan Fatma Zuharah Wan Musthapa will share her experience during the roadshow.
Wan Fatma, who specialises in Entomology, is also the Director of Commonwealth Tertiary Education Facility (CTEF), National Higher Education Research Institute, USM.
She invites all who would like to join this session to register below and will receive the link of this webinar upon registration: https://docs.google.com/forms/d/e/1FAIpQLSfTMUXdTaXlXGqRDtKQNiTcJBshay4E49yR4gOpE81OdSjzOg/viewform
She added that the Fellowship will be offered for research work done in topics such as Agricultural Sciences; Biological and Medical Sciences; Chemical Sciences & Engineering; Computer Science & Engineering; Physical Sciences and Mathematics; Ocean, Earth & Atmospheric Sciences; Engineering Sciences; Materials, Minerals and Metallurgy; Science Policy/IPR Management/Technology Transfer & Commercialisation; and other multi-disciplinary areas of Science, Technology and Innovation which are aligned with APASTI.
The AIRTF scheme is a fellowship scheme that promotes mobility of scientists and researchers from the ASEAN-member countries to India and which will provide them the opportunity to work at Indian R&D/academic institutions to upgrade their research skills and expertise.
Other than that, it also facilitates the exchange of information and contacts between the scientists and researchers of India and ASEAN countries and to create a network for building research collaborations.
Meanwhile, the ASEAN-India Innovation Platform (AIIP) is a programme which basically aims to convert an idea into a solution, and focuses on the following activities such as idea sourcing, harnessing leading to technology development and solution to common challenges of societal relevance; projects leading to inclusive innovation (identify and provide support to cutting-edge innovations towards affordable product development that can bring significant social impact and address challenges of inclusive growth); and many others relating to networking of innovators and innovation mentors; networking of innovation hubs/centres; and technology transfer and commercialisation.
USM Vice-Chancellor, Professor Dato' Dr. Faisal Rafiq Mahamd Adikan has been invited to deliver a special address for this programme.
Do not miss the opportunity to become one of the winners of 2021!
Text: Hafiz Meah Ghouse Meah