USM.CREATE: SALLEH YAAPAR SHARING HIS WISDOM AND INSIGHTS
USM PENANG, 18 July 2021 - USM.CREATE yesterday organised a webinar interaction session series via Facebook live streaming called Local Knowledge Talk.
The panellist given the spotlight was the esteemed scholar, Professor Dato' Seri Dr. Md Salleh Yappar, who was the former Universiti Sains Malaysia (USM) Ombudsman.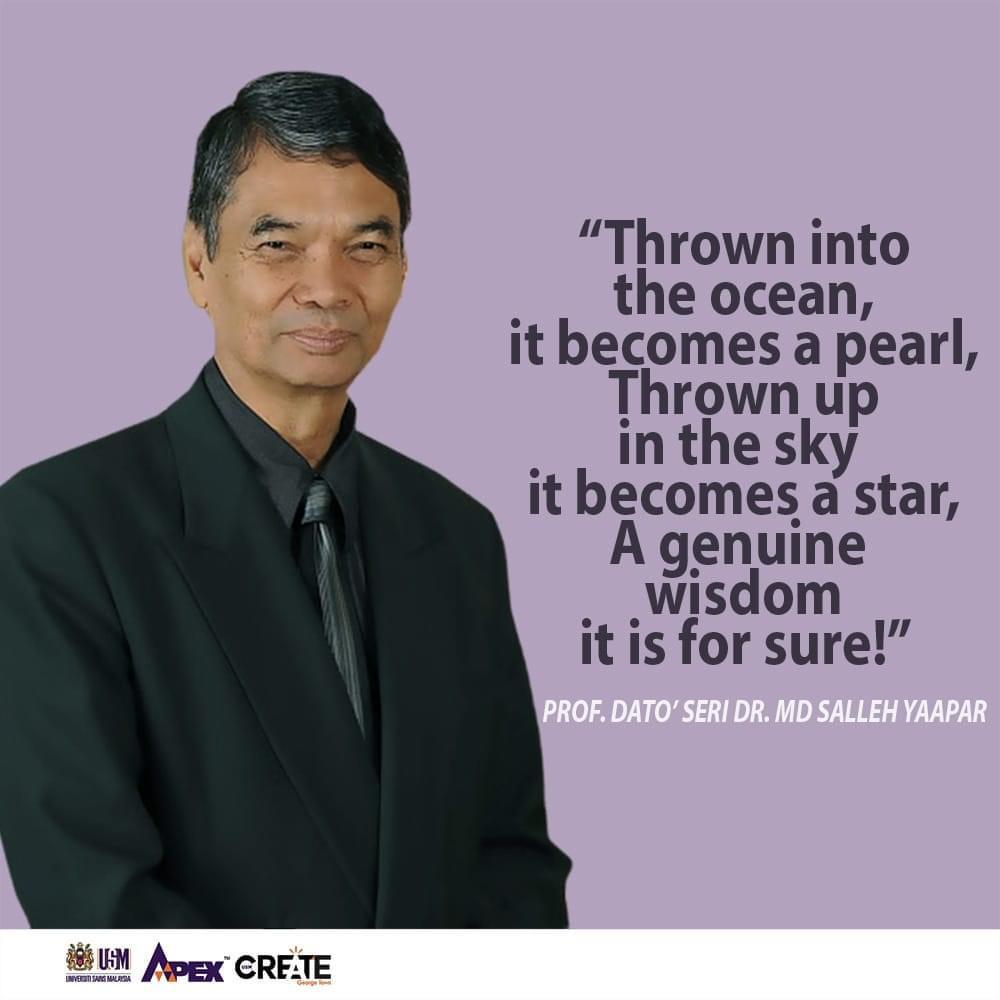 The Professor of Comparative Literature from School of Humanities shared his insights on the topic 'From Local to Global: Contributions of Malay Wisdom to Cultural Developments in China, Madagascar and France.'
According to Md Salleh Yappar in his epilogue, the discourse has highlighted some aspects of local wisdom of the Malays in the Malay Archipelago that have made global trajectories, and have contributed immensely to the socio-cultural developments in China, Madagascar and France, including other parts of Europe and even America.
"The contributions include expressions of Malay wisdom in the areas of martial arts and chivalry, ship-building and navigation, as well as language and literature. The fruits of these contributions remain in those countries until today.
"Unfortunately, many people, including in the Malay Archipelago itself, are ignorant about this, hence often times, the Malays have been underrated," he said.
He added that the discourse has shown that generally local wisdom is dynamic in nature, and certain parts of the corpus are capable of undergoing transformations.
"As such, actions should be taken and serious efforts should be made to enable significant aspects of local wisdom to perform their functions globally in the new millennium," he concluded.
The webinar was moderated by Dr. Nurul Farhana Low Abdullah, a lecturer at the School of Humanities and also a member of the Local Knowledge Secretariat, School of the Arts, USM.
Md. Salleh Yaapar is a Malaysian scholar of Comparative Literature and a Professor of the School of Humanities at USM and he is the Head of the Institute of Language and Literature of Malaysia and holder of the European Chair of Malay Studies at Leiden University in Leiden, Netherlands.
This is the second in a series of createTALK held by USM.CREATE, in conjunction with their July HERITAGE month celebration. More than 1,000 views were recorded in this interactive session.
You can view the recorded session via USM.CREATE Facebook page: https://fb.watch/6P6adXDd4r/
Text: Hafiz Meah Ghouse Meah