20 YEARS ON, KANITA CONTINUES TO CHAMPION GENDER EQUALITY
USM PENANG, 27 May 2021 - In conjunction with its 20th anniversary as a Centre of Excellence (CoE) of Universiti Sains Malaysia (USM), the Centre for Research on Women and Gender (KANITA) has conducted a virtual talk entitled "Gender Equality 2021 - The Icelandic Experience" this evening.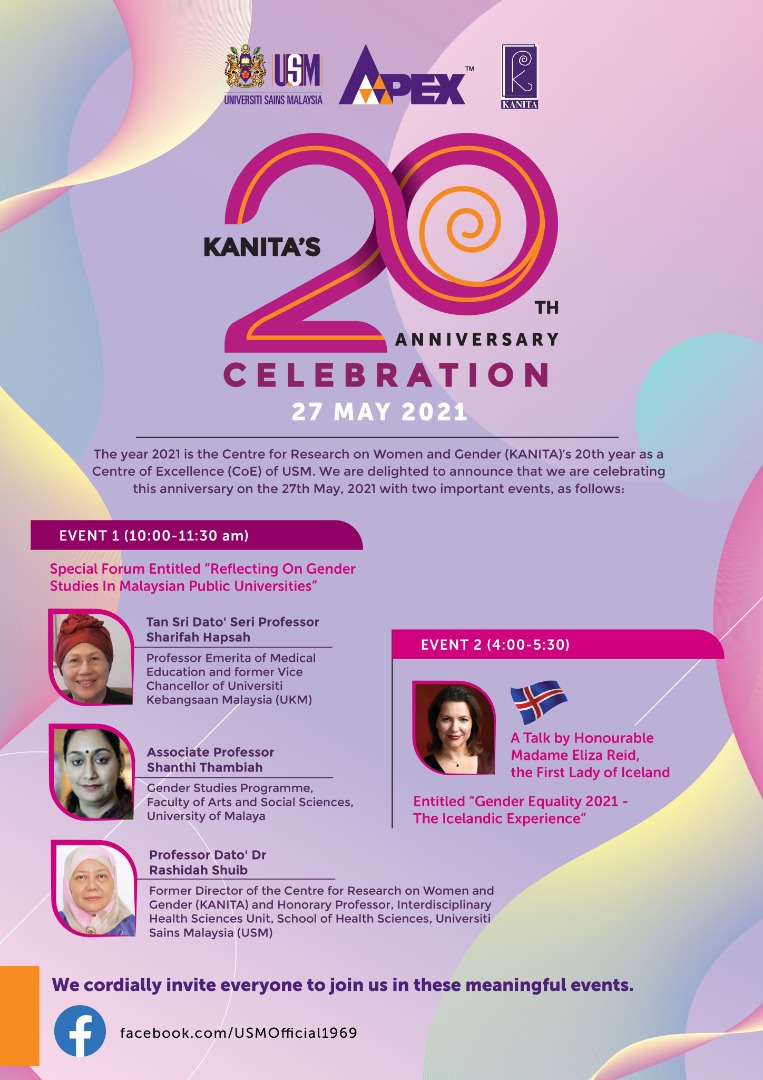 The talk, presented by the First Lady of Iceland, Madam Eliza Reid, was streamed live via USM Facebook not only to USM staff and students but also colleagues and network beyond the university, at the national and global levels.
According to Eliza, gender equality has a powerful potential to improve the economy, security and the overall well-being of a population, and in countries where gender equality is greatly practiced, both men and women are healthier, happier and live longer.
"As many of you have probably experienced on your own, there exists gender discrimination, coded in law and there are some forms of lock nearly everywhere in the world, and that includes Iceland where we still have some 'unfair' laws such as pensions for example," she said.
Eliza said Iceland topped the World Economic Forum's Global Gender Gap Index for the past 12 years, and Iceland was also a member of the UN Human Rights Council until 2009.
"Apart from that, Iceland is signatory to the Istanbul Convention on combating violence against women and domestic violence, while the current government has pledged to eliminate the gender salary gap by 2022.
"On 1st January 2018, Iceland became the first country in the world to make it illegal to pay men more than women for doing the same job. Gender quotas were implemented for the boards of publicly-traded companies and publicly-funded childcare centres.
"Women on national sports teams were also earning the same bonuses as their male counterparts and after the 2016 election, Iceland has the highest number of female MPs of any non-quote regulated parliament," she said.
She also shared with the audiences, "the fight for gender equality in Iceland on 24 October 1975 made history when 90% of women in Iceland, in both urban and rural communities, did not go to their paid jobs or do housework or childcare at home, and as a result of that, many industries shut down for the day. Through this historic incident, the first comprehensive Icelandic legislation on equals rights and equal status of women and men was adopted in 1976."
"Gender equality doesn't happen on its own accord. It has to be a conscious decision, it has to be something that people will always be aware of and it requires a change in mindset," she said.
Earlier, in his pre-recorded welcoming speech, USM Vice-Chancellor, Professor Dr. Faisal Rafiq Mahamd Adikan said, USM is continuously making efforts towards bridging the gender gap at all levels - within the organisation, and at both the national and international levels.
"We are proud of KANITA that has pioneered gender studies and gender-based research in this country, collaborating with local and global partners in advocacy-related work to empower women and achieve gender equality," he said.
He added that, "we can all certainly learn from Iceland, which has been listed by The World Population Review as the fourth happiest country in the world for 2021 out of 153 countries. I believe it is accurate to postulate that the position of Iceland in the happiness index is very significantly related to it having the narrowest gender gap in the world."
To commemorate this anniversary, a special forum entitled "Reflecting on Gender Studies in Malaysian Public Universities" was held too, featuring three prominent panelists - Tan Sri Dato' Seri Professor Dr. Sharifah Hapsah (Professor Emerita of Medical Education and former Vice-Chancellor of UKM); Professor Dato' Dr. Rashidah Shuib (former Director of KANITA and Honorary Professor, Interdisciplinary Health Sciences Unit, School of Health Sciences, USM); and Associate Professor Dr. Shanthi Thambiah (Gender Studies Programme, Faculty of Arts & Social Sciences, UM).
Text:Thigambarishini d/o Gobi (MPRC intern)/Editing: Tan Ewe Hoe & Mazlan Hanafi Basharudin