PILOT STUDY DRIVE-THROUGH COVID-19 VACCINATION AT USM KUBANG KERIAN A SUCCESS
USM KUBANG KERIAN, KELANTAN, 30 May 2021 - The Universiti Sains Malaysia (USM) teaching hospital, Hospital USM here has scored a first when it successfully ran a pilot project for drive-through COVID-19 vaccination in the country.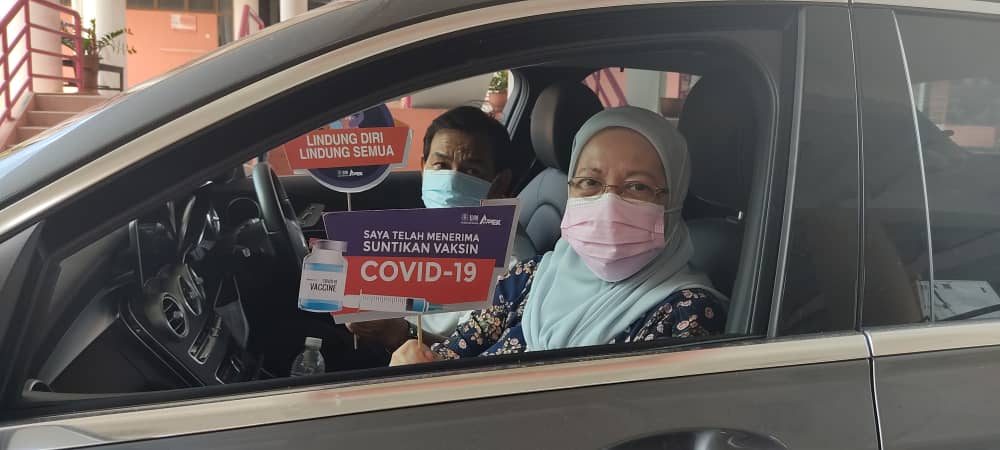 Approximately 130 individuals were involved in this pilot project, where all the recipients adhered to the existing standard operating procedures (SOP) and processes, similar to those at the vaccine administration centres (PPV).
According to Hospital USM Director, Professor Dato' Dr. Ahmad Sukari Halim, all recipients were required to scan the MySejahtera QR code, register, enter their names into the vaccination assessment system and wait for their turn to be vaccinated.
"They were also needed to give consent and be informed about the health/medical risks before getting the vaccination. After the jab, the recipients will sit in their cars for 15 to 30 minutes for observation.
"Although the vaccination capacity via drive-through method is low compared to the PPVs, the drive-through is convenient for those who are wheelchair-bound or with limited mobility, since they don't have to leave their cars," he added.
Meanwhile, following the success of the pilot project, the Coordinating Minister for the COVID-19 National Immunisation Programme, Khairy Jamaluddin said the government will be rolling out a drive-through COVID-19 vaccination system for the public.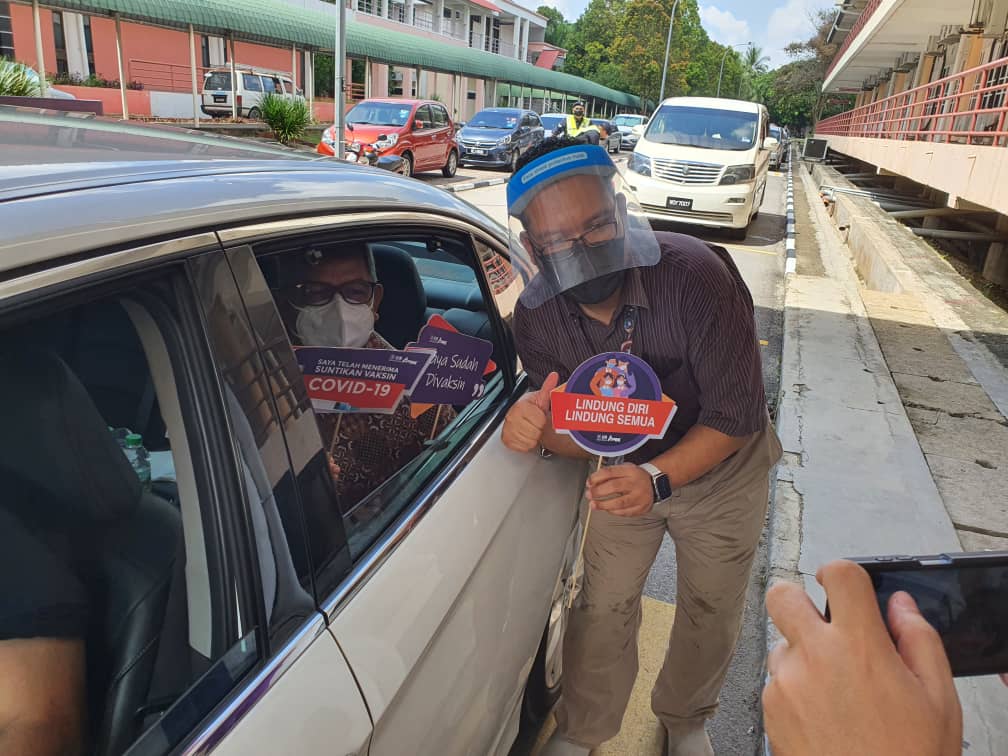 Khairy who is also the Science, Technology and Innovation Minister believes that the drive-through method could help speed up the vaccine roll-outs in the country hence enabling Malaysia to achieve the targeted 80% herd immunity faster.
"Hopefully, when the drive-through vaccination process begins, more people could be vaccinated, and this could help the government to achieve its targeted inoculation rate of 150,000 doses compared to the current 107,000 daily jabs," he said, as quoted from a local press.
On another related development, Hospital USM has been entrusted with the responsibility of carrying out special vaccine administration for high-risk patients for the COVID-19 National Immunisation Programme beginning 23 May 2021.
It has since been referred to as a Special Vaccine Administration Centre (Special PPV/SPPV).
Text: Tan Ewe Hoe