USM, ANGKASA-X INKED MOU TO FURTHER DEVELOP SPACE INDUSTRY
PENANG, 22 April 2021 - Universiti Sains Malaysia (USM) through the School of AerospaceEngineering recently signed a Memorandum of Understanding (MoU) with Angkasa-X Innovation Sdn Bhd.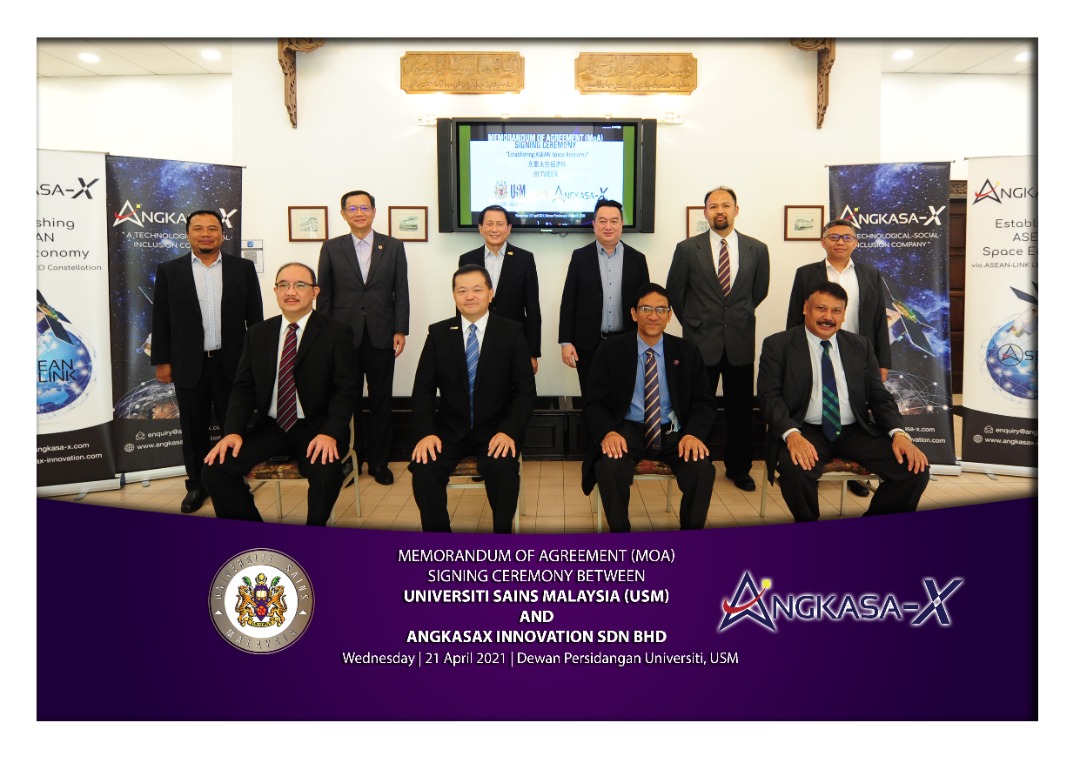 This collaboration is part of an initiative meant to build up the ecosystem in the nation's space industry.
The USM Deputy Vice-Chancellor (Research and Innovation), Professor Dato' Ir. Dr. Abdul Rahman Mohamed in his speech representing the USM Vice-Chancellor said that, USM will come in and support Angkasa-X in its initiative to establish a Low Earth Orbit (LEO) satellite communication constellation link.
"The support will include space system expertise and facilities, as well as a space and laboratory to equip satellite development and testing equipment.
"This will allow the offering of internet connectivity to rural communities, reducing the digital gap between the rural and the urban areas, and a professional course in Satellite Engineering will also be conducted by trainers from the School of Aerospace Engineering, School of Electrical and Electronic Engineering and School of Computer Sciences at USM," he added.
According to Rahman, the trainers have undergone the training for trainers' programme under Angkasa-X and will be the first in Malaysia to offer a mix-mode course consisting of lectures and practical lab work for satellite development and testing.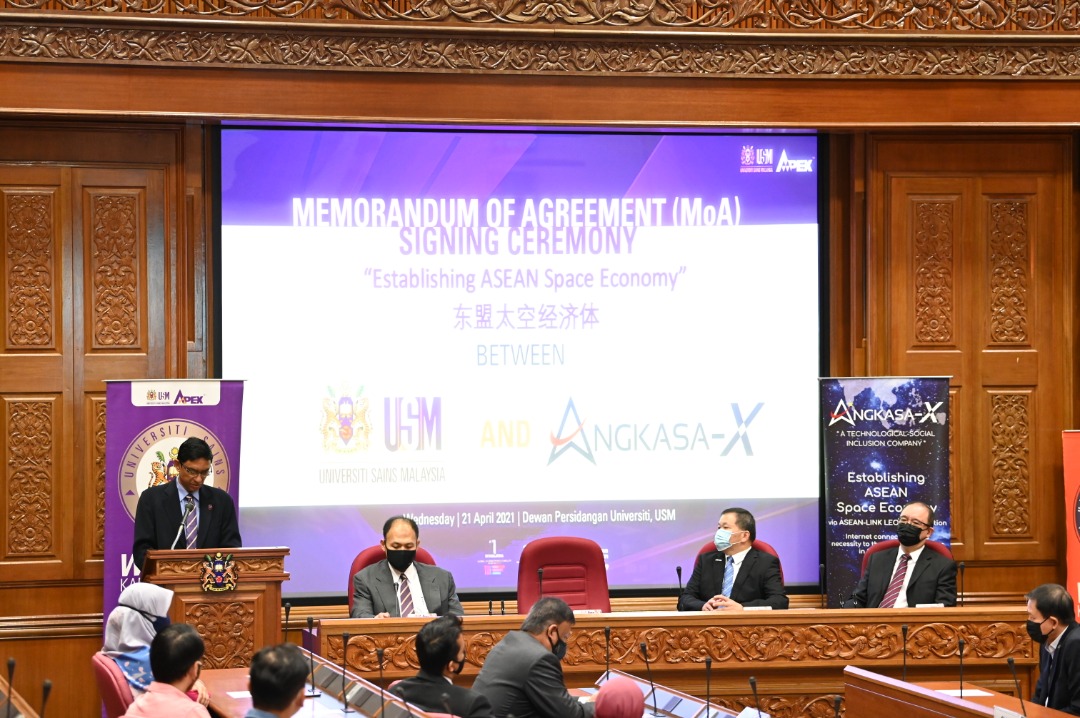 "Potential candidates include students and technical professionals in Asia to upscale their skills and talents. It will be part of the Talent Development process for the next generation of Space Engineers via the Space EduTech programme, which will create the talent pool in the near future," he said.
He added that, "in a country where we are losing our local talentsto companies abroad, we need to be sure that our education system is preparing our graduates to be industry-ready."
"As such, it is hoped that this collaboration will accelerate USM's mission to produce industry-ready graduates in satellite engineering and pave the way for more of such collaboration and cooperation in the future that will create a more holistic ecosystem in the space industry," said Rahman.
Angkasa-X Executive Director, Dr. William Lim said, "we are proud to fulfil our vision by establishing the ASEAN Space Economy to provide affordable internet-connectivity as a necessity and therefore improve the standard of living and eradicate poverty for ASEAN population living in the rural areas."
"By teaming up with the USM researchers, Angkasa-X hoped to embark into and explore new frontiers in the research and development of the satellite system, particularly in the field of satellite communication technology," he said.
Also present were Angkasa-X Executive Chairman, Dato' Dr. Sean Seah; Director of USM Engineering Campus, Professor Dr. Nor Azazi Zakaria; and Dean of USM School of Aerospace Engineering, Associate Profesor Dr. Farzad Ismail.
Angkasa-X is a technological-social inclusion company that strives to provide internet connectivity as a necessity for the betterment of mankind by investing in research and development, IP creation, component sourcing and testing, assembly and manufacturing, launching and maintaining state-of-the-art Low Earth Orbit (LEO) satellites.
Text:Thigambarishini d/o Gobi (MPRC intern)/Editing: Mazlan Hanafi Basharudin & Tan Ewe Hoe/Photo: Ebrahim Abdul Manan