USM RECEIVES MOSTI MINISTER, HOLDS BRIEFING ON LATEST DEVELOPMENT
PENANG, 8 April 2021 - A discussion between Universiti Sains Malaysia (USM) and the Institute of Pharmaceutical and Nutraceutical Malaysia (IPHARM) under the Ministry of Science, Technology and Innovation (MOSTI) was held at the University Innovative Incubator (I2U) building at Bukit Jambul hereearly this month.
The discussion was aimed at increasing collaborations in the field of pharmaceuticals between IPHARM and the USM School of Pharmaceutical Sciences to produce products and also pharmaceutical and medical services that can be commercialised.
According to the Minister of Science, Technology and Innovation Malaysia, Khairy Jamaluddin, this collaboration will be extended further into researches and commercialisation.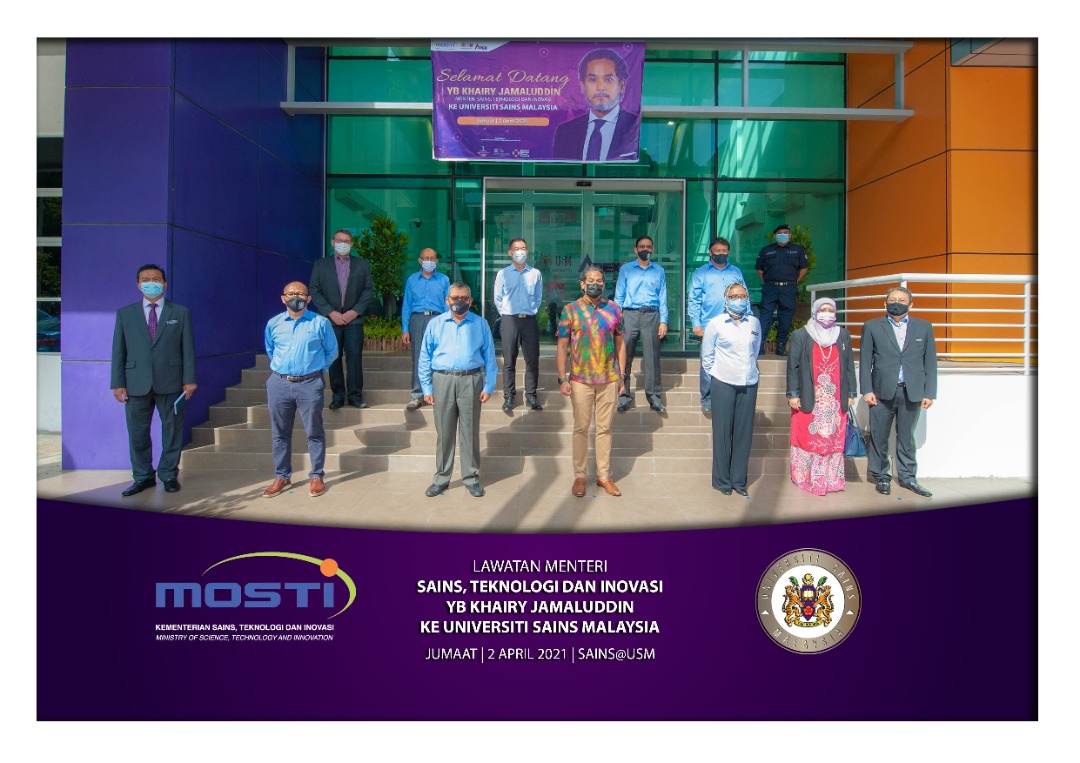 Although currently there is already commercialisation being done in this field at USM, he is prioritising on the research that has already begun at IPHARM.
"We can focus on certain products by doing research relating to dengue, kratom/ketum leaves as a pharmaceutical product and also on other aspects of pharmacy that can be looked into," said Khairy.
At the meeting too, the USM Vice-Chancellor, Professor Dr. Faisal Rafiq Mahamd Adikan explained to Khairy Jamaluddin, on the efforts by USM to embrace the future.
Faisal Rafiq shared information on how USM provides access to opportunities for students and staff, who mostly belong to the B40 category; the percentage of students and staff who are disabled (OKU); the breakdown of the Heads of Departments (HOD) in terms of gender, and the fact that most of them being first-generation degree holders.
He continued his briefing by highlighting the performance of the academics, in terms of productivity and efficiency.
"Focusing on the duties of the academics in producing publications and doing supervision (of students), the number of publications peaked in 2014, but later declined and showed drastic fluctuations until 2019; on the other hand, the supervision of students was at the highest in 2011, then fluctuated, again reaching a high level in 2015 but declined in 2016, only to rise and tapered off at almost the same level of achievements as for the publications," he explained.
He then said, the I2U Centre will also be utilised as a space to host activities relating to research and commercialisation, and will be provided to the industry research partners that have strategic collaborations with USM in various fields such as electronics, IoT, IC (integrated circuit) design, semiconductors, AI and healthcare solutions.
Additionally he said, other activities will also be hosted, such as pitch programmes, start-up seeds and USM spin-off companies in order to spur innovation and commercialisation.
"One example of an innovation that was highlighted was the 'Automated Assisted Breathing Unit' or AABU. It is an AI-driven breathing tool, combining the expertise in medical, engineering and IT.
"Another innovation of a research-based, cutting-edge multidisciplinary venture was a 'Ventilator of the Future', a collaboration with Canada's largest mother/child centre," he added.
Other proposals presented during the discussion include an OECD-accredited GLP facilities; a prerequisite for vaccine or pharmaceutical clinical work at USM-IPHARM; a proposal for 12 USM (Pharmacy) training; future NPRA regulators and clinical experts; Vax Biotech (USM spin-off) commissioning preclinical trial on cholera vaccine; and in developing the most advanced vaccine in Malaysia (a collaboration with AIMST and Finlay Institute in Cuba) for COVID-19 vaccine candidates.
Other USM centres which are ready to offer their expertise include the Institute for Research in Molecular Medicine (INFORMM) and the National Poison Centre.
The Minister was on a one-day working visit to Penang, and USM was one venue chosen to discuss several issues in his itinerary.
Others who were present included the Chairperson of the University Board of Governors (LGU), Datuk Dr. Awang Adek Hussin; Deputy Vice-Chancellor (Research and Innovation), Professor Dato' Ir. Dr. Abdul Rahman Mohamed; MOSTI Secretary-General, Datuk Ir. Dr. Siti Hamisah Tapsir; President of Academy of Sciences Malaysia, Professor Datuk Dr. Asma Ismail; and key officials from MOSTI and USM.
Text:Thigambarishini d/o Gobi (MPRC intern)/Editing: Mazlan Hanafi Basharudin