USM HBP COLLABORATED IN VIRTUAL CABE CONFERENCE; THREE ARCHITECTURE STUDENTS CHOSEN FOR AWARDS IN ACCREDITED PROGRAMMES 
PENANG, 19 April 2021 - The CABE (Chartered Association Building Engineer) Malaysian Chapter International Conference was successfully held virtually from 16 to 17April 2021.
The Universiti Sains Malaysia (USM) School of Housing Building and Planning (HBP) was there as an academic partner and collaborator of the conference.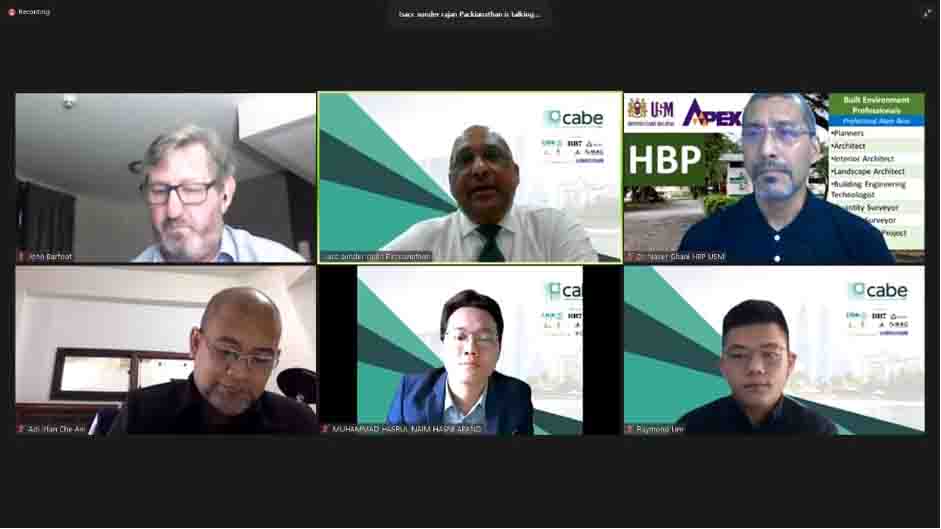 The two-day programme saw renowned international and national speakers from the construction industry presenting talks on various topics.
The first day of the conference began with a keynote address given by President of CABE UK, Jayne Hall, while local speakers on the field included Ir. Harbans Singh and Datuk Sundra Rajoo.
The second day focused on research paper presentations by academics and eight lecturers from HBP managed to get their papers selected for presentations.
These papers, upon further selection, will be linked to the official and electronic journal of CABE titled 'The Building Engineer'. HBP also has three of its architectural programmes accredited by CABE.
Highlight of the second day of the conference was the annual presentation of best student awards for its accredited programmes.
For 2021, the awards went to Raymond Lim Ying Keat (for the M.Arch Part II), Muhammad Hasrul Naim Hasni Apandi (Part I, Penang campus) and Amir Arsyad Rosidi (Part I, USM-Port Dickson KPM offshore campus).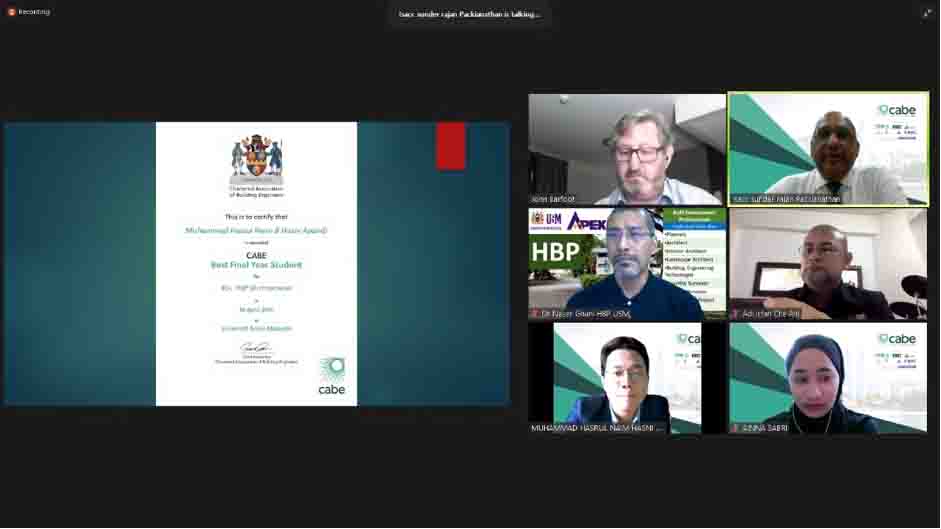 Awards were presented by Director of CABE Education and Academic UK, Dr. John Barfoot.
Other than monetary token, the awards presented include free CABE graduate membership for a year and certificates.
The ceremony was carried out virtually online, and was witnessed by the Dean of HBP, Associate Professor Ir. Abdul Naser Abdul Ghani and all conference participants from around the world.
The full event and award ceremony was also streamed live via CABE, USM and HBP official Facebook sites.
Associate Professor Ar. Dr. Sharifah Fairuz Syed Fadzil, FCABE, who spearheaded the whole activity at USM, thanked all parties involved in the successful running of the virtual conference.
Text: Assoc. Prof. Ar. Dr. Sharifah Fairuz Syed Fadzil/Editing: MPRC