ONLINE TRADITIONAL ARTS - ANOTHER WAY TO SOOTHE THE EMOTIONS
PENANG, 20 March 2021 – The Universiti Sains Malaysia (USM) School of the Arts successfully held the latest round of 'The Healing Art Project' for the semester.
'The Healing Art Project,' conducted by Dr. Kamal Sabran and Dr. Hilyati Ramli from the School of the Arts, uses traditional music performances to reduce stress among students and to restore their mental health so that they will be able to perform better. The most recent session was held online via Facebook Live.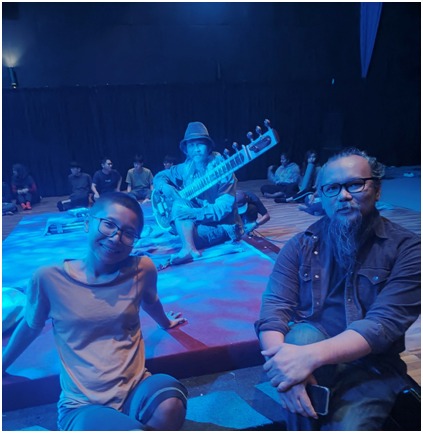 According to Kamal, the project is actually an intervention method via a combination of traditional music and data waves. The therapeutic sound design is combined with a dance flow sequence, breathing techniques and conscious sleeping method, and is assisted by Hilyati. All these techniques will 'slow down the pace' of the participants' flow of emotions.
"The project, which is part of a research, is done every semester as students will face stress due to the numerous tasks that need to be completed. In addition, there are study and family expectations, as well as peer pressure to deal with.
"My goals are to see my students happy. This is my concern because if my students are not happy, then it does not comply with the university's happiness index," said Kamal.
He elaborated that the Healing Art Project will release the creativity that can positively impact one's mood. Research supports that real-life group engagement improves mood and decreases depression.
"When kids, teens or adults use the creative side of their brain, they are no longer in the reactive phase. With increased levels of screen-time, less people are now engaging with one another face to face. A wandering mind is an unhappy mind, whereas a creative mind, coupled with in-person interaction, will be focused on the present task at hand," he added.
"This project definitely helps the participants to cope with stress or mental wellness because of the choice in the genre of music and how it relates to the idea of mainly experimenting with sound waves, specifically Theta waves.
"Theta waves generate the theta rhythm, a neural oscillation in the brain that underlies various aspects of cognition and behaviour, including learning, memory, and spatial navigation in many animals. As they are low frequencies and not musical notes, they will relax our brain. We use these frequencies and blend them with sound design, combined with sounds from traditional instruments," he further explained.
He added that, throughout recorded history, people have used pictures, stories, dances and chants as healing rituals. In many communities, the way to improve the emotions is through the performing arts.
"The performing arts have been scientifically proven to help kids overcome anxiety, depression and offer emotional release. The idea that creative expression can make a powerful contribution to the healing process has since then been embraced in many different cultures," he said.
"Independently, we believe that social engagement is the best way to stay relaxed; a chat with siblings or quality time spent with family members would enhance the sense of relaxation in one's mind.
"Additionally, we can maintain our mental wellness by having a well-balanced diet and to stay hydrated throughout the day. A healthy body will result in a healthy mind," said Kamal.
"Less screen time would be helpful too, and one can start to design a timetable to ensure that there is balance in the daily activities, to make sure that all your mental needs are in check."
For more information on the project, please refer to this link: https://www.facebook.com/arthealthusm
Text: Thigambarishini d/o Gobi (MPRC intern)/Editing: Mazlan Hanafi Basharudin