HELPING YOUTHS TO EMBRACE A MORE BALANCED LIFESTYLE DURING THE PANDEMIC
PENANG, 27 January 2021 – With the global pandemic going on and having all the new norms to adapt, many youths especially university students are facing unprecedented stress in different aspects of their day to day lives.
This has prompted the final year persuasive communication students from the Universiti Sains Malaysia (USM) School of Communication to organise a social awareness campaign entitled Wait! PAUSE which addressed the physical, mental and social wellbeing of Malaysian youths in coping with the on-going pandemic.
This year's campaign, which was conducted virtually given the COVID-19 pandemic, ran from 11 November 2020 to 4 January 2021 on various social media platforms such as Facebook and Instagram.
Campaign advisor, Dr. Nur Atikah A Rahman said, the campaign focuses on embracing a balanced lifestyle with an emphasis on mental, physical and social wellbeing.
"This will be tackled through five thematic activities to connect with the target audience, mainly the online youth community and to make them more supportive of each other in navigating the pandemic.
"The aforementioned activities were Together, We Exercise; Together, We Relax; Together, We Talk; Together, We Learn; and Together, We Celebrate.
"Hence 'Together, We Strive' was chosen as the campaign slogan after carefully considering the impact of the pandemic on young people and how the troubles and distress they face can be overcome together," she explained.
'Together, We Exercise', which was the first activity under this campaign, was conducted on 11 November 2020. It required participants to upload a short video of themselves exercising on social media.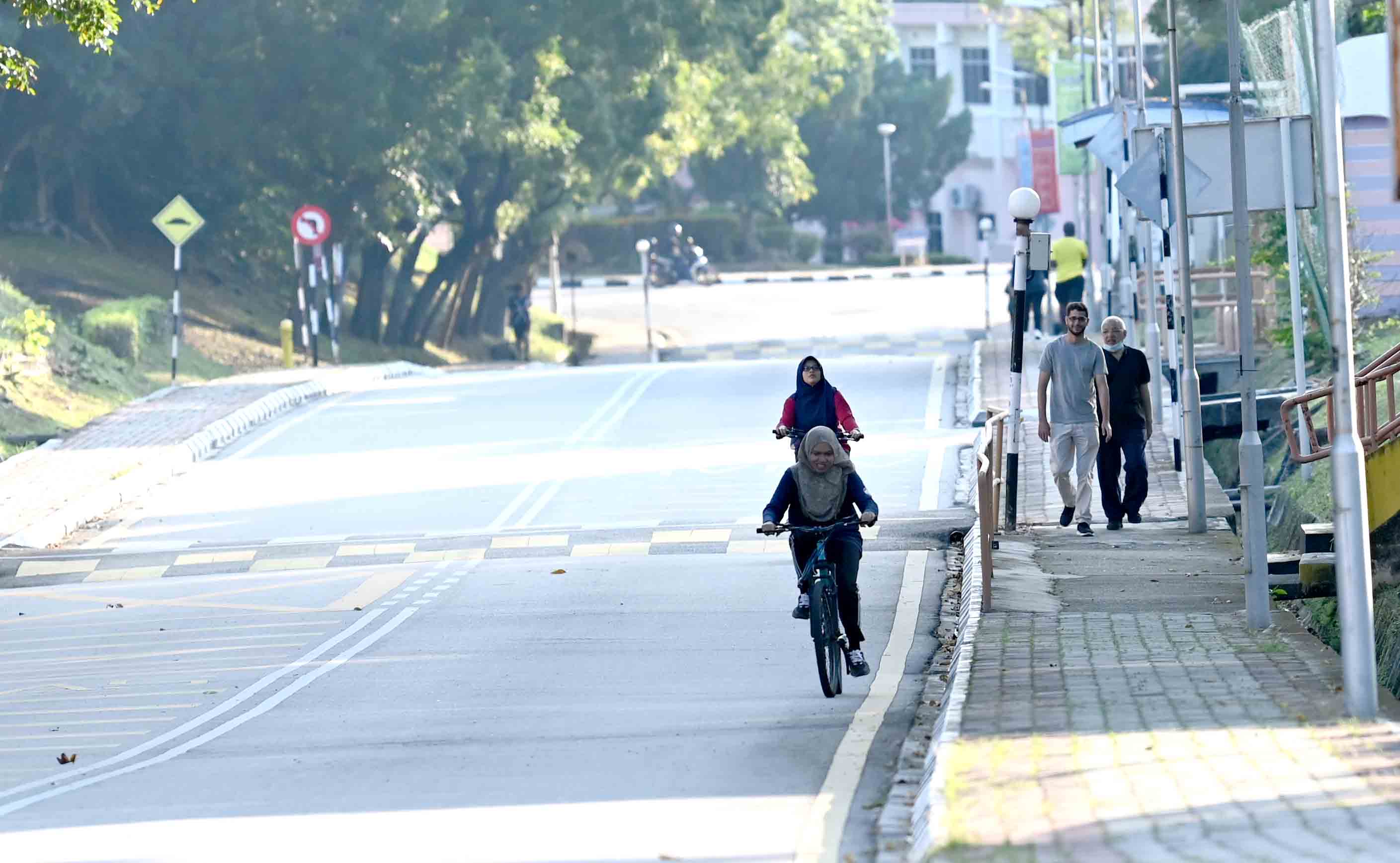 Similarly, the 'Together, We Relax' challenge used the same requirements. However, participants were required to share photos that showed what made them feel relaxed.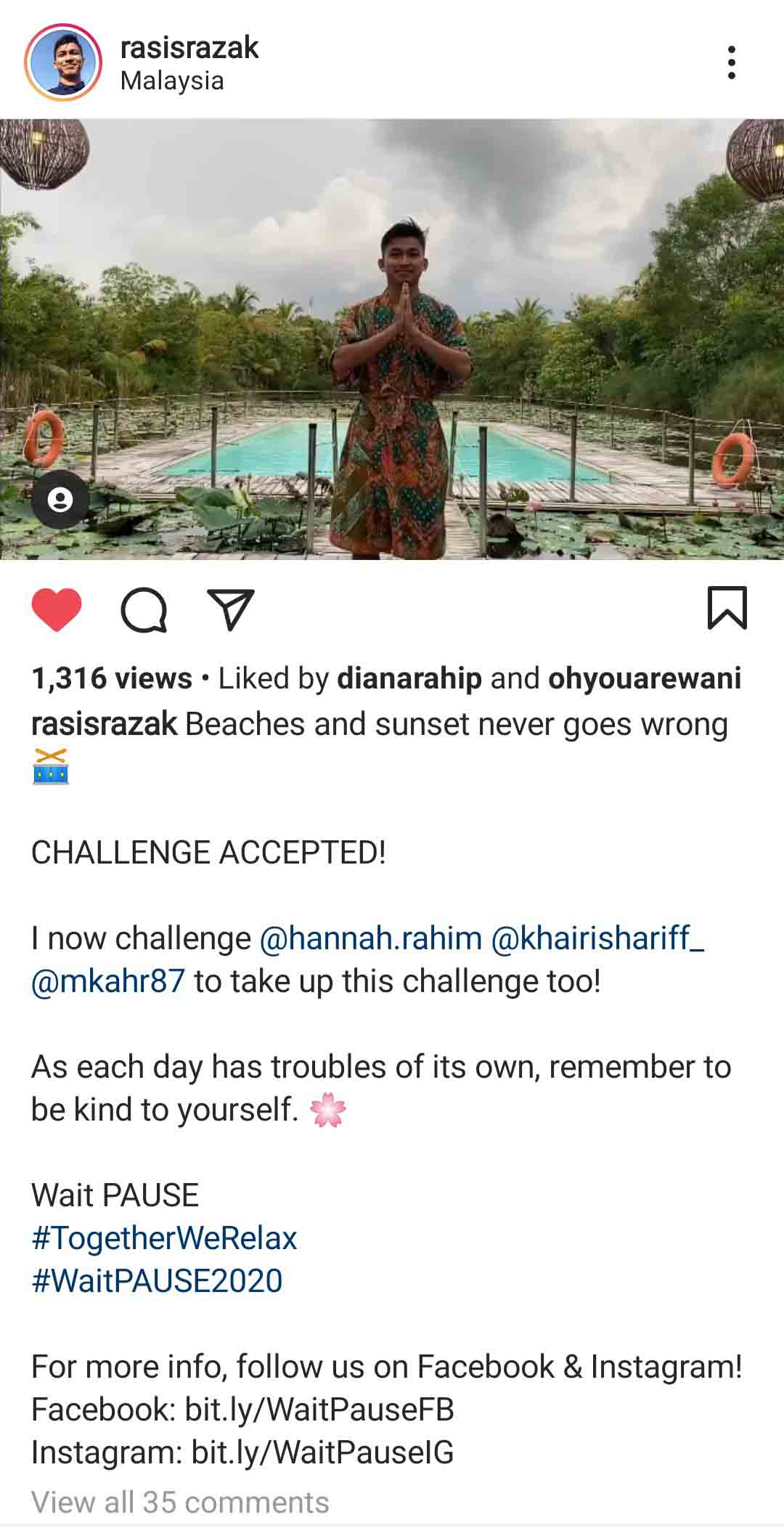 Next, 'Together, We Talk' was a webinar forum held on 12 December 2020, where invited panellists discussed the issue of burnout and how to overcome physical and mental exhaustion. The panellists who shared their experiences and knowledge were Dr. Kala Devi, a representative from Befrienders Penang; Fatiha Shuib, founder of 1Moment4Them (a mental health movement) and Manogaran Pechamuthu, manager and trainer of Star Fitness with 20 years of experience in the fitness industry; with Muhammad Syahdad Naquiyuddin Hadi bin Suhardi, a USM alumnus as the moderator.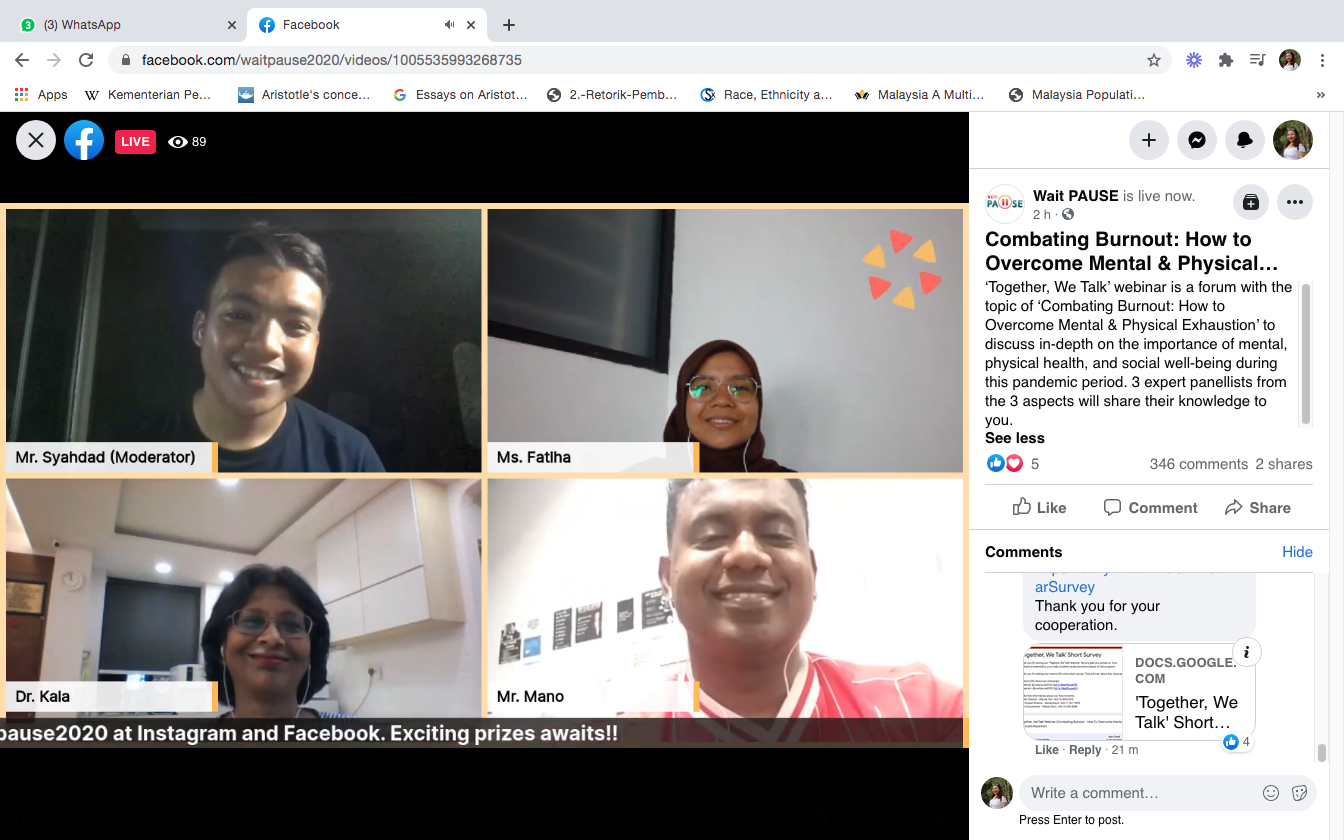 'Together, We Learn' saw interesting facts and knowledge about physical, mental and social wellbeing being shared using insightful and visually awesome infographics.
"It was a huge success judging from the number of people whom we have reached out to and participated in the activities, as well as the positive feedback we received from the participants," said the campaign head of public relations, Amirah Syafiqah.
Do visit @waitpause2020 on Facebook and Instagram, or contact Amirah Syafiqah at 012-6514200/email: This email address is being protected from spambots. You need JavaScript enabled to view it. for the beautifully-captured moments and sharings on the successfully-organised campaign.
Text: Tan Ewe Hoe