USM CONQUERED AYDA 2020; BAGS FOUR AWARDS AND RECOGNISED AS BEST UNIVERSITY
PENANG, 25 January 2020 – Students and staff of Universiti Sains Malaysia (USM) have proven their capabilities time and again, and this can be seen when they 'conquered' a majority of the categories at the Asia Young Designer Awards for architecture, also known as AYDA 2020 at the national level recently.
Competing alongside other universities in Malaysia, this year has shown a steep increase in the participation, with a total number of 1,118 in both Architecture (750) and Interior Design (368) categories. Last year, AYDA 2019 was won by a Part I Architecture Student from UCSI University.
For AYDA 2020, 'Human-Centred Design' was chosen as the main theme. Dayana Aripin, a postgraduate Architecture LAM Part II student from the USM School of Housing, Building and Planning (HBP) managed to secure two major Architectural Awards with her work titled 'Microhousing Within Heritage Context'.
Meanwhile, her main supervisor, Ar. Zalena Abdul Aziz also won the best mentor category. Automatically with the three winnings, the Best University Award went to USM.
Below are the details of the winners for the Architectural Category:
Gold Winner: Dayana Aripin – RM5,000

Best Colour Choice: Dayana Aripin – RM500

Best Mentor: Ar. Zalena Abdul Aziz – RM1,000

Best College/University: Universiti Sains Malaysia – RM1,000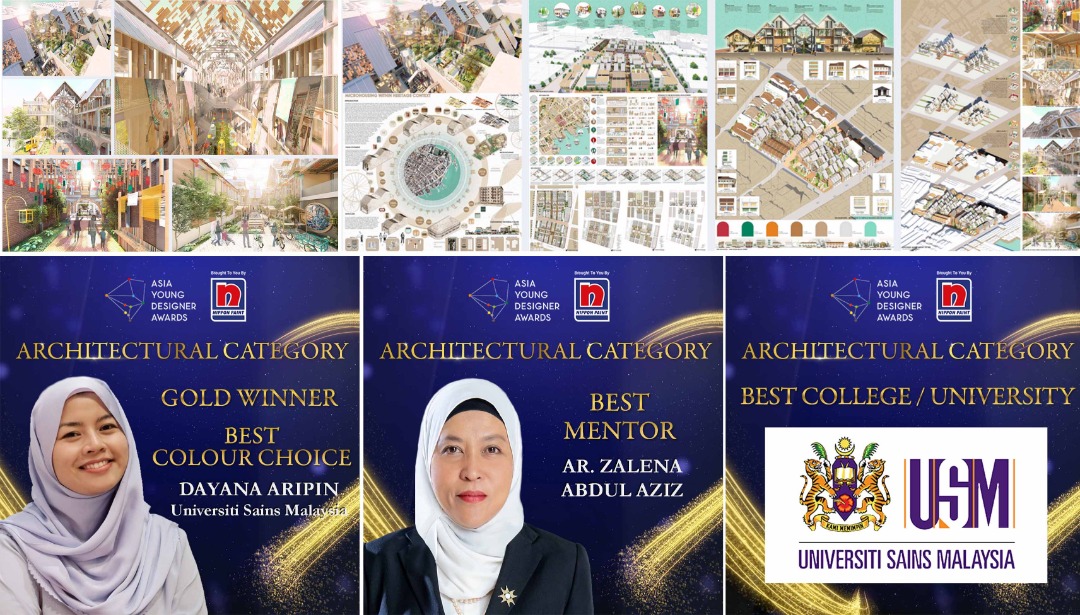 According to Zalena, the 'Microhousing Within Heritage Context' entry was praised for its thematic values that resonate well with the theme this year.
"Based on the comments, the design not only signifies wonderful values for the heritage areas and the current housing issues, but it also brings people back together in this trying time."
"The project was supervised for 12 months by me as the Studiomaster, along with other academics, namely Dato' Ar. Zulkarnain Harun, Ar. Najib Mohd Salleh, and Ar. Vijayalaxmi Nadarajan," said Zalena when contacted here recently.
She added that, the competition that was supposed to be held in Kuala Lumpur had to be done virtually through a series of presentations via Zoom application, before the winners were announced.
"The first stage was done as an icebreaking and coaching session with the appointed facilitators from Brainwave Consultants. The second stage required all participants to strategically plan the narrative of their presentations with all the judges. Marks for the entries were only given in the final round, which was done on 22 December 2020," said Zalena.
Meanwhile, the Gold award winner will be representing Malaysia for the summit level that will be held in Vietnam in March 2021.
Representing the country, Dayana will be competing with 15 other Gold award winners from different countries such as India, China, Indonesia, Singapore, Thailand, Pakistan, Hong Kong and Japan.
The overall winner for AYDA 2020 will be awarded with a 6-week course at Harvard University, valued at 10,000 USD. Last year, the Gold award winner from China won the overall AYDA 2019 Awards.