'SAND-ING' A MESSAGE OF APPRECIATION TO THE NATION'S FRONTLINERS
Mohammad Ikhwan Ibrahim, a USM HBP landscape architecture alumnus, a visual artist, and the only known active sand sculptor in the country
LANGKAWI, 8 January 2021 - A Universiti Sains Malaysia (USM) alumnus from the School of Housing, Building and Planning (HBP), Mohammad Ikhwan Ibrahim, 30, recently presented a message to the nation's frontline heroes who have been working relentlessly since the country was hit by the COVID-19 pandemic.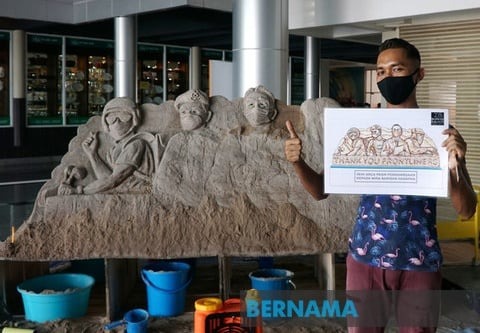 "This message was created to show appreciation and support to the frontline heroes who did not know the meaning of despair in caring for Malaysians during the COVID-19 pandemic," he said.
Made as a sand sculpture, it portrays four figures, each one representing a different frontliner group, namely the food delivery service, the police force (uniformed bodies), the Director-General of Health, Tan Sri Dr. Noor Hisham Abdullah (frontline leader/government) and nurses (healthcare workers).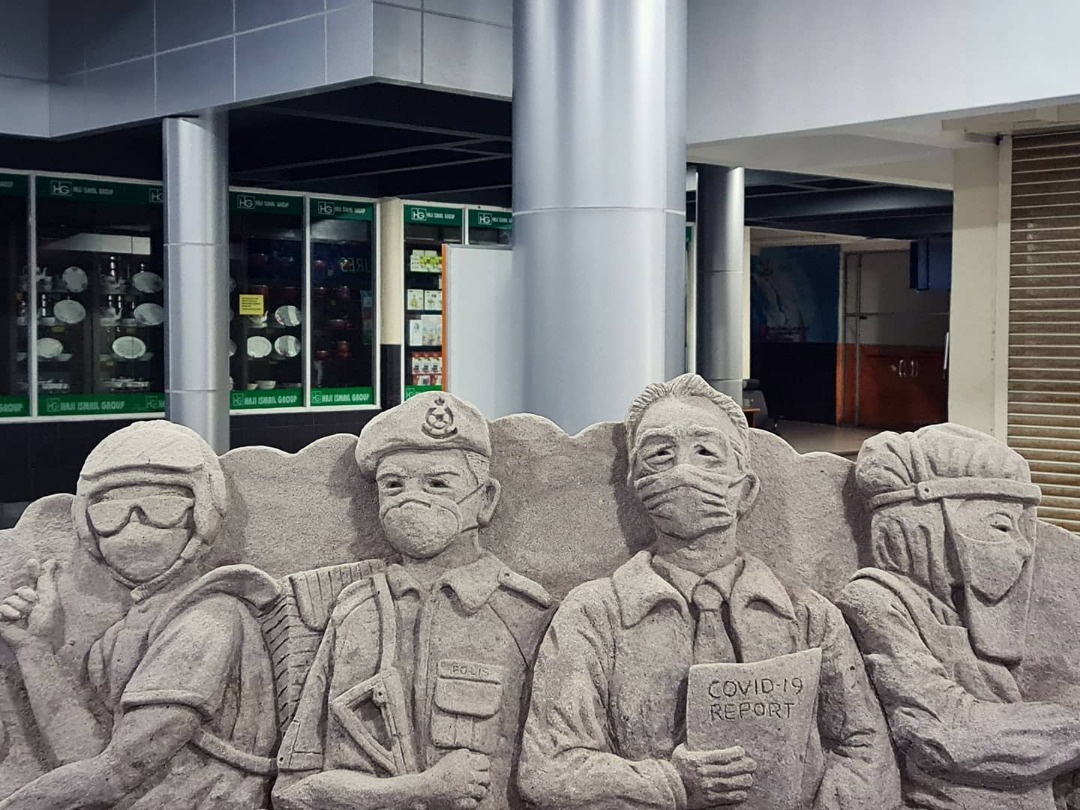 Citing BERNAMA, Mohammad Ikhwan, who is also a visual artist and the only known active sand sculptor in the country, said that it is the only sand sculpture art in the country to feature the four figures representing the frontline heroes.
It was made possible with cooperation from the Tourism, Arts and Culture Ministry, National Art Gallery (NAG) Langkawi and the Marine Department, who manages the venue.
The sand sculpture, located at the Passenger Ferry Terminal in Kuah, Langkawi, measures 3.048 meters long (10 feet) and 1.6764 meters high (5.5 feet). It uses 2,000 kilogrammes (kg) of sand with the words 'Thank You Frontliners'. 70 bags of river sand, each weighing roughly 30 kg, were used for the project.
"This project started on 22 December 2020 and it took 2 weeks to complete (5 January 2021). This sand sculpture art will remain at this location for a month," he further said.
"What is more unique is that it was made indoors, as opposed to most which were made at the beach."
Also known as 'Ikhwan Saloot', this postgraduate sand sculptor from Bayan Lepas, Penang, said that this sculpture is easier to create because it uses sand from the river as compared to using sand from the beach.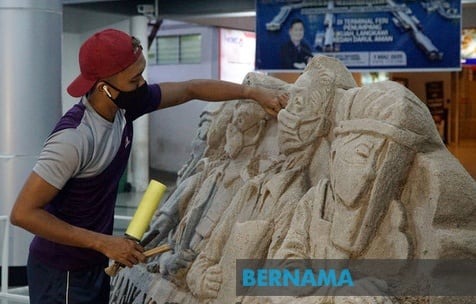 He added that this sand sculpture art can last up to three months before its texture would start to fade and erode. He has also been involved in a few other commissioned sand sculpture projects.
Text: Mohamad Hafiz Asyraf (MPRC intern)/Editing: Mazlan Hanafi Basharudin/Photo: BERNAMA