W-E-Y TO GO - INSPIRING OTHERS THROUGH PERFORMING ARTS
Chow Khey Wey chosen as recipient of the 2020 'Most Inspiring Award'
PENANG, 6 January 2021 - A student from the Universiti Sains Malaysia (USM) School of the Arts (SOTA) was chosen for the 'Most Inspiring Award' at the Grand Finale Top 10 MonStar Awards 2020 held on 11 December 2020.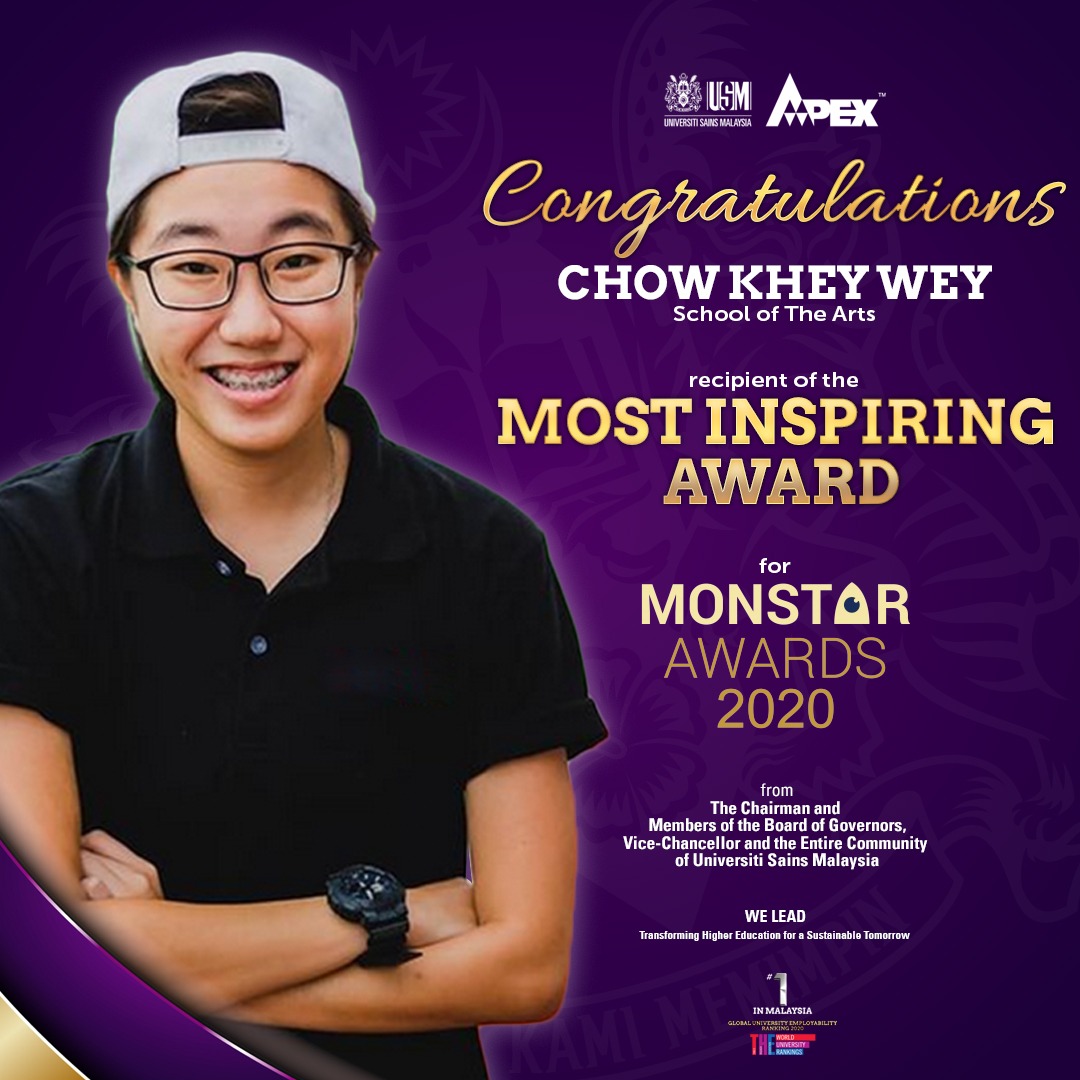 Chow Khey Wey, who studied Acting and Directing at the Drama and Theatre Department, was chosen in the 3rd edition of Malaysia's largest young talent award competition, that was created to discover and recognise young talents in Malaysia.
This 2020 edition was held for the nation to recognise talented individuals beyond their academic studies or those who have been actively involved in extra co-curricular activities.
Born in Ipoh, Perak and being raised in a single-parent household, Khey Wey, 23,takes pride in the achievement and wants to continue to prove that art students are also able to make the university eminent at the highest level.
Her 1-minute presentation video that she sent using real elements impressed the selection panel, and it had contributed immensely to her being selected as the Most Inspiring Award recipient.
"Personally I think, being authentic and real were the main criteria for winning this award, and because I wanted to inspire more people, I chose the performing arts.
"I shared some shows that I had directed or participated in. These achievements had inspired me to be better, to create more opportunities, shows and theatres that most communities can connect with," she emphasised.
Khey Wey was thankful to USM HDC (HEBAT Student Development Centre) for nominating her for this award, which then led her to fulfil all the criteria of the competition, among which submitting a 1-minute video and answering two questions.
The two questions were: 'What do you want to achieve and what are you doing now to accomplish the goal?' and 'Explain one or more personal initiative(s)/achievement(s)/talent(s) that you have done'.
"Most people say, art is useless but I believe in the power and effect of art on the mind, body and soul, and I am 101% committed towards proving it."
"One of my aims is to build a bridge within the communities by making them understand each other, thus creating a harmonious blend of different cultures and mentalities.
"I am striving towards representing the voice of the minorities and the outcasts by telling their stories to the public. I hope to provide a strong platform for them to express their voices. I wish to be their voice, to 'MAKE the change and to BE the change'," she said.
Apart from Khey Wey, two other USM students also managed to place themselves in the Top 10 list. One is Kavitha Sivapragasam, a final year student from the School of Health Sciences, and the other is Jason Lee Kwang Yau, also in his final year from the School of Pharmaceutical Sciences.
USM also had five students in the list of Top 100 Young Talents in the earlier elimination round.
Some 500 applicants from 50 universities and colleges across Malaysia took part in this Talent Awards. After 3 months of undergoing thorough evaluation by the juries, we should be proud to witness this amazing achievement by one of our own.
Text: Mohamad Hafiz Asyraf (MPRC intern)/Editing: Mazlan Hanafi Basharudin/Infographic: Ebrahim Abdul Manan