USM AMONG EIGHT UNIVERSITIES ACHIEVE SIX-STAR SETARA RATING 2018/2019
USM, PENANG, 28 December 2020 – Universiti Sains Malaysia (USM) was among the eight Malaysian higher education institutions (HEI) that attains the highest 6-star (outstanding) performance rating in the Malaysian Higher Education Institutions Rating System (SETARA) 2018/2019.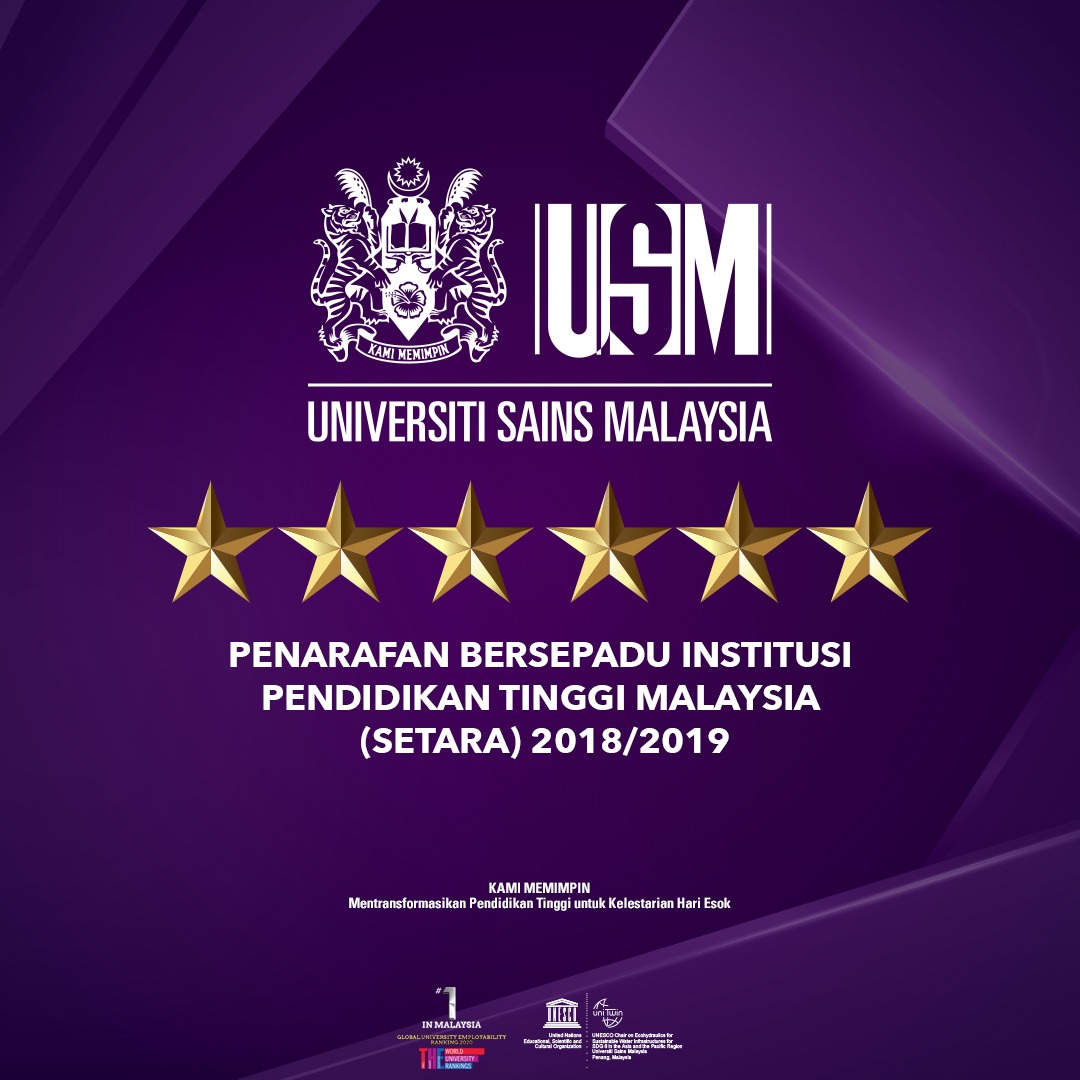 This feat is a repeat of the SETARA 2017 rating, where USM also achieved the 6-star status.
SETARA, which is a rating instrument that assesses Malaysia's HEIs in teaching, research and services, was developed to help HEIs build a strong foundation in the three main core functions mentioned, to promote institutional excellence as well as to recognise the diversity among Malaysian universities.
The SETARA rating is important as it helps an HEI to address any weaknesses and take strategic approaches to improve the overall performance. It also plays an important role in influencing the perception of stakeholders such as students, government, industries, parents, general public, international partners and other parties who would contribute to the reputation and income of the HEI.
SETARA evaluations are based on four criteria/indicators, which are General – student quality, lecturer capability and institution reputation (40%), Teaching and Learning – programme recognition, teaching and facilities (30%), Research – quantity and quality of publications (20%) and Services (10%).
Besides USM, the other seven 6-star achievers in SETARA 2018/2019 are Universiti Malaya, Universiti Kebangsaan Malaysia, Universiti Putra Malaysia, Universiti Teknologi Malaysia, Universiti Teknologi Petronas, International Medical University and Monash University Malaysia.
A total of 86 Malaysian HEIs took part in SETARA for the 2018/2019 academic year, compared to 71 in 2017.
In a statement issued by the Higher Education Ministry on 18 December 2020, its minister Dato' Seri Dr. Noraini Ahmad said Malaysian HEIs have recorded a continuous improvement in the 2018/2019 academic year based on their overall performances.
She added that her ministry will continuously implement improvements and strengthening of SETARA in line with the changing environment and the country's higher education ecosystem.
"It will take into account the culture of new norms in the education delivery system, emphasising the digitalisation agenda, technology education based on Industrial Revolution 4.0 and other relevant criteria," she said, adding that the next rating will be done in 2022.
Text: Tan Ewe Hoe/Infographic: Ebrahim Abdul Manan