USM RECEIVES EARLY EDUCATION FINANCIAL AID FROM YAYASAN BANK RAKYAT
KUALA LUMPUR, 9 December 2020 – Universiti Sains Malaysia (USM) was among the 13 public and private universities that have been chosen to receive the early education financial aid, also known as the Bantuan Awal Pengajian (BAP), contributed by the Yayasan Bank Rakyat (YBR).
Receiving the BAP on behalf of USM was the Bursar of USM, Kamarul Arifin Ngah, who also attended the event at Dewan Tun Abdul Razak, Menara Kembar Bank Rakyat here today as a representative to the USM Vice-Chancellor. He was accompanied by the Deputy Bursar of USM, Rafizal Abd Rahim.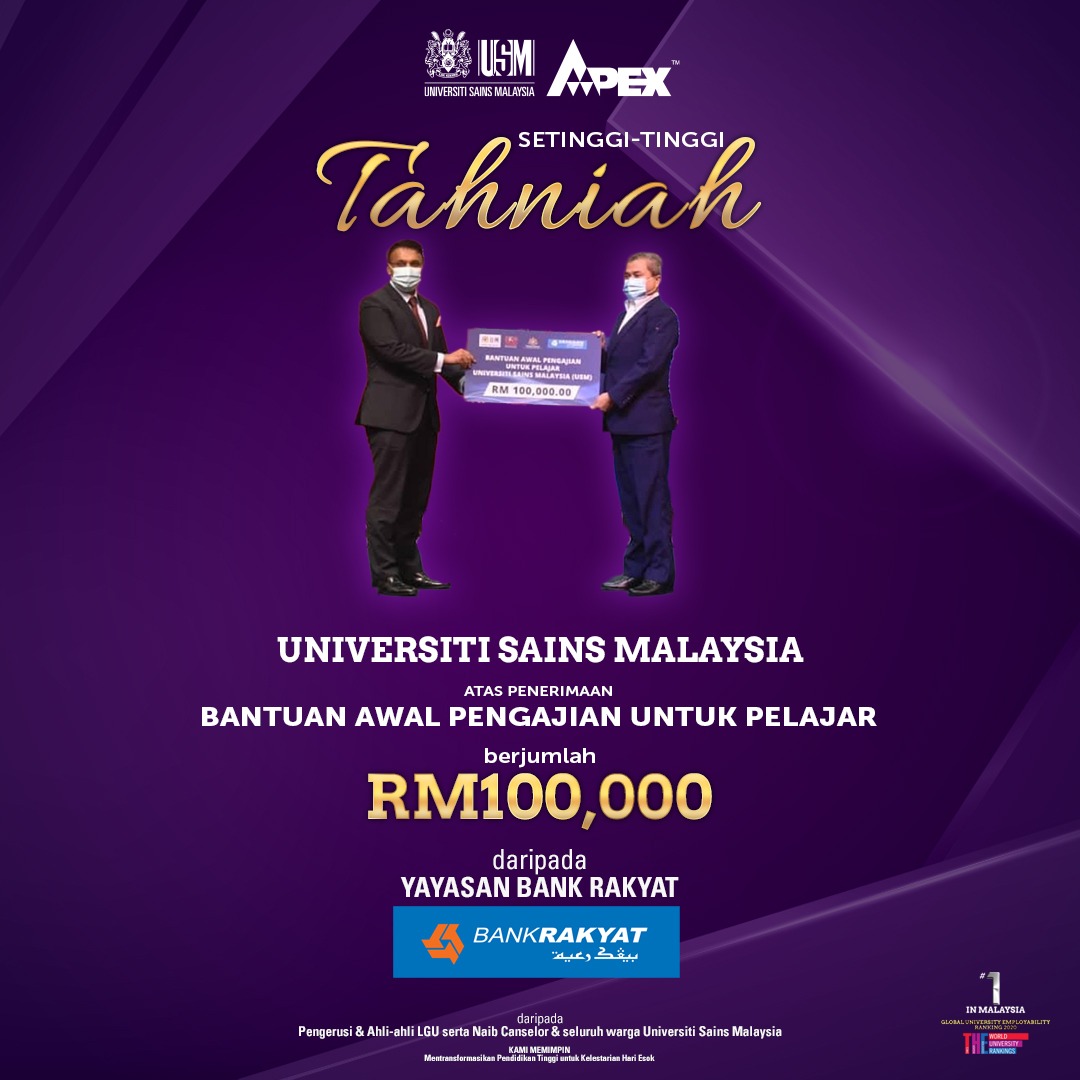 According to the Minister of Higher Education, Datuk Seri Dr. Noraini Ahmad on her social media account, the distribution of financial aid to public and private universities is an initiative to lighten the burden of students who are less privileged, especially those from B40 families.
"Each student will receive a one-off RM1,000 payment, of which I believe would be very helpful to them.
"Besides that, this financial aid can also provide more opportunities for new students to further their studies. It can at least help them before they receive any other financial aid or funding from other sources," she added.
Noraini added that ever since it was introduced three years ago, a total of 5,309 students had benefited from this financial aid, where a total of RM6.24 million had been sponsored.
"I strongly hope that more parties will come forth and follow the footsteps of Yayasan Bank Rakyat in helping those who are in need, especially those from the rural areas," she said as she welcomes any aid from corporate and private sectors, as well as Government-Linked Companies (GLCs).
Meanwhile, the Director of Yayasan Bank Rakyat, Datuk Nazir Hussain Akhtar Hussin said that the early education financial aid is one of the initiatives to help new students, and it is in line with the Yayasan's objectives, which is to help improve the socio-economic status of the people through education.
The programme was launched by the Minister of Entrepreneur Development and Cooperatives (MEDAC), Dato' Sri Dr. Wan Junaidi Tuanku Jaafar, who characterized this initiative to be similar to the government's other initiatives to develop and produce more talents in Malaysia among the local skilled labour sectors as well as to increase the people's income.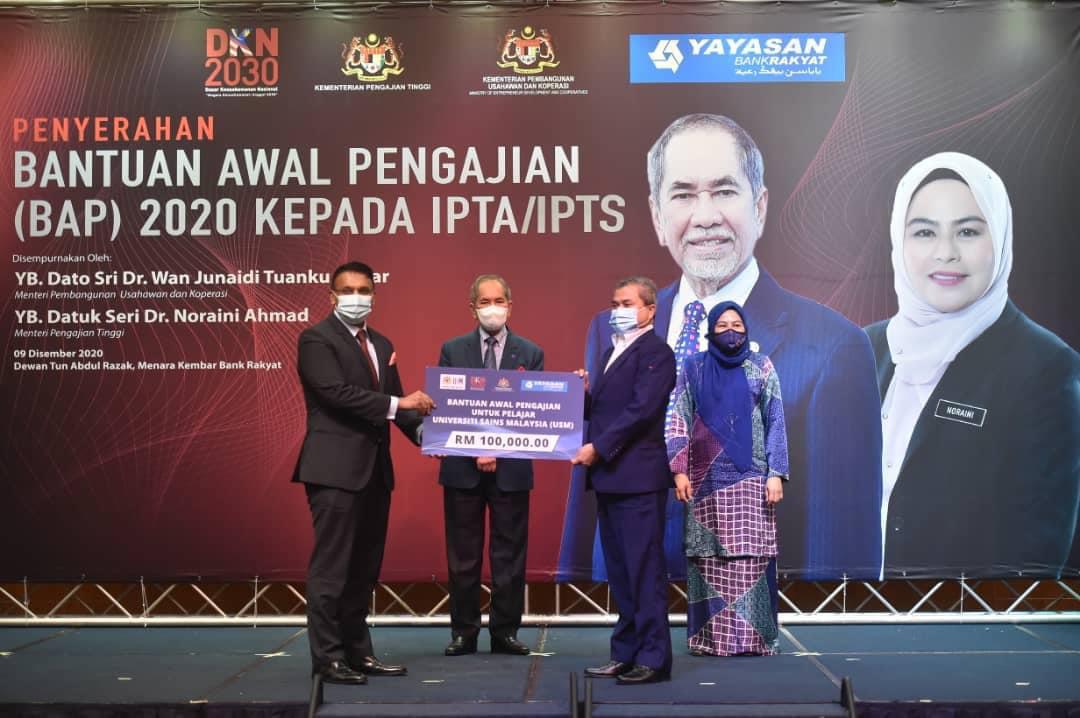 Besides USM, 12 other public and private universities also received this early education financial aid, in which Yayasan Bank Rakyat had allocated a total of RM3.1 million to be channelled to some 3,100 students.
Translation: Shirley Ooi Yee Shyen/Editing: Tan Ewe Hoe/Photo: Ministry of Higher Education's Facebook