DR. GARRY KUAN HONOURED WITH TWO PRESTIGIOUS GLOBAL AWARDS IN EXERCISE AND SPORTS SCIENCE
KUBANG KERIAN, KELANTAN, 21 December 2020 – A lecturer from Universiti Sains Malaysia (USM) has been honoured with two prestigious global awards in the field of exercise and sports science.
Associate Professor Dr. Garry Kuan Pei Ern, a sport psychology lecturer in the Exercise and Sports Science programme at the USM School of Health Sciences, has been presented with the IFPEFSSA International Eminent Educator Award 2020 in recognition of his contribution in the field of exercise and sports science by the International Federation of Physical Education, Fitness and Sport Science Association (IFPEFSSA), India.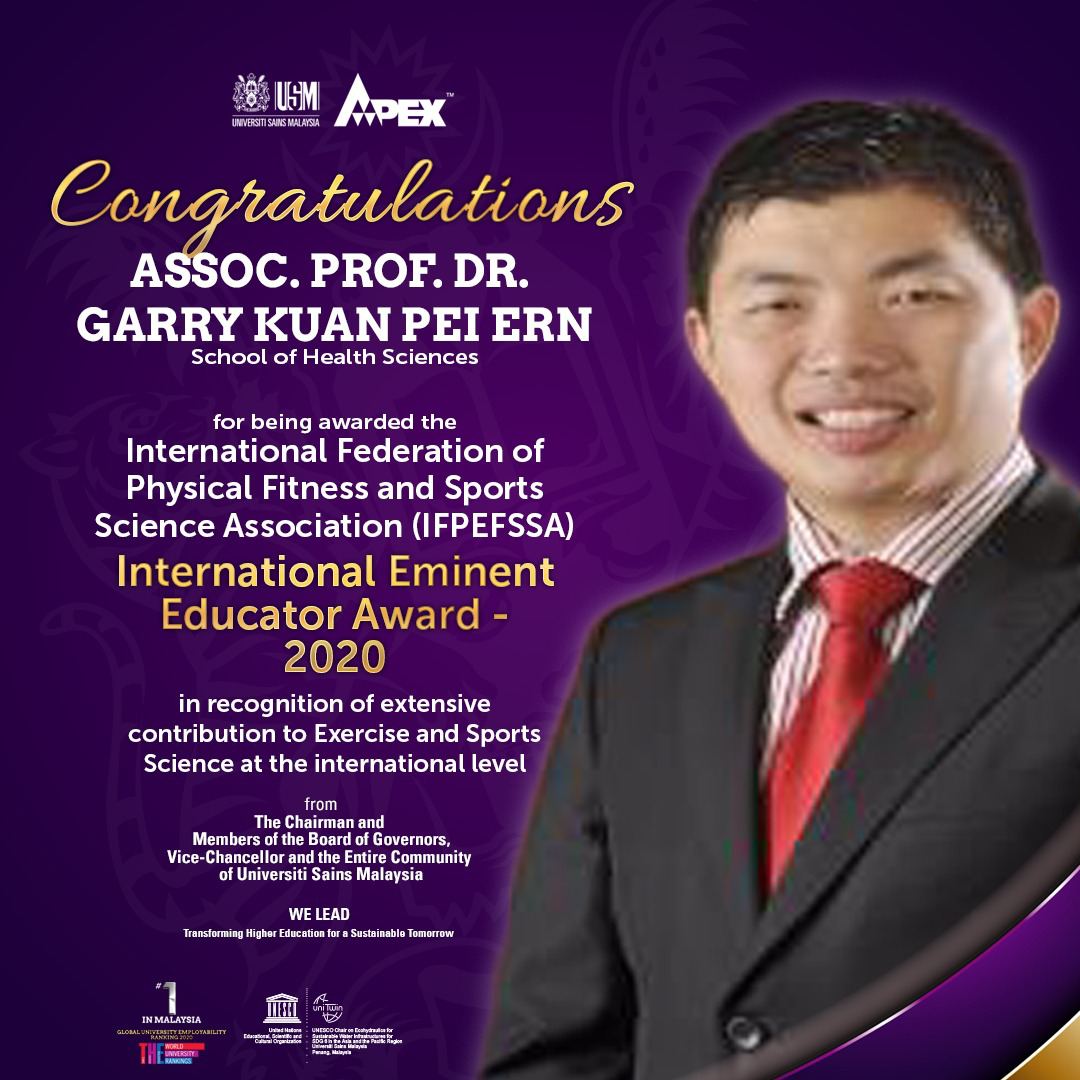 A virtual award ceremony was held on 20 December 2020 due to the Covid-19 pandemic to honour the recipients.
In a letter from the IFPEFSSA President, Professor Rajesh Kumar, it was conveyed that Garry Kuan had achieved an impressive benchmark through his extensive hard work in promoting exercise and sports science at the international level.
On Garry Kuan's second award, he was co-selected for the International Society of Sport Psychology (ISSP) Developing Scholar Award winner for 2021.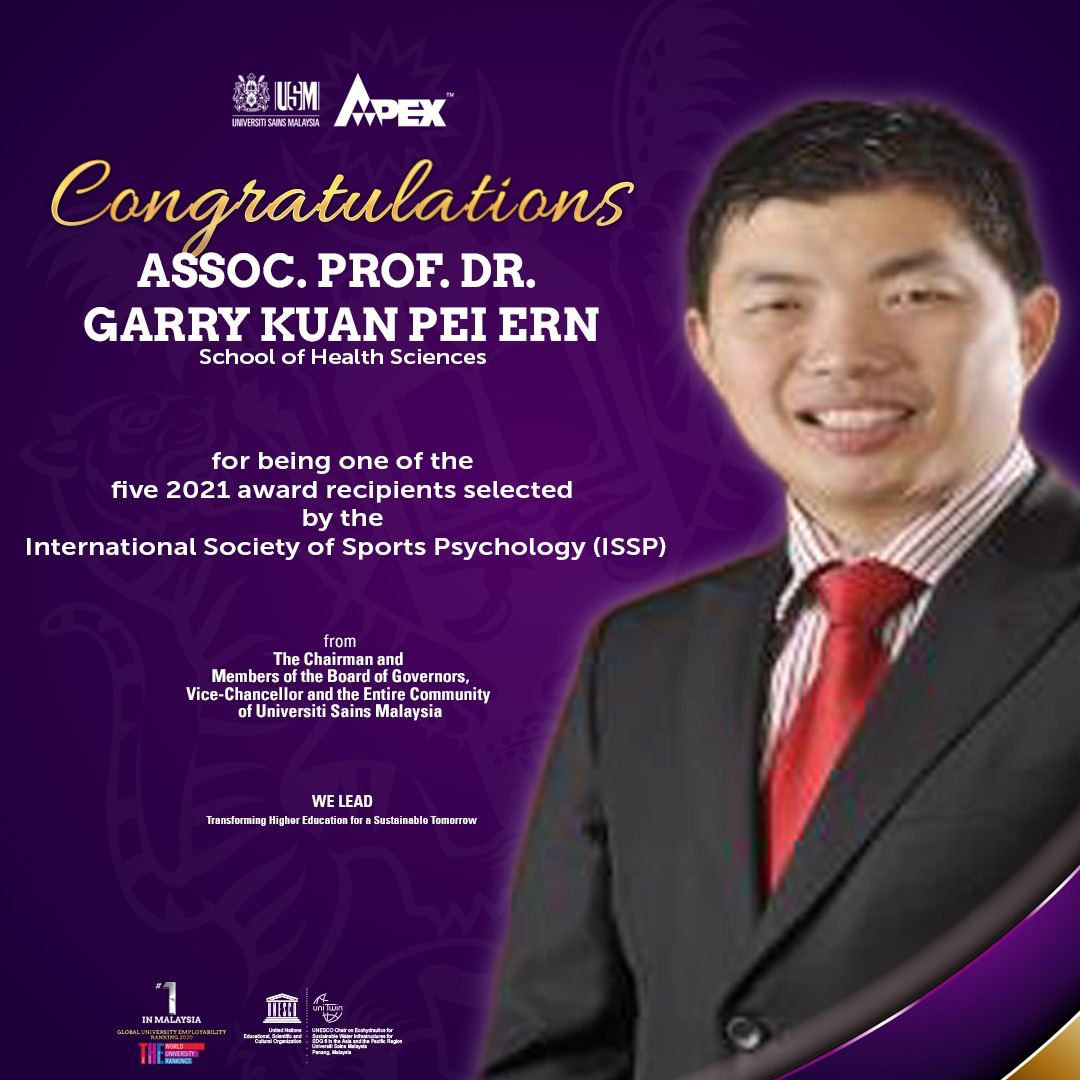 This award was presented to him by the peak organisation in sport psychology based in Canada, in acknowledgement of his contributions to excellence in research and scholarly activity.
The award presentation will be held in the upcoming 15th World Congress of Sport Psychology in Taipei, Taiwan, from 30 September to 4 October 2021.
Speaking of both his latest awards, Garry Kuan said, "I am delighted and honoured to have been chosen as the recipient of these prestigious awards. It reflects the supportive research environment that the USM leadership has created for its researchers, especially the younger lecturers to conduct their research work."
"I wish to also thank the USM family for the continuous support and for the opportunity of joining the APEX Young Scholar (APEX YS) programme, as well as the help provided by the administration at the School of Health Sciences in facilitating my research work," he added.
He is currently serving as the Chair of International Networking, Young Scientists Network-Academy of Sciences Malaysia (YSN-ASM); the Secretary-General of Asian-South Pacific Association of Sport Psychology (ASPASP); the Secretary-General of Malaysian Sport Psychology Association (MASPA); and the Executive Board Member of Asian Council of Exercise and Sports Science (ACESS).
He is also actively working as an applied sport psychologist in Malaysia, Australia and the United Kingdom.
Garry has always been fascinated with the power of music and how it can be integrated into holistic health and medicine for enhancing sports performance, reducing pain, and promoting positive mood in the hospital setting.
During his social time, Garry plays the first violin professionally and teaches communities to play various musical instruments. He is the founder and resident conductor of the USMKK Symphony Orchestra (since 2014), where almost all of its musicians are made up of students from the Health Campus. He has also performed with prestigious orchestras such as the Melbourne Symphony Orchestra and Melbourne Symphonic Orchestra.
Text: Tan Ewe Hoe/Infographic: Ebrahim Abdul Manan