KHAMBESWARAN BRINGS PRIDE TO THE NATION, STATE AND USM THROUGH ARCHERY
PENANG, 11 November 2020 – Congratulations to Universiti Sains Malaysia (USM) first-year student, Khambeswaran a/l Mohanaraja, from the School of Social Sciences, for his success in the Malaysia Archery COVID-19 Remote Scoring Challenge 2020 for the Men's Compound event in the 50 meter distance category.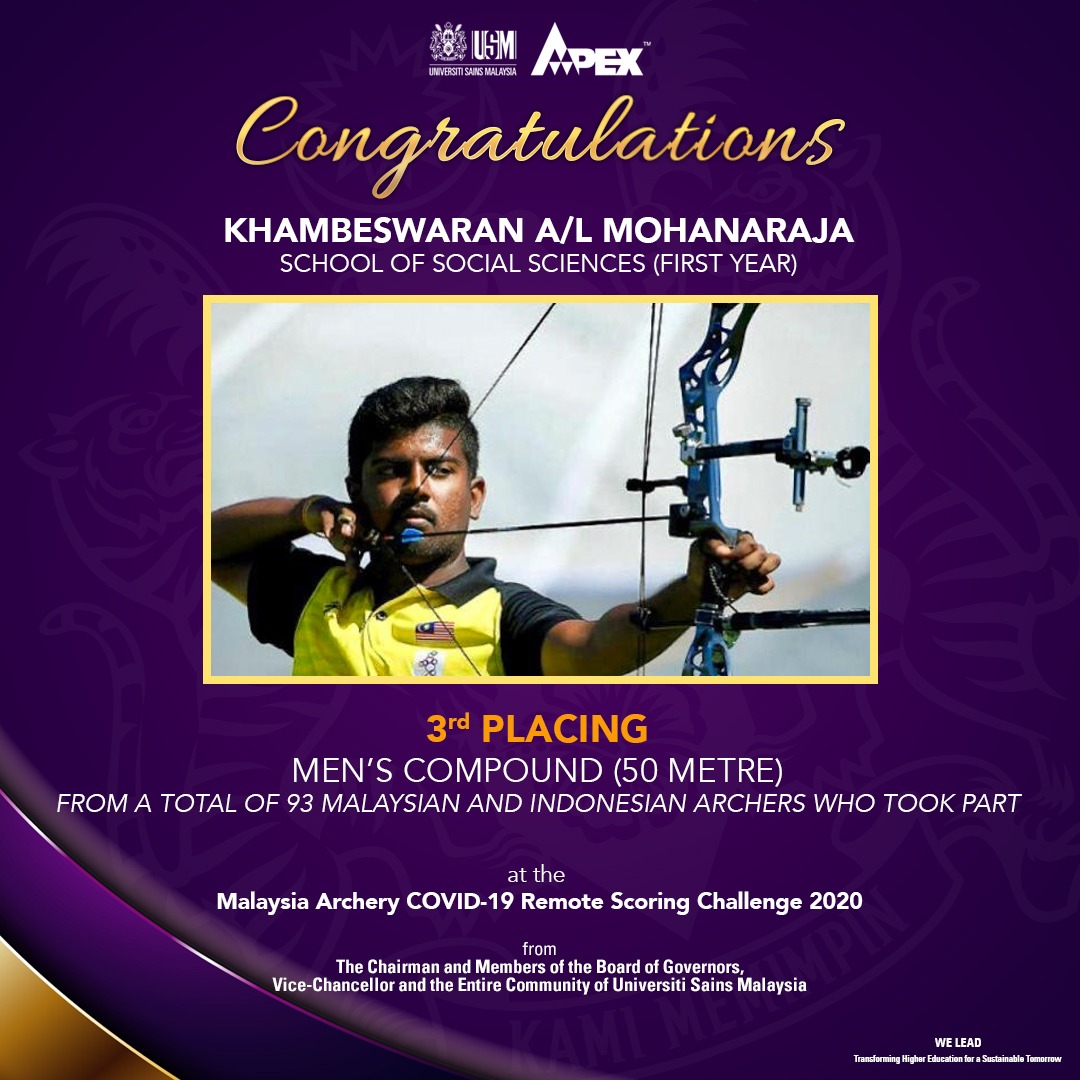 His success has brought pride to the country, the state of Penang and the university.
He managed Third Place overall from out of 93 competing athletes consisting of individual athletes, club athletes and archery association athletes from all over Malaysia and Indonesia.
As the Third Place winner, Khambeswaran was awarded the Winner Certificate by the National Archery Association of Malaysia (NAAM), being the organiser of this inaugural tournament.
The tournament was held on 7 November 2020 in collaboration with the Penang State Archery Association, which acts as a monitor and verifier of results to ensure the transparency of each participating athlete.
Khambeswaran, 21, a Penang-born from Mount Erskine at the Botanical Garden, is among the 36 students of the USM Special Admission for Athletes Programme who have been accepted into the university for the 2020/2021 Academic Session.
This highly-talented athlete is a member of the national men's compound team, which showed excellent performance and won a gold medal for the national archery squad in the 30th Southeast Asian (SEA) Games hosted by the Philippines in 2019.
The University hopes that Khambeswaran will be another graduate who not only will excel in sports at the international level but will also succeed in academics, in line with the university's aspiration to produce graduates who have H.E.B.A.T. (Holistic, Entrepreneurial, Balanced, Articulate, Thinking) attributes.
Translation: Mohamad Hafiz Asyraf Mohd Arop (MPRC intern)/Editing: Mazlan Hanafi Basharudin/Infographic: Ebrahim Abdul Manan