USM-ALPS JOINT LABORATORY A MAJOR BOOST FOR CARDIAC RESEARCH
IPPT BERTAM, October 2020 - Universiti Sains Malaysia (USM) Advanced Medical and Dental Institute (IPPT) received a major boost for cardiac research with the setting up of a joint-laboratory in collaboration with ALPS Global Holding Berhad, a fully-integrated biotechnology research, medical and wellness services company.
According to Dr. Tan Jun Jie, a senior lecturer at IPPT and visiting scientific consultant specialist to ALPS Global Holding Bhd, the USM-ALPS Joint Laboratory for Cardiac Research is the result of two research collaboration agreements (CA) signed a year ago with the biotechnology company.
"The idea of having this joint laboratory with ALPS is that, amid the financial limitations we face and with a shortage of funds for equipment, ALPS will station their high-end equipments in IPPT and in return, IPPT helps them to build profiles relating to heart research.
"Several state-of-the-art equipments with an estimated cost of RM1 million have been identified to be placed at the joint laboratory, and this will surely provide help to enhance cancer research at a much greater pace," said Tan, who played a prominent role in the setting up of the laboratory.
He added that such collaboration provides an excellent platform for industrial players and our academics to work together by matching and consolidating all resources which both sides have in common to achieve more with less, in order to innovate treatments for this killer disease.
"We are grateful to ALPS Global Holding for positioning their high-end equipment at the joint laboratory to facilitate this research, and hence accelerating translational research that would benefit all of society," he said.
Currently, ALPS Global Holding has moved in a Zeiss Fast Speed Live Cell Fluorescence Imaging Microscope valued at RM345,000; an inverted light microscope valued at RM25,000 and awarded an industrial research project grant worth RM108,650 to Tan.
Tan said, "More equipment will be coming to us as stated in the agreement, though the process may be slow due to the impact of COVID-19."
The USM-ALPS Joint Laboratory for Cardiac Research was launched on 17 September 2020 by the USM Vice-Chancellor, Professor Dr. Faisal Rafiq Mahamd Adikan, in a simple ceremony that was also attended by the CEO of ALPS Global Holding Berhad, Professor Dato' Sri Dr. Tham Seng Kong and IPPT Director, Professor Dr. Syed Azhar Syed Sulaiman.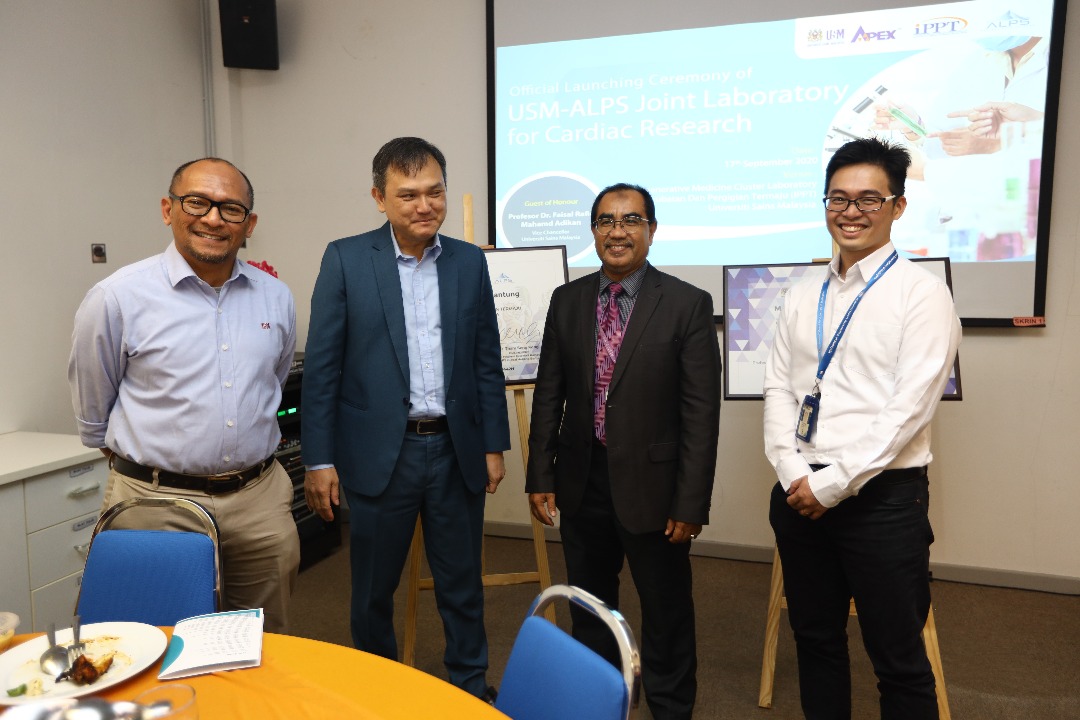 From left: Prof. Faisal Rafiq, Prof. Tham, Prof. Syed Azhar & Dr. Tan
On another related matter, USM is in discussions with Institut Jantung Negara (IJN, National Heart Institute) to further explore the opportunity of forming a smart partnership to set up a cardiac specialist centre in the northern region.
The proposed cardiac centre, to be located at IPPT, can leverage on the existing expertise, state-of-the-art facilities and vast experiences of the specialists and personnel in successfully handling cardiac-related surgeries at IPPT and Hospital USM (Kubang Kerian) and the best cardiac expertise and advanced cardiac/cardiovascular technology offered by IJN.
If the collaboration materialises, the centre would meet the needs of the people in the Northern Peninsula including Penang who require treatment for heart diseases, for they no longer need to travel to IJN, which is located in the Klang Valley for treatment.
Furthermore, the centre would also help in promoting the nation's medical tourism sector with the influx of people from neighbouring countries, especially Indonesia and Thailand, to seek treatment.
Text: Tan Ewe Hoe