USM TAKES EXTRA PRECAUTIONARY MEASURES TO SAFEGUARD CAMPUS COMMUNITY AMID INCREASING COVID-19 CASES IN PENANG
PENANG, 28 October 2020 - Following the rising number of the COVID-19 positive cases in the state in recent weeks, more specifically involving cases already identified in areas surrounding the Universiti Sains Malaysia (USM) campus here and in Nibong Tebal, the University is taking several extra precautionary measures in ensuring the safety and well-being of its community members.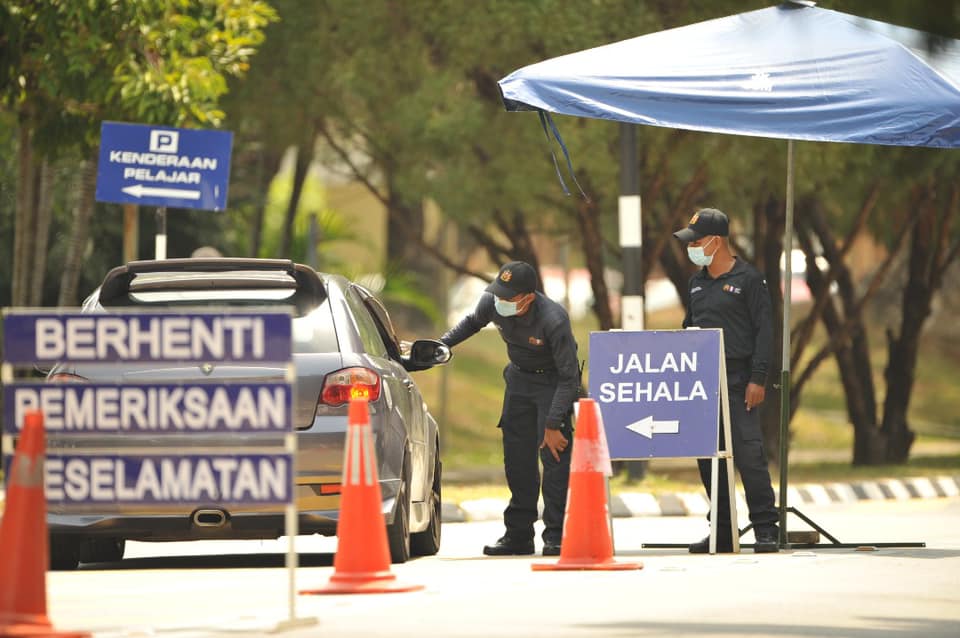 Chairperson of the USM COVID-19 Nerve Centre, who is also the Deputy Vice-Chancellor of Sustainability and Institutional Development, Professor Dr. Md Roslan Hashim said the safety and well-being of our staff and students in particular is our highest priority, while ensuring that the core business of the University continues effectively without disruptions.
Among the latest decisions made with regard to the precautionary measures to be taken, that has also been announced in the University internal mail and social media platform today, are:
1. SENIOR STUDENTS ARE ADVISED TO POSTPONE THEIR RETURN TO THE CAMPUS
All USM students, especially senior students from the Main Campus here, Engineering Campus (Nibong Tebal) and the Advanced Medical and Dental Institute (IPPT) (Bertam) who have been granted permission to return to the campus on Saturday, 31 October 2020, are advised to postpone their plans to do so. All students will be notified from time to time through the official channels of USM on the latest development on when they can return to the campus.
2. CHANGE IN THE OPERATING HOURS OF ENTRANCES TO USM MAIN CAMPUS
Out of the 5 main entrances to USM Main Campus, only two entrances will be operational beginning 29 October 2020 (Thursday) until further notice. The Stadium and RST entrances will be operational 24 hours, every day. USM Security personnel are stationed at both these entrances, and temperature screening will be conducted on all staff, students, visitors and contractors/general workers/cafetaria operators entering the campus.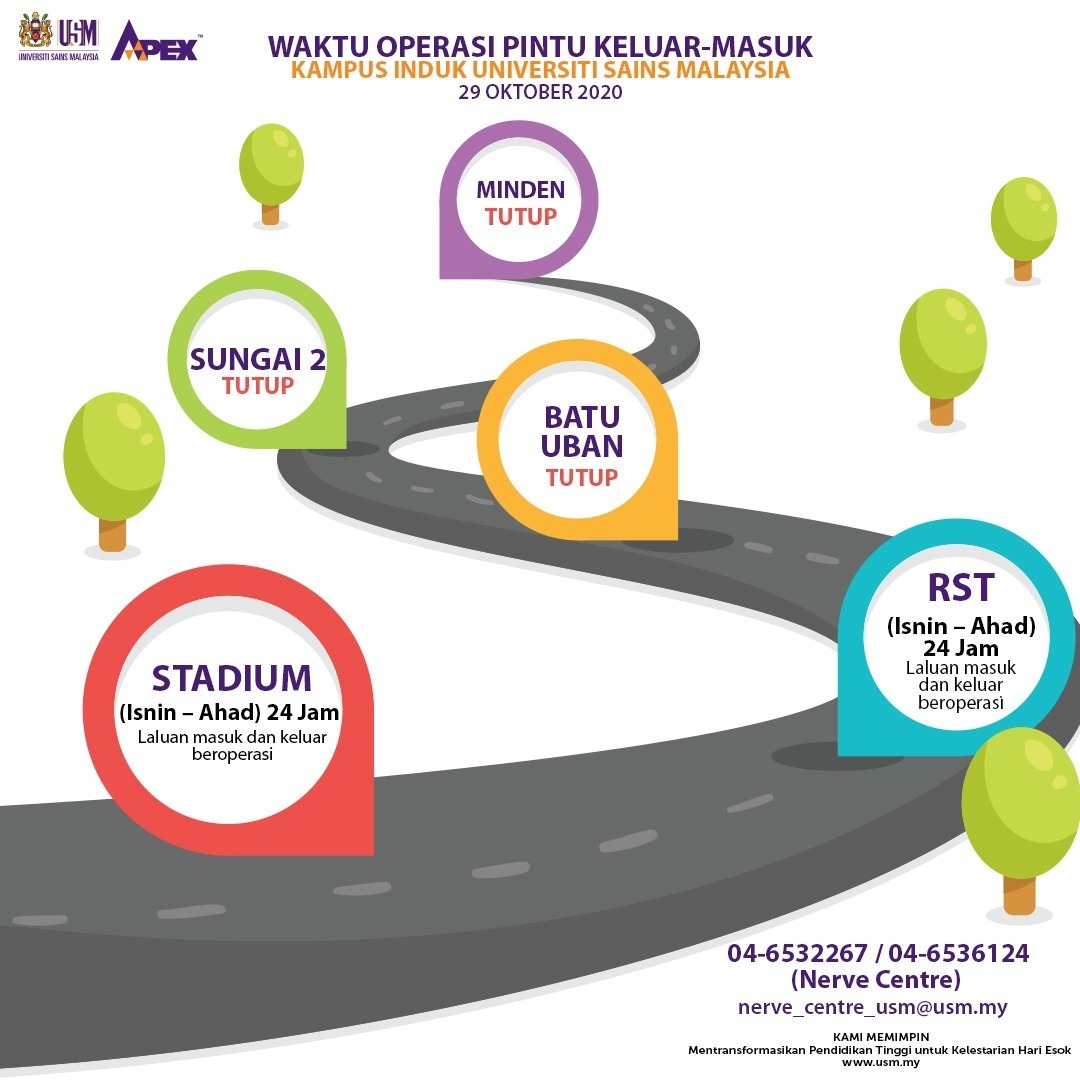 3. WORK FROM HOME ON FRIDAY, 30 OCTOBER 2020
All staff (except for those serving as frontliners) of the Main Campus and Engineering Campus are told to work from home (WFH) on 30 October 2020 (Friday).
4. MINIMISE ENTER-EXIT OF CAMPUS GROUNDS
All staff and students in all campuses are strongly advised not to enter-exit the campus compound unless there are matters of urgency. They should remain largely within their hostel residences (desasiswa) on-campus and should minimise the time they spend outside especially in crowded places.
5. SOCIAL RESPONSIBILITY IS KEY
Throughout the duration of the Recovery Movement Control Order (PKPP), all staff and students are urged to practice self-monitoring including physical distancing, wearing a face mask, frequent washing of hands with soap and water or applying hand sanitizer in addition to taking care of their health as preventive measures against being infected.
If there are symptoms of COVID-19, one needs to seek treatment at the nearest medical facility. Early treatment can reduce the risk of the illness from becoming more critical.
For further information, please contact the USM hotline numbers at the respective campuses listed below:
Main Campus :- 04-6532267 /04-6536124 (Nerve Centre);

Email:-

This email address is being protected from spambots. You need JavaScript enabled to view it.

Health Campus :- 09-7671310

Engineering Campus :- 04-5995530/5531/5532/5533

Advanced Medical and Dental Institute (IPPT) :- 04-5622999
As the nation faces the COVID-19 pandemic, let us continue praying and uphold one another, stay united, embrace the 'new norms' with discipline as we go about our daily lives.
Wishing all Muslim members of our campus communities wherever they are, a happy Maulidur Rasul celebration in observance of the birthday of Prophet Muhammad SAW.
Text: Tan Ewe Hoe/Photo & Infographic: Ebrahim Abdul Manan