MANAGING COVID-19: USM GOING BACK TO MOVE AHEAD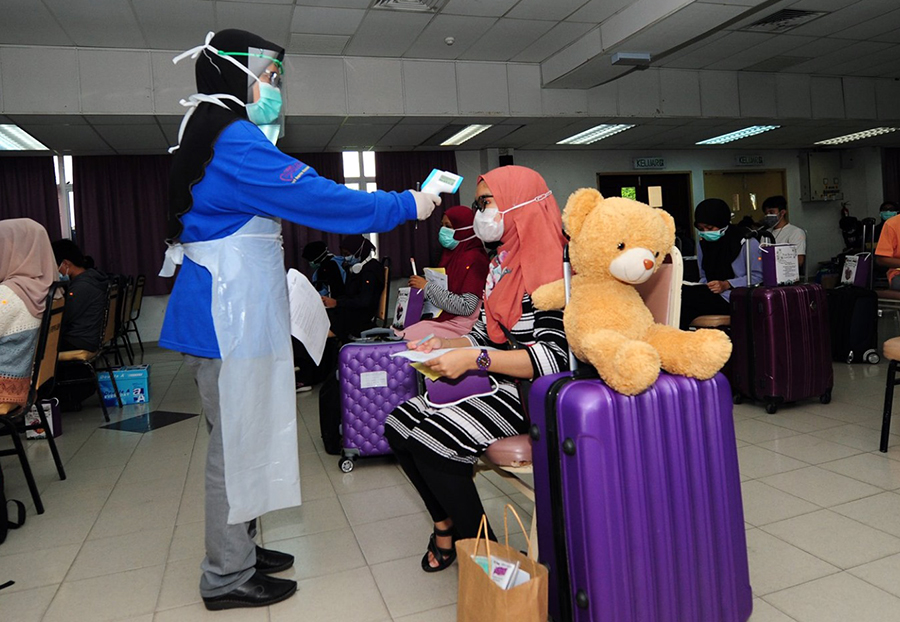 PENANG, 4 October 2020 - COVID-19 is a global health crisis that has yet to see an end, despite the numerous measures taken by various countries and organisations in different parts of the world.
Universiti Sains Malaysia (USM), being one of Malaysia's premier higher educational institutions, continues to implement and reinstate certain measures in its efforts to cushion the impact of COVID-19 on its community members and stakeholders.
In recent meetings on managing this crisis, chaired by the USM Deputy Vice-Chancellor (Sustainability and Institutional Development), Professor Dr. Md Roslan Hashim, discussions were held and decisions made regarding preparations made in anticipation of a potential semi-lockdown due to the rise in the number of COVID-19 cases.
Among the steps to be taken are to limit the movement of staff and students, limiting all to use only specified main entrances; most of the staff will be working from home (WFH) especially those who are staying in high risk areas/zones; ensuring the availability of financial assistance to staff and students; policies regarding third parties, such as cafe operators, banks, and mosque congregation members among others.
Each USM campus (Main, Engineering, Health and IPPT Bertam) will be given autonomy in dealing with the situation through measures deemed fit, but will be agreed upon through discussions at the COVID-19 Nerve Centre, to be chaired either by the USM Vice-Chancellor (VC) or Deputy Vice-Chancellor (DVC).
Currently, the Main, Engineering and IPPT Bertam Campuses are predicted to face higher risks than the Health Campus in Kubang Kerian, Kelantan.
The COVID-19 Nerve Centre (Nerve Centre) will begin its operations again. Daily meetings will be held to monitor the situation, and hotline numbers will be provided for 4 campuses to all to refer to.
The USM Top Management will disseminate information on a regular basis.
Dissemination of Information and Communication
Whenever there are colleagues among the staff or students suspected of COVID positive, it is IMPORTANT to inform the Nerve Centre immediately.
It would be advisable NOT TO spread the 'latest information' or sharing of details regarding the staff/student concerned via social media. It would be best to directly inform the Nerve Centre.
It is IMPERATIVE to abide by the instruction above, as we do not want the affected staff/student suspected of COVID positive and their family members to be shunned or discriminated against.
In fact, another UA that has identified a staff as being COVID positive is seeing the effects of the staff being 'stigmatised' by other staff from the same UA, as even the nurseries or schools will not allow the staff's children to continue with their schooling or daily routines.
Currently, staff members are advised to REFRAIN from taking cross-border travels unless necessary.
There is also the need to look into all activities -conferences, workshops, seminars, sporting events and the like which have been planned following the latest development on the spread of COVID-19.
Financial Readiness
The USM Top Management is anticipating if there is an occurrence of a 'lockdown', there will be a need to provide assistance to staff and students.
At present, USM still possesses the remaining amount of RM1.5 million from the previous voluntary Covid-19 Fund.
Alhamdulillah, USM has taken the right measures in seeking for contributions and through prudent spending and management by the USM Bursary, there is still some amount left in the Fund, which the VC believes is timely and appropriate.
Thank you to everyone again for their generosity in contributing to the collective effort.
If there is a 'lockdown', among others, we need to reintroduce the food voucher scheme to students on campus – to the undergraduates and postgraduates, local and international – which would assist the canteen operators at the same time. Similarly, it will be extended to the students of PETAS (not staying in students' residences).
Apart from that, there is a possibility for USM to reduce registration fees, and giving incentive allowances to all the 2,100+ PJJ (Distance Education Programme) students who also serve as 'frontliners'.
The welfare of the USM-KLE students whom are still in India and those going to the Health Campus while awaiting for the Indian border to reopen would also require our attention.
Let us continue to pray together for the safety and wellbeing of the whole of USM.
#togetherwewillnailthis
Text: Mazlan Hanafi Basharudin