USM DVC REMINDS EVERYONE TO BECOME RESPONSIBLE CONSUMERS IN ASIA-PACIFIC RCE ONLINE MEET
PENANG, 29 September 2020 – Although the impact of the COVID-19 pandemic can still be seen and felt in many parts of the world, going the online route is one way whereby some aspects of life can still continue.
The online platform has seen a dramatic increase in networking in the form of seminars and other means of exchange and transfer of knowledge and ideas being undertaken among institutions.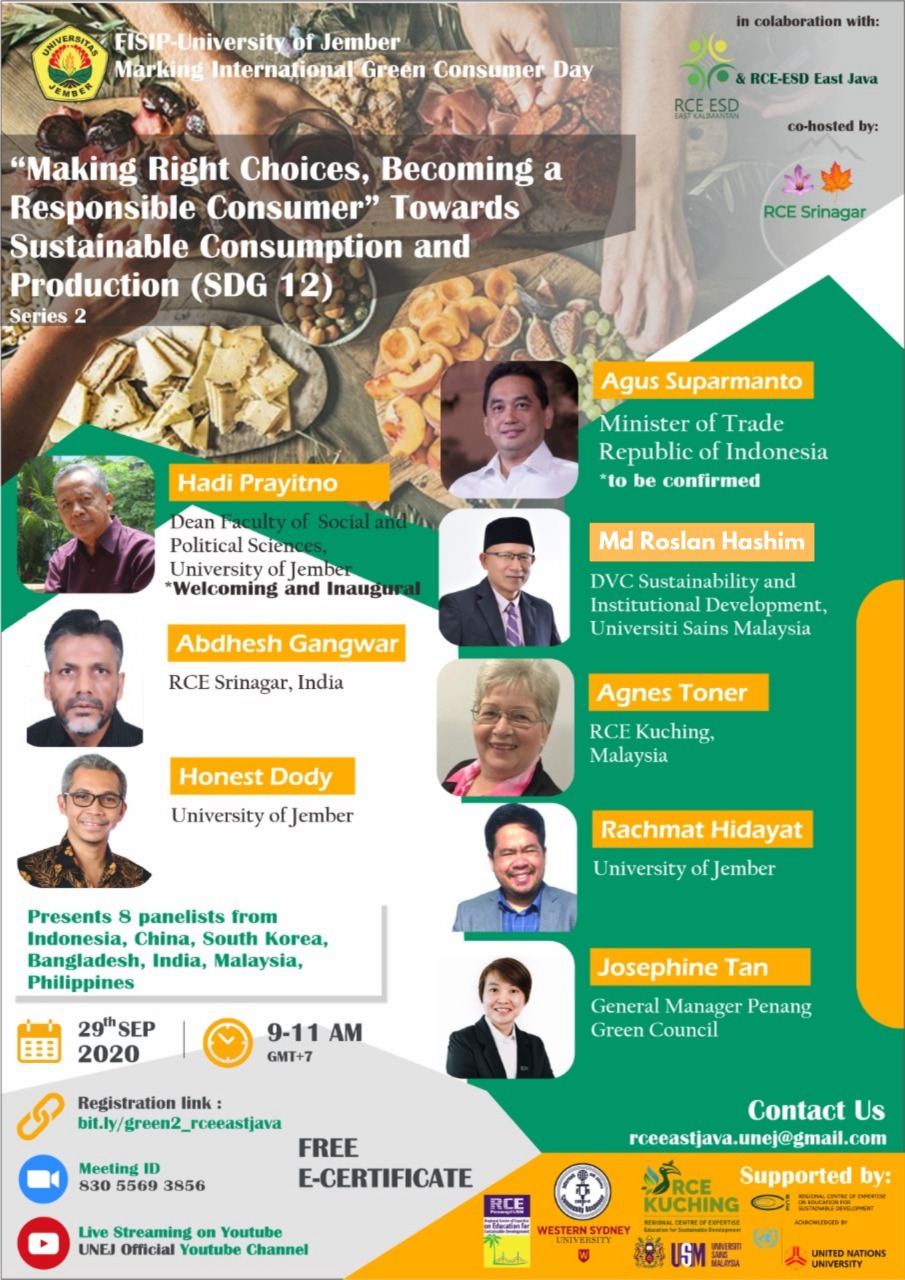 The Regional Centre of Expertise on Education for Sustainable Development (RCE Penang) at Universiti Sains Malaysia (USM) recently participated in an online discussion session in conjunction with the International Green Consumer Day on 28 September.
The session was organised by the Faculty of Social Science and Politics (FISIP), University of Jember in Indonesia, and in collaboration with RCE East Java and co-hosted by RCE Srinagar, with the topic "Making Right Choices, Becoming a Responsible Consumer; Towards Sustainable Consumption and Production (SDG12)".
Among the speakers was the Dean of FISIP, Professor Hadi Prayitno, who gave the welcoming speech. This was followed by an introductory speech by the honourable Indonesian Minister of Trade, Agus Suparmanto, who talked on various efforts involving sustainability with the people and businesses in the country.
As one of the invited speakers, the USM Deputy Vice-Chancellor of Sustainability and Institutional Development, Professor Dr. Md Roslan Hashim touched on the importance of proper implementation of sustainability-related plans.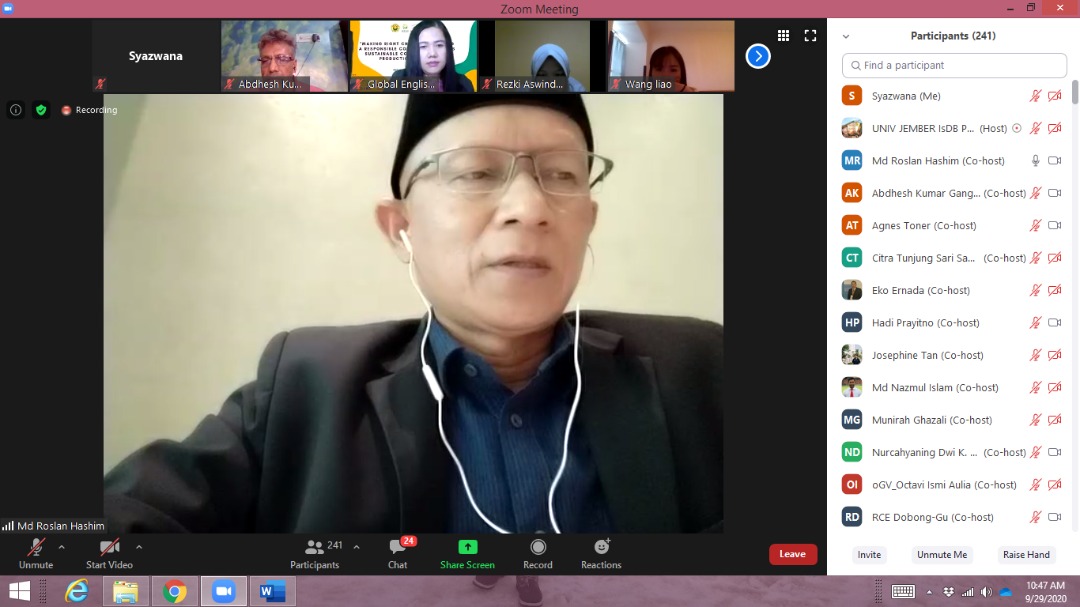 "We can come up with so many plans, but what about the implementation?" he said.
"That is one of the reasons why USM has established the Sustainability and Institutional Development Division, together with a few departments in charge of sustainability-led programmes to ensure that the institution is fully committed and the implementation aspect would continue properly as planned," he added.
He continued by giving an example of Prophet Muhammad reminding the companions not to be wasteful needlessly. Even when they were taking ablution (cleansing for prayers) from a river, Prophet Muhammad reminded them to be mindful on the amount of water they use.
Roslan pointed out that, when it comes to sustainability and the preservation of resources, it has to do with one's character and attitude.
"Inculcating individuals to use resources wisely will lead to them becoming more responsible consumers," he concluded.
Other speakers who shared their ideas and insights, among them were Penang Green Council General Manager, Josephine Tan; representatives and academics from other RCEs and related institutions.
Altogether, there were 8 panellists from Indonesia, Malaysia, China, South Korea, Bangladesh, India and the Philippines.
The two-hour online session was supported by RCE Penang, RCE Kuching and RCE Western Sydney.
Text: Mazlan Hanafi Basharudin