USM STUDENTS SHINE AT BEURC 2020
KUALA LUMPUR, 9 September 2020 – The team of Building Surveying and Building Technology undergraduate students from the Universiti Sains Malaysia (USM) School of Housing, Building and Planning (HBP) recently made a name for themselves and made the university proud when they grabbed 2 Gold, 3 Silver and 1 Bronze medals at the 5th International Built Environment Undergraduate Research Competition (BEURC) 2020.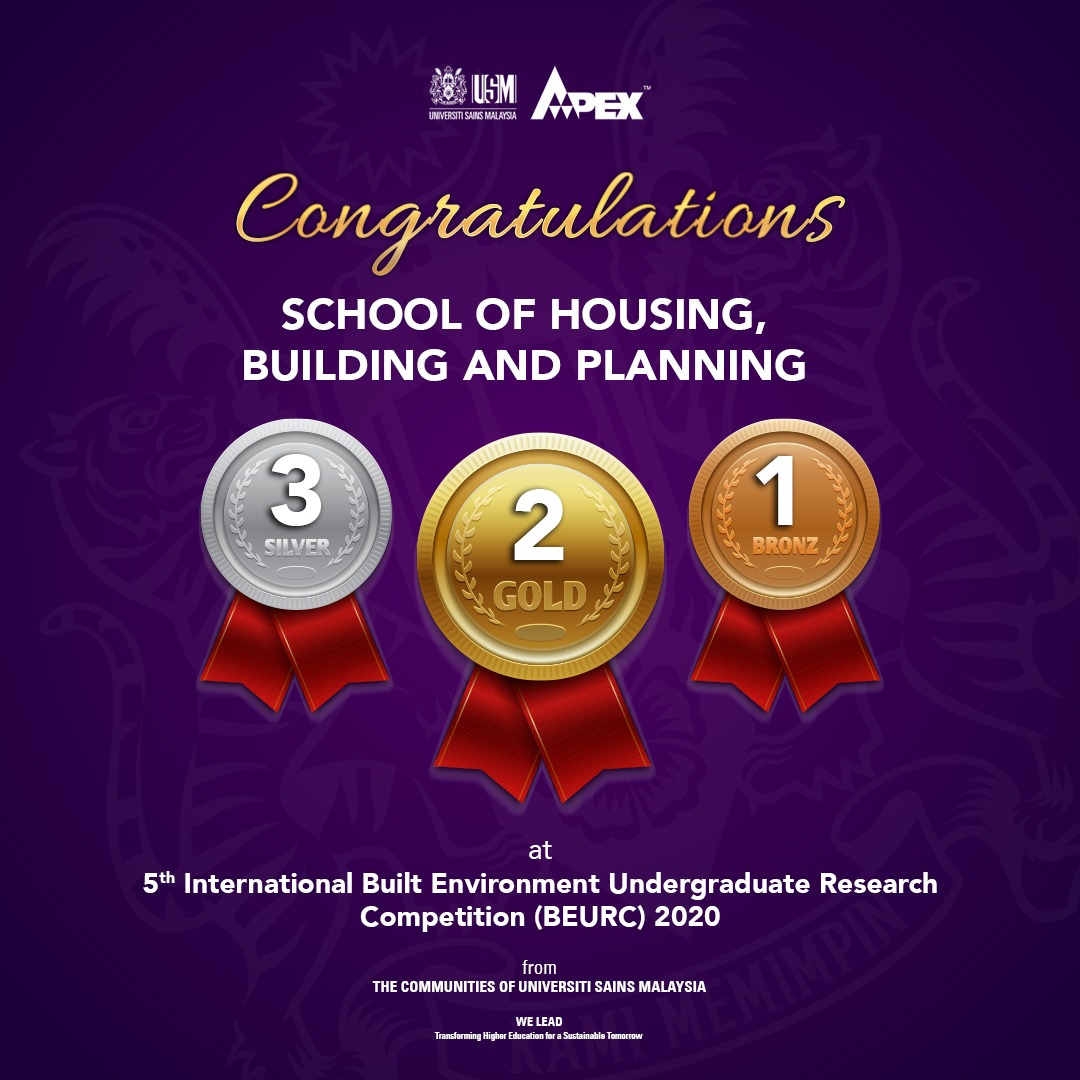 According to the team supervisor, Sr. Ts. Dr. Md Azree Othuman Mydin, this research competition was organised by the Department of Building Surveying, Faculty of Built Environment, University of Malaya through virtual presentation mode, in view of the growing global coronavirus COVID-19 concerns.
"This year saw the involvement of 149 presenters from 13 local universities and polytechnics," said Azree who supervised all the winning entries from USM.
The winners from USM consist of:
1. Phang Sze Yee (GOLD Medal)
Title: New Doesn't Mean Perfect: Appraisal on Common Deficiencies of Floor Tiles in Buildings
2. Fam Soo Hwa (GOLD Medal)
Title: Revealing the Ancient Chinese Secret of Sticky Rice and Jaggery Sugar Lime-Based Mortar for the Conservation and Restoration of Historic Masonry Buildings
3. Siti Nur'aina Wan Ahmad Faisal (SILVER Medal)
Title: Structural Performance of Short-Span Foamed Concrete Beam Infilled With Oil Palm Fibres Biomass Waste
4. Lim Yee Wen (SILVER Medal)
Title: New Approach to Building Pathology: Alkali Resistant Fibermesh Reinforced Concrete Jacket
5. Nurshafikah Nadirah Alias (SILVER Medal)
Title: Potential Use of Oil Palm Frond Fibers in Lightweight Foamed Concrete (LFC) for Durability and Mechanical Properties Enhancement
6. Mok Kai Wei (BRONZE Medal)
Title: A Study on the Engineering Properties of Oil Palm Mesocarp Fibers Reinforced Foamcrete
BEURC2020 is an undergraduate competition dedicated to all registered undergraduates in Built Environment programmes. Its aim is to provide exposure and training to such students, as they present and showcase their research studies.
This competition follows the core elements of the built environment, which are building control, building surveying, architecture, planning, facilities management, real estate, and engineering as well as construction technology.
HBP Dean, Assoc. Prof. Ir. Dr. Abdul Naser Abdul Ghani also pointed out that the success was the result of the hard work that were put into the projects by the students and Md Azree as their research supervisor and also with the strong support from HBP.
Text: Hafiz Meah Ghouse Meah