TEOH SELECTED INTO FIRST COHORT FOR WORLD OBESITY FEDERATION LEADERSHIP PROGRAMME
USM PENANG, 7 September 2020 - Universiti Sains Malaysia (USM) Family Physician cum Medical Lecturer from the USM Advanced Medical and Dental Institute (IPPT), Dr. Teoh Soo Huat has been selected into the first cohort of SCOPE leadership programme launched by the World Obesity Federation.
According to Teoh, The World Obesity Federation's Strategic Centre for Obesity Professional Education (SCOPE) leadership programme offers a unique opportunity for healthcare professionals to learn from leading obesity medicine experts.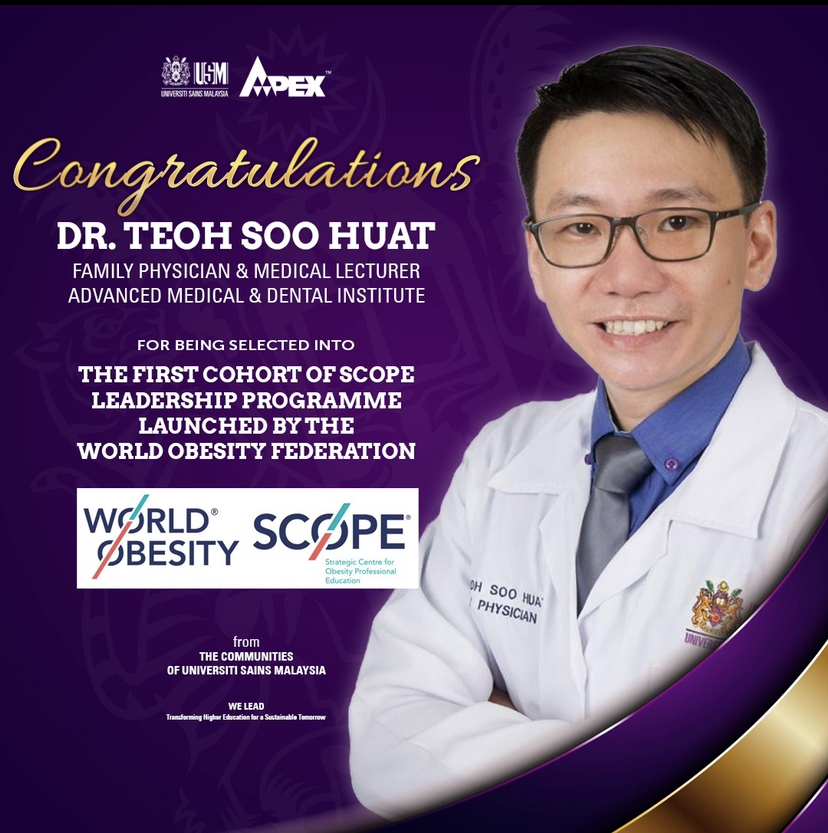 "The programme aims to create a global pool of obesity experts who will disseminate information regarding obesity to practitioners in their own countries," he said.
Furthermore, training will be delivered through various activities and events, including a five-day obesity medicine preceptorship at the prestigious Cleveland Clinic, Ohio USA (whenever travel is permitted).
Six outstanding health professionals from Malaysia, United Kingdom, Ireland, Nigeria, Lebanon, and Brazil have been selected recently to partake in the programme.
Teoh feels that this achievement is a personal self-fulfilment for him as well as for USM and hopes that more academicians can move forward to do their best in highlighting USM in the eyes of the world.
The World Obesity Federation (World Obesity), formerly known as the International Association for the Study of Obesity and the International Obesity Task Force, is the only global organisation focused exclusively on obesity study.
Text: Hafiz Meah Ghouse Meah