USM, A HAVEN TO UNLEASH YOUR POTENTIAL – SANDRAGESON
PENANG, 28 August 2020 – Spending near to four decades of his life with Universiti Sains Malaysia (USM), he uttered, "I used to be working as an office boy in 1979. Opportunity knocked on the door when one fine day, while I was doing my rounds despatching letters, someone asked me if I was interested to work in the Ministry of Education Malaysia (MoE). Without much hesitation, I agreed as it was not easy to get a government-sectored position then."
A little offer unrejected made him who he is today.
Sandrageson s/o Vello, 59, or fondly known as Sandra, worked at MoE for four years before advancing his career in Hospital USM, Kubang Kerian, Kelantan as a hospital attendant on 2 July 1983.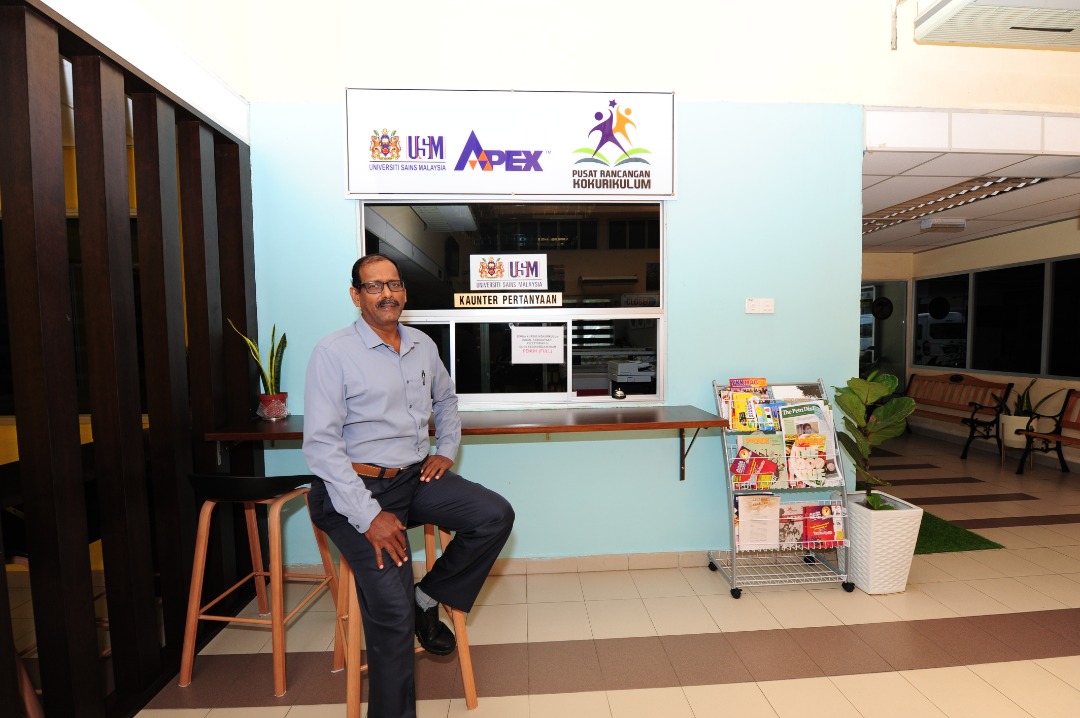 Knowing USM Through Sandra's Eyes
Life has changed since Sandra started working in USM. Learning from people around him in the university environment has made him learnedand discovered his hidden potentials better.
"USM is just like my second home. I enjoy working here, staying here and enjoying the environment here. To me, USM is an apt place to further your studies because it has a conducive environment for learning and working besides the picturesque surrounding greenery," shared the Head of Administrative Assistant (N28), with his eyes glistened when asked on interesting things about USM.
Sailing Through the Work Journey
"USM has taught me a lot of things. Who would have thought that by starting off as an office boy, I would end up being able to help manage daily office affairs such as coordinating, keeping and updating 16 accounts in the Centre for Co-Curricular Programme, a place that has since become a significant part of me."
Sandra has been working at his very best for every responsibility that he shoulders as the Head of Administrative Assistant to ensure all the goals are achieved in tandem with the mission and vision of the university.
A father of two and a loving husband to his wife, Puvanesvari d/o Balakrishnan, 54, Sandra had also worked in a few departments prior to serving in the Centre for Co-Curricular Programme including the USM Guest House, Registrar's Department and Division of Academic & International Affairs.
His daily routine revolved around aiding the co-curriculum planning; venue, university van and facility bookings at C15 Building; and keys-keeping for all buildings at the Centre for Co-Curricular Programme as well as other tasks assigned by the Head of Department.
The Hurdles Braved
There were a few unforgettable obstacles that Sandra had to overcome during his service to the university.
There was a time where Sandra felt overwhelmed with many tasks full at his plate after his immediate superior was transferred from his department with no substitute for six months.
His worries were however proven unnecessary as he worked at his full potential unleashed and managed to accomplish the tasks involved, with the trust and support given by his colleagues and the Head of Department.
Another unforgettable experience was Sandra remembered seeing students came queuing at the door of the Centre for Co-Curricular Programme as early as 6.30 in the morning to appeal for their desired co-curriculum activities.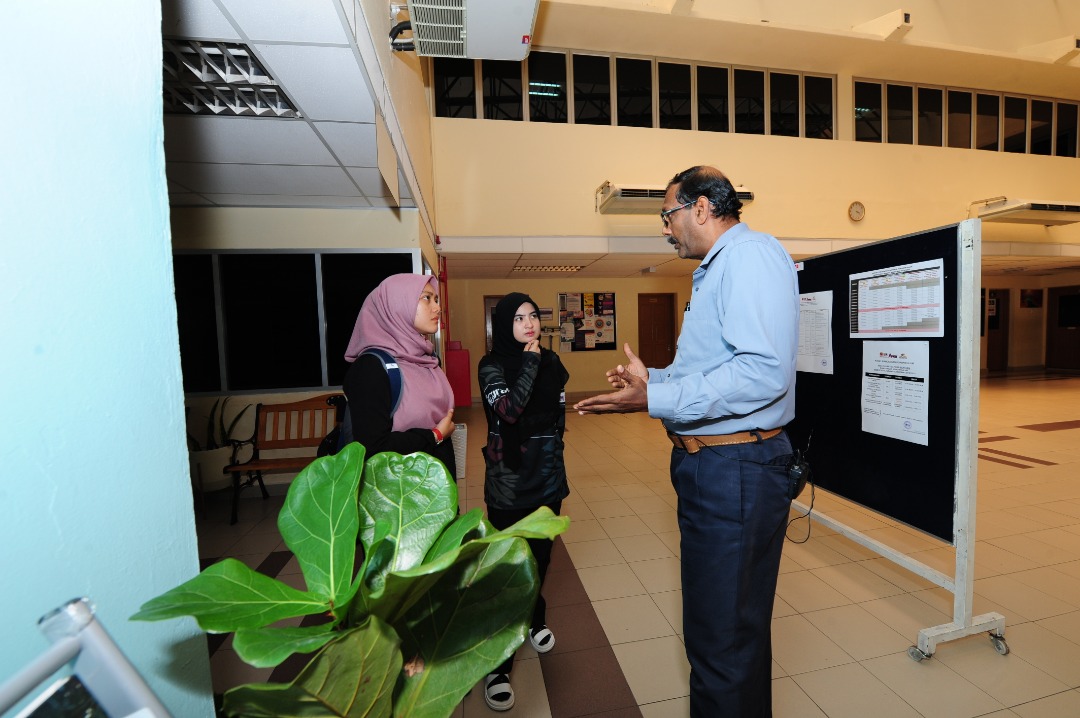 "I've never thought those students would sacrifice this much to get the co-curricular activity that they wanted. Some even brought their food and waited for the door to open. Hence, these students made my colleagues and I learn to put them first. I am glad they appreciated our services," he said.
The Best Achievement
Happiness can be very simple for Sandra. This humble man is truly satisfied and proud to be able to hold many significant positions while serving in USM, as his initial intention was to get a job to place food on the table for the family.
With his creditability in completing the tasks entrusted to him, Sandra was assigned as the Honorary Treasurer for the KLKM State Scouts Council in 2013. Also, he was proudly given the trust to be the General Treasurer of the Secretariat Committee for USM Thaipusam Community Service 15 years ago, a post that he proudly hold until today.
"Never had I thought to be given so much opportunities to learn in the Minden campus including my participation in KLKM at national level and my visits to various places for networking.
"I was able to gain a lot of valuable experience that made me more knowledgeable in the field and help to build up my confidence," he added.
"Undoubtedly, my success in USM were very much attributed to the support and trust from various parties involved in co-curriculum.
"There were a few names that I would never forget in my life including Associate Professor Dr. Abdul Rashid Mohamad, Associate Professor Dr. Ahmad Tajuddin Othman, Associate Professor Dr. Rahimi Che Aman, En. Mohd Akhir Abdullah and many more who were there giving me the support I needed from the start of my career in USM till today," explained Sandra who will be retiring from his position in early August 2020.
High Hopes Kept for USM
"I do really hope that the cooperation between the academic and non-academic staff can be kept strong in USM as they play equally crucial roles to shape our students as future leaders. We need to be good role-models to the students," he said.
To Sandra, the utmost importance he would like to emphasise to his colleagues is to work with professionalism, high integrity and commitment aligning with the five core values/tenets of USM. Working together and taking time to understand each other better can made the impossible possible.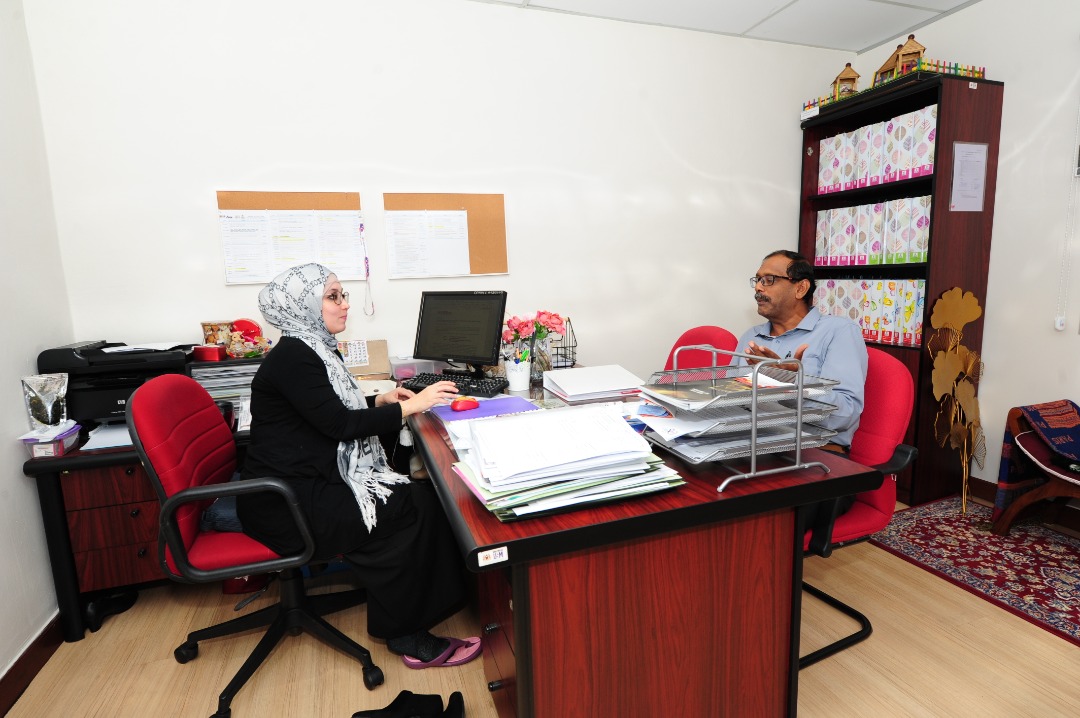 "Always work truly from the heart and expect nothing in return." – V. Sandrageson
----------------
Note: V. Sandrageson retired from USM in early August 2020. The University wishes him all the best and a wonderful future with lots of time to enjoy with his family, friends, and hobbies. His contributions to the university will never be forgotten. Happy retirement!
Original Text in BM by Marziana Mohamed Alias/Text: Angel Goh Wei Ling/Editing: Tan Ewe Hoe/Photo: Ebrahim Abdul Manan