USM MOSQUE TOUR WEEK 2020: VARIOUS INTERESTING ACTIVITIES LINED UP IN MODERATION; ADHERE TO SOP
PENANG, 9 August 2020 – Organised for the fifth time since it began in 2015, the Universiti Sains Malaysia (USM) Islamic Centre continues to organise its annual programme, which is the Mosque Tour Week 2020, with various activities lined up and is open to everyone from all races and religions on campus and from the public.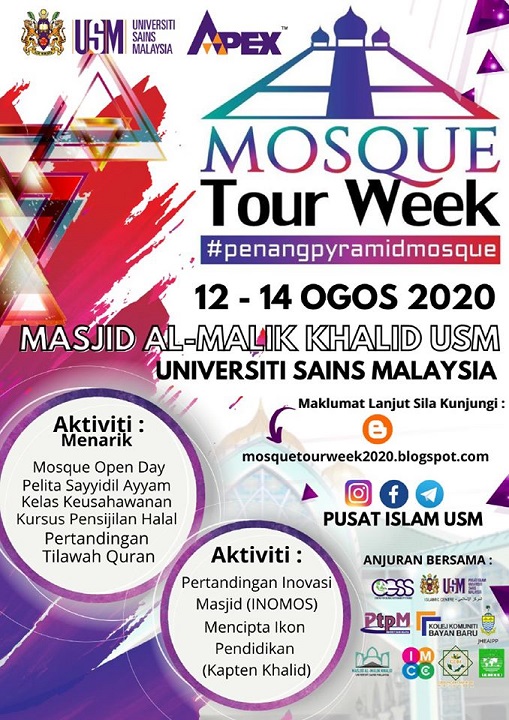 The programme which is meant to instil harmony among people of various religions while promoting peace across the different faiths and universal values will be held for two days beginning 12 August until 14 August 2020 within the vicinity of the USM Masjid Al-Malik Khalid.
Among the various activities lined up include the Mosque Open Day, The Light of Sayyidil Ayyam, Entrepreneurship Class, HALAL Certification Course, Quran Recitation Competition and many others.
According to the Director of USM Islamic Centre, Tuan Haji Mohammad Shukri Osman, the Mosque Tour Week 2020 programme will be held in moderation, abiding by the SOP set by the Malaysian Ministry of Health (KKM), as the country is still dealing with the Covid-19 pandemic.
"As how the programme has been held in previous years, the activities organised have received good response from the students, staff as well as the public of various races and religions, even attracting the interest of international tourists to join in some of the activities.
"However, this year it would be held in a slightly different way, as the country is still dealing with the threat of the COVID-19 pandemic.
"The USM Islamic Centre is taking a moderate approach in organising the programme, while observing all the procedures determined by the Government such as social distancing, using face masks, scanning body temperatures and recording names of those attending and using hand sanitisers before they could join in the activities," said Mohammad Shukri.
He added that, this year's programme will only run during office hours, from 8.30 am until 6.00 pm as compared to previous years, which would continue until night time.
"This would allow the organiser to better manage the activities and the hygiene of the venue, which are still bound by the restrictions of the Recovery Movement Control Order (RMCO) phase.
Other activities organised are the Mosque Innovation Competition (INOMOS) in looking for new and innovative ideas to be implemented for the mosque and Creating an Education Icon ('Captain Khalid') Competition.
The programme this year is organised with the cooperation of Department of Islamic Affairs Penang (JHEAIPP), USM Centre for Global Sustainability Studies (CGSS), Bayan Baru Community College and several other departments in USM which are directly involved in the organisation of the programme.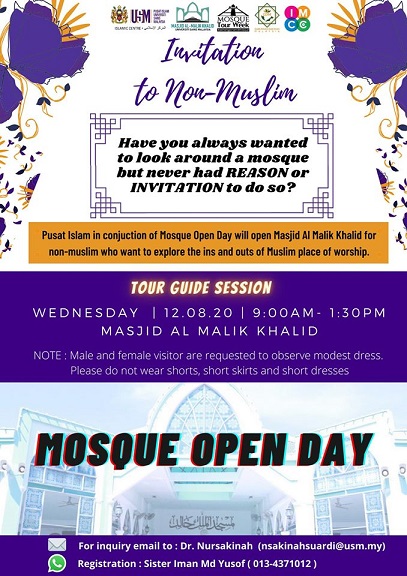 Everyone is invited to join in and enliven the Mosque Tour Week 2020 programme.
Further information on this programme can be obtained from the website: mosquetourweek2020.blogspot.com or social media sites such as Facebook, Instagram and Telegram: PUSAT ISLAM USM.
Translation: Mazlan Hanafi Basharudin/Photo: Islamic Centre USM