300 FREE TABLETS FOR SPM CANDIDATES FROM POOR FAMILIES IN PENANG
USM, PENANG, 27 July 2020 – Some 300 Form 5 students from low-income families (B40 category), who will be sitting for their Sijil Pelajaran Malaysia (SPM) in early January 2021, received free tablets under the empowerNCER-Academic programme.
Universiti Sains Malaysia (USM) is the service provider appointed by Northern Corridor Implementation Authority (NCIA) to implement the empowerNCER-Academic programme in Penang.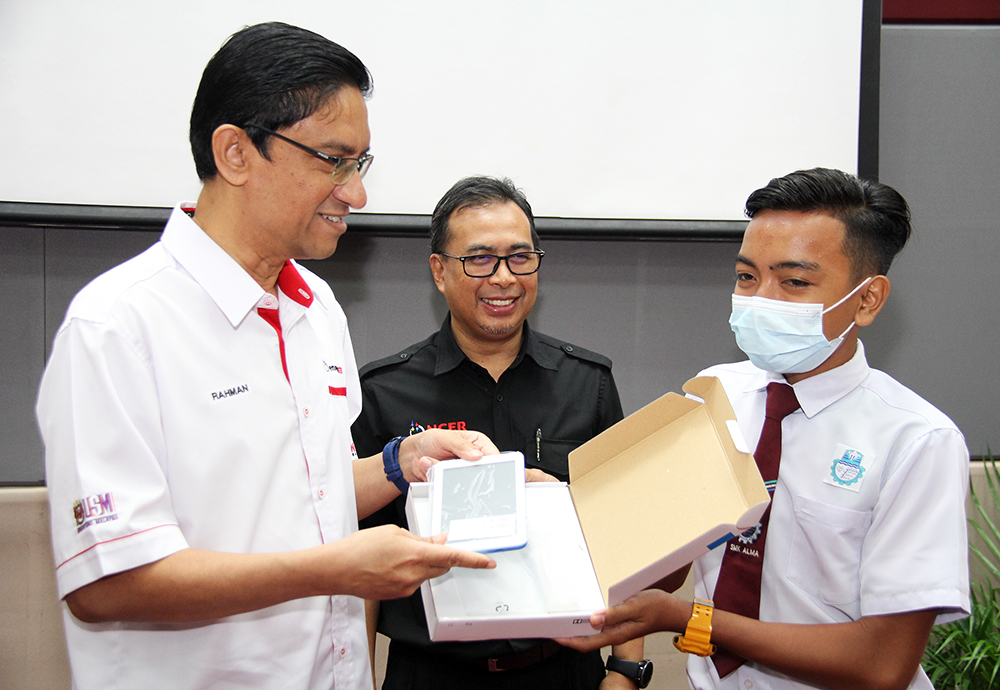 According to USM Deputy Vice-Chancellor (Research and Innovation), Professor Dato' Ir. Dr. Abdul Rahman Mohamed, in representing the USM Vice-Chancellor, the initiative was to bridge the social gap and provide holistic education to the B40 group, so that they will excel in education and soft skills.
"The programme will be implemented online, and participants will be guided by senior lecturers as well as final-year students of the USM School of Educational Studies (SES), who have completed their studies or undergone teachers' training.
"SES will also liaise with 39 committee teachers for each subject in the selected schools to ensure that the modules shared are systematic and easy to comprehend," he said at the launching ceremony of the programme which also witnessed the presentation of tablets and collaboration certificates to the school students and principals respectively, here last Friday, 24 July 2020.
Abdul Rahman added: "It is hoped that through such community empowerment programme, USM's academic and research expertise can be transferred to and shared with the society to address crucial social issues, providing impactful solutions that would benefit the society at large."
Meanwhile, NCIA corporate services senior director Zuhairi Mohmad said there are a total of 2,250 students under the empowerNCER-Academic programme and USM via its marketing/corporate arm, USAINS Holding Sdn. Bhd. has provided 300 tablets for eight schools in Seberang Prai Tengah (four schools) and Seberang Prai Utara (four schools) in Penang.
"It is an effort to ensure that the teaching and learning process can continue to be implemented in a more interesting and effective manner, and at the same time, ensuring that these students would not be left behind in their studies due to the lack of IT resources," he said.
Besides benefitting the students, the empowerNCER-Academic programme will also provide parenting activities for the students' parents or guardians to ensure that they gain knowledge as well.
Among those who were present were USAINS Managing Director who is also the programme's co-advisor, Farid Wajidi Mat Yusoff; USM School of Educational Studies (SES) Dean and project leader, Associate Professor Dr. Shaik Abdul Malik Mohamed Ismail; Director of Community Network, USM Division of Industry and Community Network and project co-leader, Tuan Syed Yusof Syed Kechik; and Deputy Director, Learning Sector, Hjh. Azizah Paijo representing the Director of Penang State Education Department.
In view of the COVID-19 pandemic, the event was conducted in compliance with the existing standard operating procedures (SOP) such as observing physical distancing, taking body temperature of all attendees before entering the hall, using face masks and hand sanitisers as well as limiting the number of attendees.
Text: Tan Ewe Hoe/Photo: Mohd Fairus Md. Isa, Shahnizam Ab Rahim & Mohamad Zaidi Jaini