FIVE USM RESEARCHERS SELECTED AS CO-INVESTIGATORS OF PRESTIGIOUS KSA INTERNATIONAL COLLABORATION GRANT
PENANG, 28 July 2020 – A team from the Universiti Sains Malaysia (USM) School of Biological Sciences (SBS) consisting of Associate Professor Dr. Mohd Ghows Mohd Azzam, Professor Dr. Abu Hassan Ahmad, Dr. Intan Haslina Ishak, Dr. Kamarul Zaman Zarkasi and Dr. Hasber Salim was announced as the co-investigators of the prestigious Kingdom of Saudi Arabia (KSA) International Collaboration Grant granted by the Research and Development Office, Ministry of Education, Saudi Arabia.
Apart from USM, the other two institutions in this three (3)-year collaborative partnership are University of Tabuk (led by Principal Investigator, Associate Professor Dr. Abdulaziz Dakhel Allah Althbyani) and University of Hail, Kingdom of Saudi Arabia.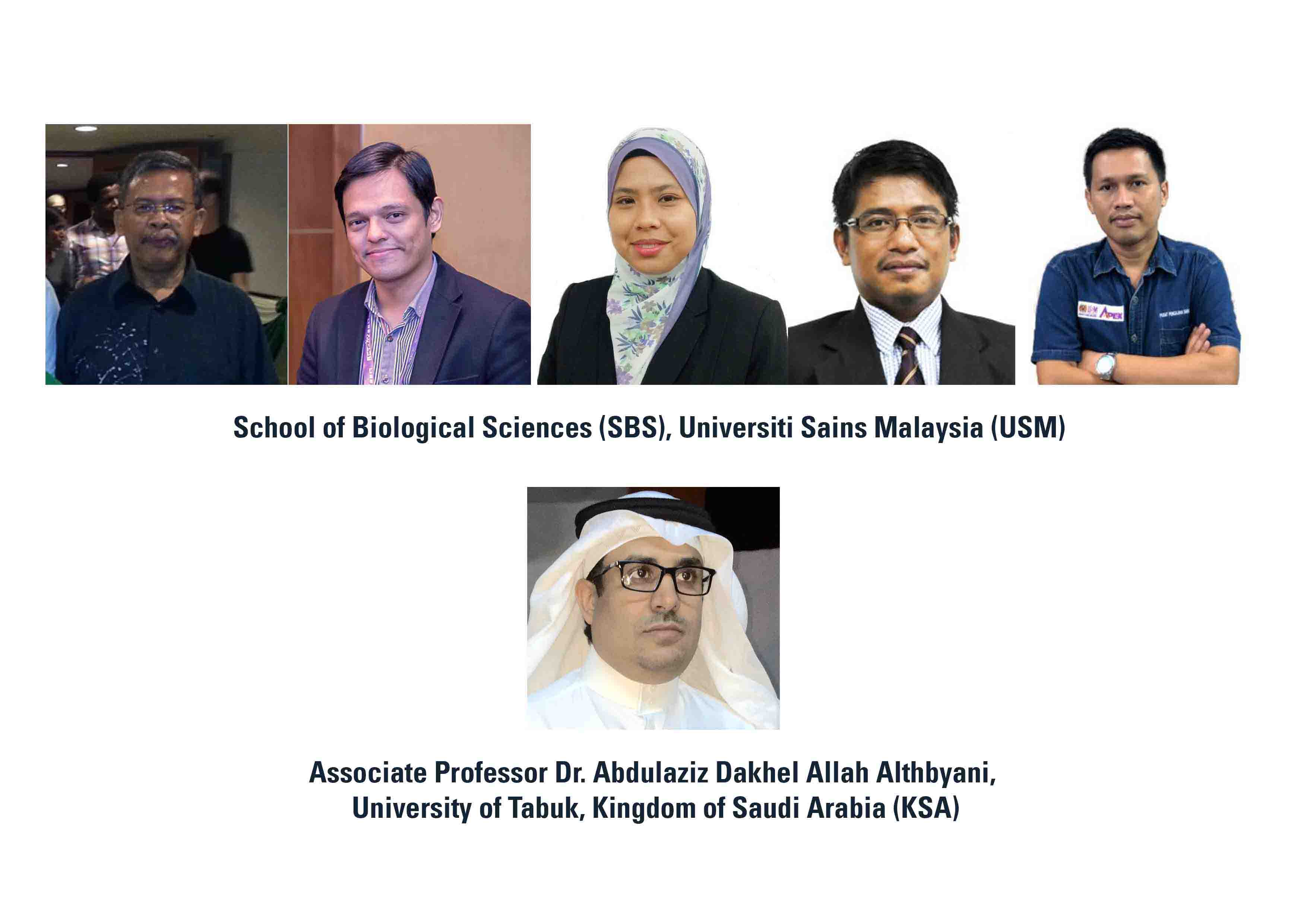 Dr. Abdulaziz is also an Alumni of USM where he obtained his doctorate degree (Ph.D) from the School of Biological Sciences, USM under Professor Dr. Abu Hassan's supervision.
"The grant was made possible because of the network of Abu Hassan, who is currently under the FSRS scheme, as one of the criteria is to provide mentorship and help other researchers," said Ghows.
This international grant amounted to SAR 1.57 million (about RM1.78 million) where USM will receive SAR 504,000 (about RM 571,170.69). The grant will also fund the mobility of the researchers from both countries to share knowledge and experience.
This transdisciplinary collaborative research project will be encompassing insecticide resistance and whole metagenome sequencing of disease vectors in Saudi Arabia and Malaysia.
This project provides a unique opportunity for research students (M.Sc and Ph.D) to further their study at USM with full scholarship and monthly stipend as well as an opportunity for a knowledge transfer programme at the Kingdom of Saudi Arabia.
This highly sought-after opportunity will be able to provide collaborative networking with Saudi Arabia universities and research centres.
"The team and I hope that the understanding of insecticide resistance mechanism and metagenome data can provide an understanding in the correlation of evolution of insecticide resistance in the mosquito vector and the environmental samples.
"It is hoped that this information can aid in the Integrated Vector Management (IVM) programmes that is currently practiced for the benefit of public health," added Ghows.
Source of Text & Photo: The above-mentioned research project team (School of Biological Sciences, USM)