DR. CHEW BEE LYNN, WORTHY WINNER OF 2020 WOMEN OF THE FUTURE AWARDS (SOUTH EAST ASIA) - SCIENCE, TECHNOLOGY AND DIGITAL CATEGORY
PENANG, July 2020 – A budding research scientist and lecturer from the Universiti Sains Malaysia (USM) School of Biological Sciences, Dr. Chew Bee Lynn made the nation and USM proud when she emerged victorious in the Science, Technology and Digital category at the 2020 Women Of The Future Awards (South East Asia) recently.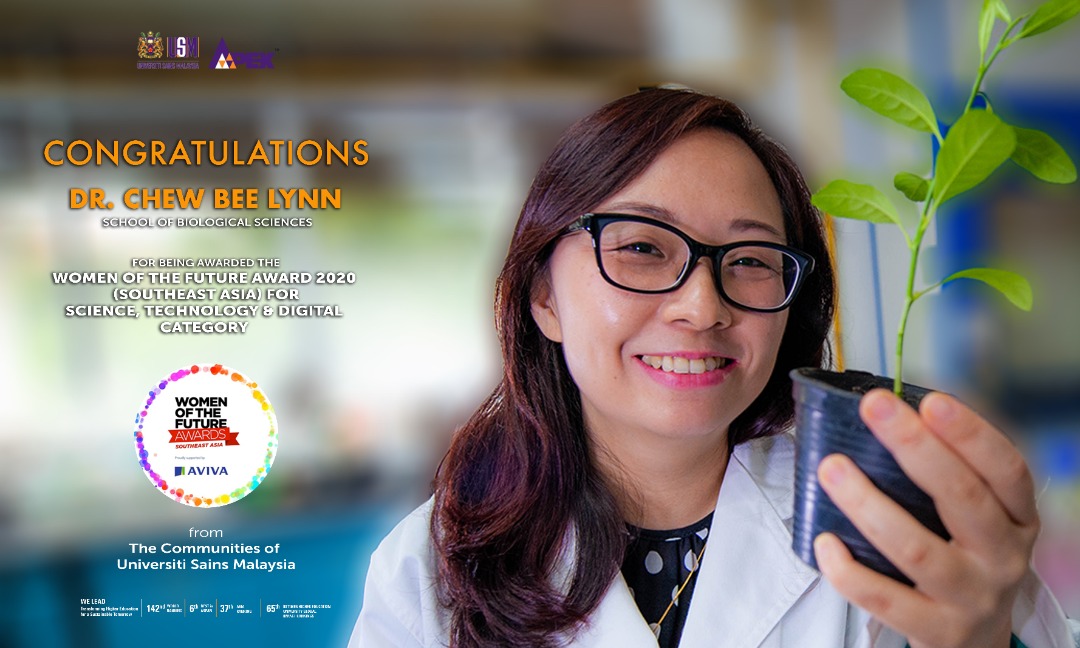 Chew and two other Malaysians were among 10 Southeast Asian figures that were named winners at the regional awards ceremony aimed at providing a platform to showcase regional emerging women leaders in their respective fields, ranging from arts and culture to business, science and community service.
Chew was recognised with this award for her research work, contributions to science and technology and leadership qualities, showcasing the region's female change makers.
Being trained in the field of Plant Biology, specialising in plant tissue culture, she works with local farmers and food growers in Malaysia to introduce practical agricultural technologies which include the production of high-quality fruit plant stocks.
The elated Chew, when contacted by MPRC via WhatsApp, said she aims to merge plant science with modern farming techniques such as precision farming to produce quality plants that are affordable and nutritious for the diet of the Malaysian population.
"My research currently deals with the micropropagation of figs that will eventually lead to the production of high quality plant stocks ready for commercialisation nationwide.
"My research team and I are also looking at Meyer lemons and olives using the same plant tissue culture technique which I hope to introduce to local farmers soon in the commercial scale," she added.
Chew is actively working to incorporate Internet of Things (IoT) technology, a system built for monitoring crop fields using sensors, in agricultural practices to make them more efficient.
"I hope to use my research to improve cultivation methods in Malaysia in order to raise crop yields, as well as to attract more young people to join the agricultural sector and improve the livelihoods of those who are working in this field.
"With that, I hope to address the food insecurity and unemployment issues that may arise in the country, as we are on the path of recovery from the effects of the Covid-19 pandemic," she said.
When asked how she felt when she was announced the winner of her category, Chew has this to say: "I felt really honoured to even be among the 48 finalists. I was completely overjoyed when I discovered that I won the award for this year. I personally felt that this award came with much support from my loved ones and my students. They are the ones who have never failed to always inspire and motivate me throughout my journey in academia."
She added that this award is definitely a recognition to the efforts that she has always worked on, together with the help of good students and great working colleagues.
"It is a motivation for me to perform better in research, especially in the application of my work towards contributing directly or indirectly to society and the nation.
"The Women of the Future Network on the other hand, offers a broad opportunity for me to collaborate and gain support from other leaders in various fields," she said.
Chew also called on the next generation of women out there to be strong, confident, always stay true to who they are and be passionate about fulfilling their dreams.
Founded in 2006, the Women of the Future Awards was actually established to provide a platform for female talents in the United Kingdom, but in 2018, it was expanded to include a Southeast Asian division as part of the Awards' wider goal of building a global, collaborative network of women.
This was also the first time the awards ceremony was held online (June 25) due to the Covid-19 pandemic.
Text: Tan Ewe Hoe/Infographic: Ebrahim Abdul Manan