USM ARCHITECTURE STUDENTS WIN HONORARY MENTION FOR ACAE STUDENT DESIGN COMPETITION
USM PENANG, 10 June 2020 – Two architecture students from the Universiti Sains Malaysia (USM) School of Housing, Building and Planning (HBP) have made full use of their time during the Movement Control Order (MCO) due to the COVID-19 outbreak, when they participated in the prestigious ACAE Student Design Competition and won an Honorary Mention for their architectural design.
With the accolade, not only did the second year students, Mohd Hazimi Afif Fairus and Mohd Zulkamal Arif Abd Ghani brought a sense of pride and joy to the School of HBP and the University, but also to the nation, as their design entry was the only one from Malaysia which made it to the winning list this time.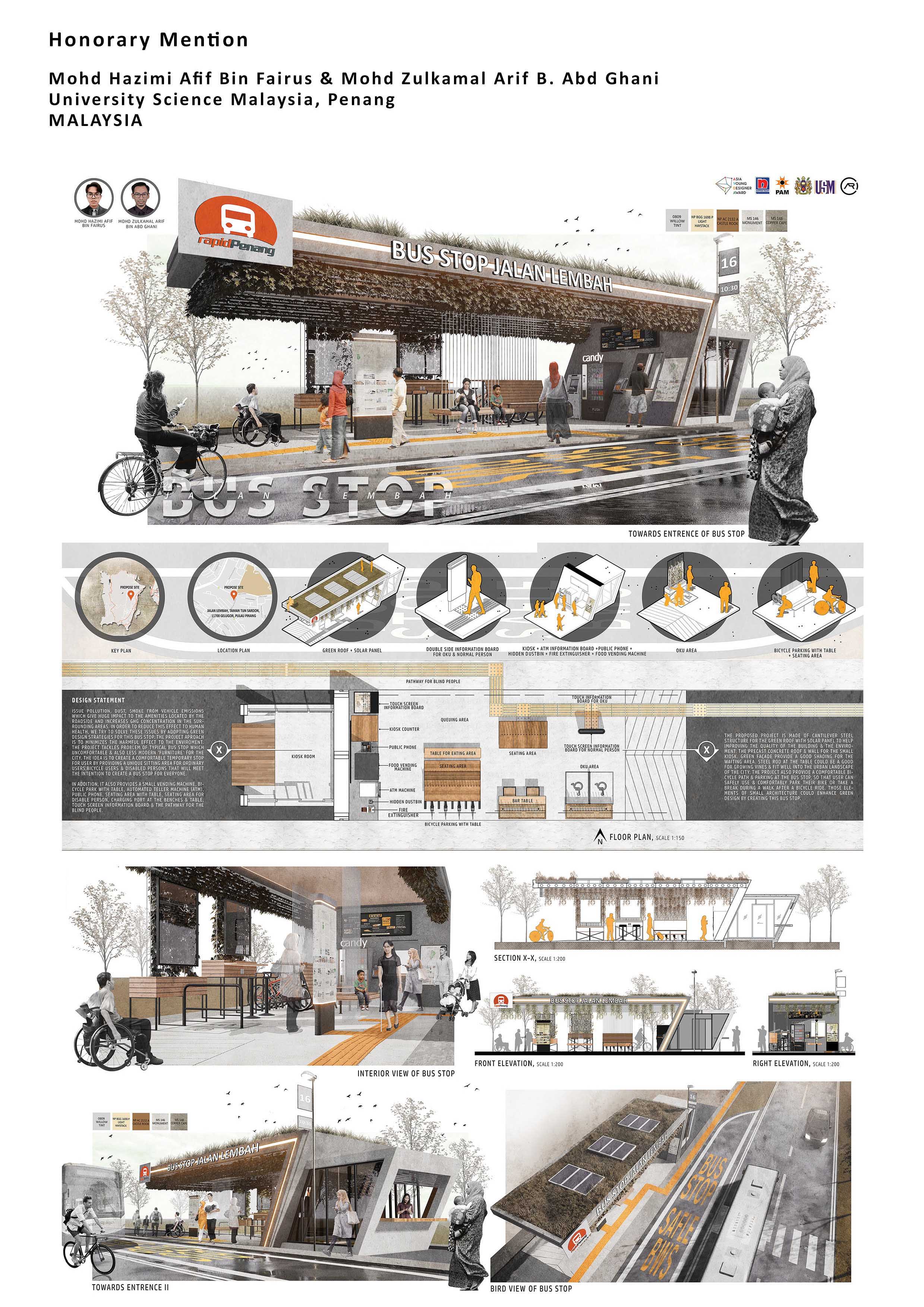 This prestigious design competition, entitled 'Contextuality: Design of A Bus Shelter For Your City' was organised by ACAE or Arcasia Committee on Architectural Education specially for architectural students in institutions of higher learning across the Asian region during the COVID-19 lockdown period.
According to the Dean of School of HBP, Associate Professor Ir. Dr. Abdul Naser Abdul Ghani, HBP students are encouraged to go beyond classes by joining competitions locally and abroad to position themselves at the same level with their global counterparts.
"It is also to enable them to gain recognition that comes with valuable experiences, even during this challenging time when classes are mostly conducted online," he said.
Abdul Naser added that this international design competition has attracted many students around the globe especially in the Asian region, and to support this great initiative by ACAE, the School of HBP too has urged its students to team up in pairs, come up with their best designs, and submit their entries.
"We at the School of HBP are honoured that one of the entries had won the Honorary Mention award; congratulations to the students and lecturers who have dedicated themselves to this competition," he said.
All prizes were sponsored by Nippon Paint.
Text: Tan Ewe Hoe