HOOI LING CHOSEN TO JOIN COHORT OF ASEAN WOMEN IDOL
PENANG, 8 June 2020 – Dr. Lee Hooi Ling, an academic from the Universiti Sains Malaysia (USM) School of Chemical Sciences recently made the university proud after being selected into the 2020 cohort of women leaders to be featured on Southeast Asian Women (SEA Women) for the Science, Education and Women Categories.
Hooi Ling, said, "I am truly humbled, and at the same time honoured and thrilled to be featured on the SoutheastAsianWomen.org under those categories, as I was being informed that only 80 leading women were selected in the 2020 cohort from 10 Southeast Asia countries across 16 industries."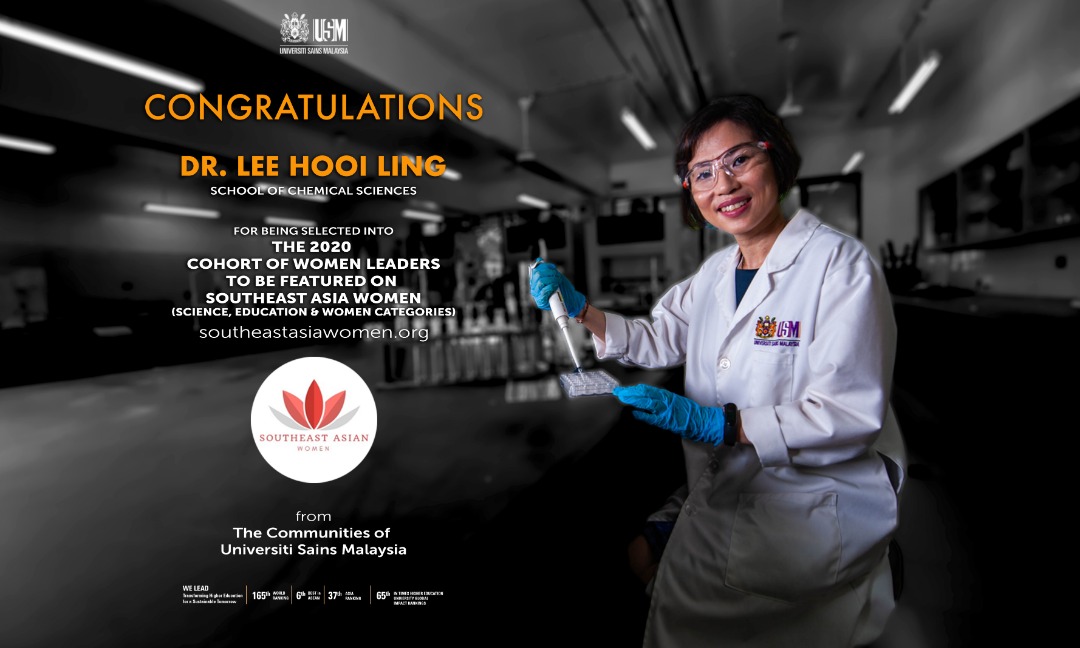 "Furthermore, this is the second cohort since its inception in 2019. The announcement of the selection for this cohort was delayed due to the COVID-19 outbreak, in which it was supposed to be released during International Women's Day on 8th March.
"I was really surprised upon receiving the email of the selection. I would like to take this opportunity to thank my family, USM, mentors, friends and students who are always very supportive in the early part of my career," she said.
She added, "Their confidence in me motivates me to keep on striving. I hope with this recognition, I will continue to contribute and give back to our community, particularly in the scientific and human aspects. That will be my aspiration."
SEA Women is an initiative by the Young Southeast Asia Leader's Initiative (YSEALI) Women's Leadership Academy Alumni Network, and backed by the U.S. Mission to ASEAN and Wedu, a non-profit women's leadership organisation based in Bangkok, Thailand.
The programme is aimed to educate, connect, and empower women across ASEAN to solve regional and global challenges, while increasing the visibility of women leaders in Southeast Asia, in initiatives such as women empowerment, civic engagement, environmental protection, and economic development in their respective countries.
Hooi Ling who has been with the School of Chemical Sciences since 2012, specialises in the field of physical chemistry, with research interest in Nanomaterials & Nanotechnology, Green Chemistry, Surface Science and Microscale Chemistry.
She has been appointed as the first female Chair of the American Chemical Society (ACS) Malaysia Chapter for the 2018-2020 term and is one of the founding members of the ACS Malaysia Chapter since its establishment in 2014.
She is also the current Chair of the Science Leadership Working Group in Young Scientists Network-Academy of Sciences Malaysia (YSN-ASM).
Hooi Ling spends much of her time in promoting Science, Technology, Engineering and Mathematics (STEM) to students and engaging in community service especially among the women folks.
Text: Hafiz Meah Ghouse Meah/Infographic: Ebrahim Abdul Manan