AWANG ADEK APPOINTED AS NEW USM BOARD OF GOVERNORS CHAIRMAN
USM PENANG, 8 June 2020 – Dato' Dr. Awang Adek Hussin has been appointed as Universiti Sains Malaysia (USM) Board of Governors (LGU) chairman, for a period of three years effective 8 June 2020 to 7 June 2023.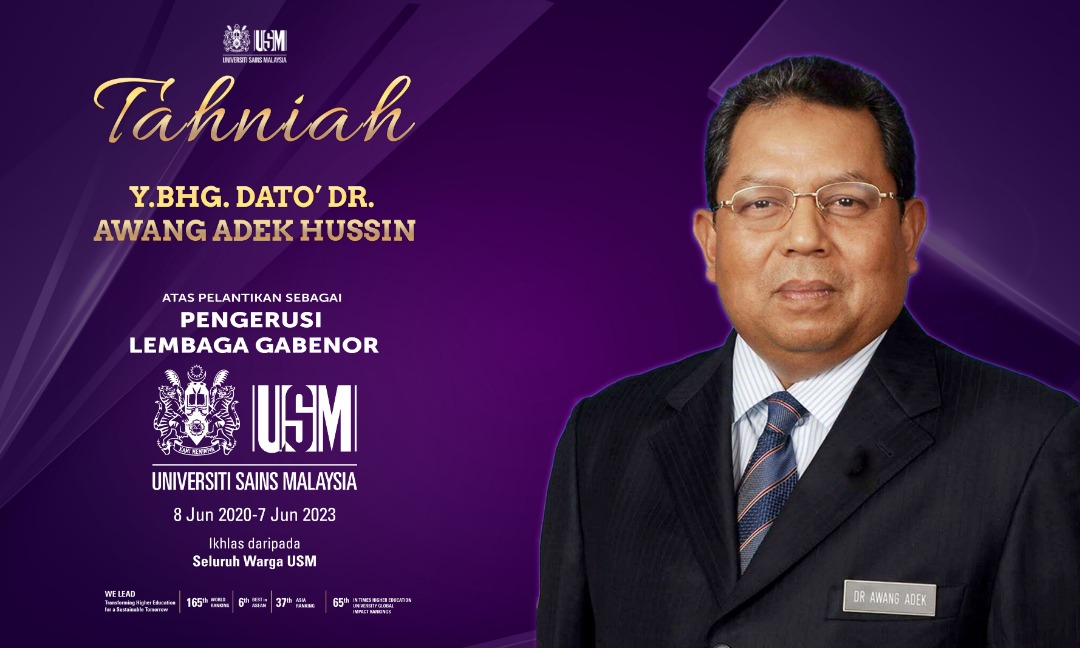 Awang Adek, 64, received his appointment from the Minister of Higher Education and would replace his predecessor, Dr. Hari Narayanan P Ondiveeran.
Hailed from Bachok, Kelantan, he holds Bachelor's degrees in mathematics and economics from Drew University of the United States, and a Master's and a Doctor of Philosophy (Ph.D) degree from Wharton School of the University of Pennsylvania.
Prior to this appointment, he served as the 14th Malaysian Ambassador to the United States from 2014–2016 and Majlis Amanah Rakyat (MARA) chairman from 2017-2018.
Awang Adek has also held several Cabinet positions: Deputy Rural and Regional Development Minister (2004–2006); Deputy Finance Minister (2006–2009); and Senator (2012–2013).
He began his career as a lecturer at USM from 1983 to 1985. Later, he joined Bank Negara Malaysia from 1985 to 2001 and completed his term as Assistant Governor.
He also served as Chairman of Tenaga Nasional Berhad (TNB) besides being loaned to Labuan Offshore Financial Services Authority as the first Director-General for two years beginning in 1996.
USM meanwhile expresses its appreciation and gratitude to Hari Narayanan for his dedication and commitment in serving as the LGU chairman since 2018, and at the same time, congratulates and welcomes Awang Adek as the new chairman.
USM is confident that with the vast experiences possessed by Awang Adek, he will be able to lead USM, together with the LGU members and top management, to greater heights by navigating the challenges posed by the COVID-19 pandemic and adapting to the new changes taking place, while remaining steadfast and true to the USM mission in transforming higher education for a sustainable tomorrow.
Text: Tan Ewe Hoe/Infographic: Ebrahim Abdul Manan