USM PRODUCES LOW-COST AUTOMATIC DISINFECTION TUNNEL
NIBONG TEBAL, 5 April 2020 – Recognising the importance of protecting healthcare and also non-healthcare workers on the front lines of the COVID-19 pandemic, a team of researchers from the School of Electrical and Electronic Engineering (PPKEE) at Universiti Sains Malaysia (USM) Engineering Campus here, has produced a Low-Cost Automatic Disinfection Tunnel.
The PPKEE Dean and head of project, Professor Ir. Dr. Mohd Fadzil Ain said, the idea to produce the device came about after he received a request from USM front liners at the Pusat Sejahtera and the Security Department to help protect them who are constantly exposed to the risk of infection in the line of duty.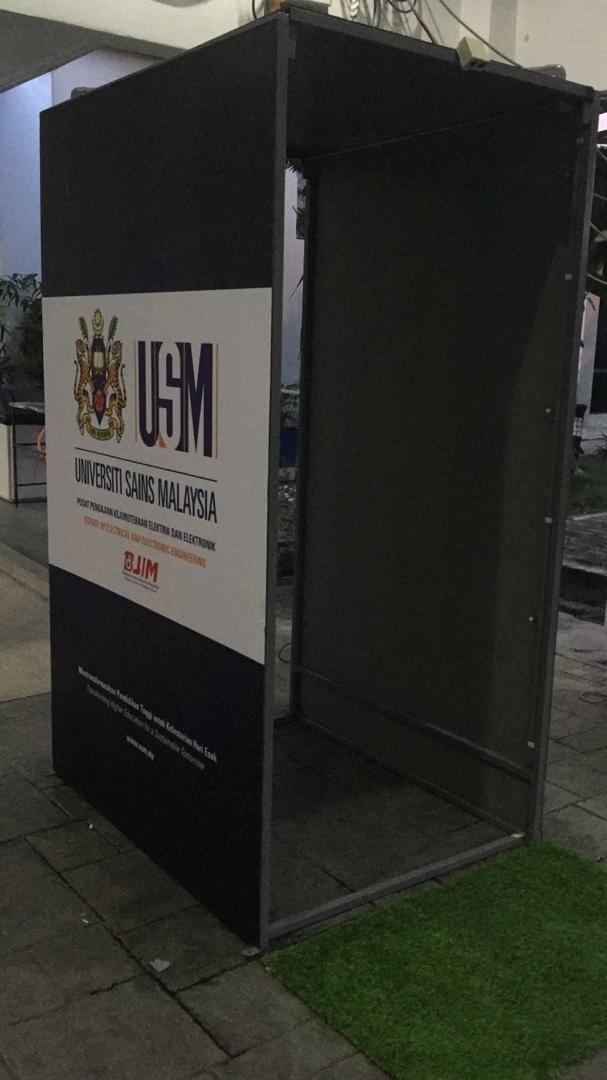 He said with the expertise in electronics at PPKEE, the tunnel was designed with sonar detectors installed to enable it to detect objects passing through it.
He added that this automatic tunnel also comes with an IoT-based touchless body temperature detector, automatic soap dispenser, water tap and sink, and a non-touch hand dryer. This device is best used by front liners for self-disinfection after they have carried out their duty.
"We develop this novel product using all the resources and components available at PPKEE in view of the difficulty in obtaining manufacturing materials as most hardware stores were closed during the Movement Control Order (MCO)," he said.
Fadzil Ain also explained that while this product prototype was to be placed at the USM Pusat Sejahtera, generally disinfection tunnels are suitable to be placed at other high-risk locations including those at hospitals, health clinics, police stations and universities, which are expected to receive student enrollment once the MCO is lifted.
"This product is also most suitable for disinfecting patients who come for treatment in clinics and hospitals. It is not only 'smart', it can also reduce the burden of front liners in performing manual disinfection, of which can be exhausting when there is a large number of people," he said.
He added that the production cost for each tunnel is about RM1,500 and that it can be produced on a large scale and fast since the materials used are available in local hardware stores.
Currently, the cost of producing the prototype was funded partly by the head of project and partly by the Division of Industry and Community Network (BJIM USM).
Other members in the production team were Associate Professor Dr. Muhammad Nasiruddin Mahyuddin, Dr. Wan Amir Fuad Wajdi Othman, Suardi Kaharuddin, Shahidan Shafie and Mohd Hisham Mamat Yusuf.
Translation: Nabella Ridhuan Lau/Text: Marziana Mohamed Alias